Index of All Cemeteries
Alphabetical Index of All Burials
Previous Page
Use the following to search across all the cemeteries listed.
Example: "Smith, Roger" (yes, use the quotes)
148 UNIDENTIFIED CEMETERY - CORNWALLIS HILLS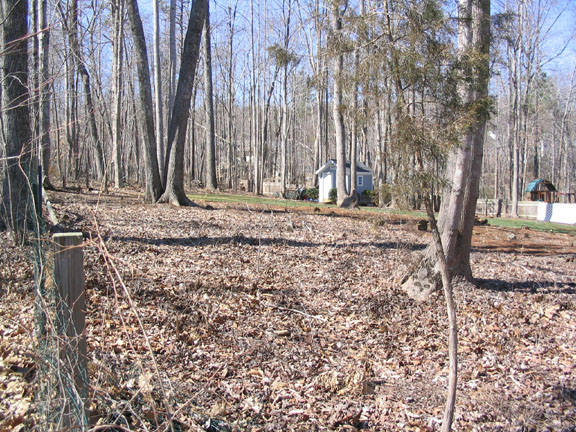 Location - In Hillsborough Township in the Cornwallis Hills Subdivision south of Hillsborough, in the rear yard of the home at 2710 Sweet Gum Drive (SR #1242). On private property.

Coordinates: 36d 02m 35.6s N; 79d 06m 31.1s W Click here for Google maps

Graves, Unmarked - Reportedly some 7-10 slightly sunken graves, no stones. Origin of burials unknown. Photo in March 2005 by Milton Forsyth.

Comments - The developer, Centex Homes, set the cemetery aside off the southeast corner of lot 65 in the subdivision plat [PB 80:28]. Not originally included in the initial lot 65 property sale in 1998 [DB 1794:505], the cemetery parcel was given to the owner of this lot by Centex Homes in May 2002 [DB 2602:148]. The lot 65 property, now including the cemetery listed as "Parcel 2," was then sold in Sep 2002 [DB 2724:492]. In 2012 a new owner investigated the records to identify the cemetery area for himself. The cemetery area was at this time being inspected yearly by a member of the Orange County Historic Preservation Commission. PIN 9863-747-671. See this extract of the subdivision GIS display with the cemetery indicated.

No burials have been identified.


Web page updated 13 May 2017
Index of All Cemeteries
Alphabetical Index of All Burials
Previous Page