Index of All Cemeteries
Alphabetical Index of All Burials
Previous Page
Use the following to search across all the cemeteries listed.
Example: "Smith, Roger" (yes, use the quotes)
147 JONES MEMORIAL GARDEN - HILLSBOROUGH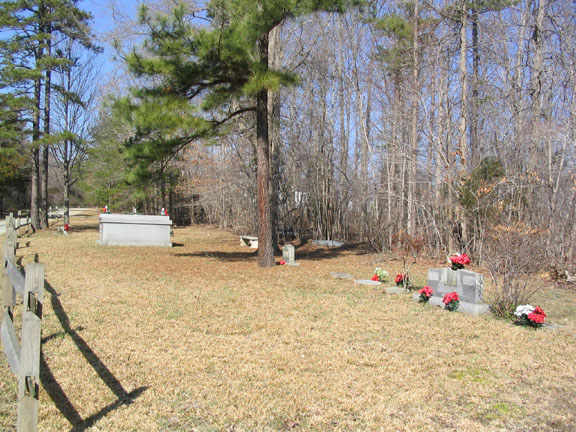 Location - In NW Hillsborough off Holiday Park Road (SR #1390), 0.2 mi. north of Hwy US70 Bypass. North of the Hillsborough Moose Lodge a single-lane road leads westward several hundred feet then northward into the Jones Memorial Garden in the midst of the pine woods.

Coordinates: 36d 05m 23.0s N; 79d 07m 08.0s W Click here for Google maps

Survey - This cemetery was surveyed On December 10, 1974. Photograph by Milton Forsyth in 2005. A new large tomb had been added since the original survey.

Graves, Marked - There were 7 marked graves.

Graves, Unmarked - There were 18, possibly more, unmarked graves and depressions.

Current Status - The site of the Jones Memorial Garden is exceptionally beautiful, although the limits of the cemetery are indeterminate. The southern portion of the cemetery is apparently an older section. There are several rows of depressions and graves marked only by rough stones, at least 18 unmarked graves. Seventombstones are ranged at fairly wide intervals under the pine trees.


Jones, Bettie D (b. 20 Jun 1883 - d. 25 Apr 1973)
(Wife of Henderson W Jones) 'The Jones Family'

Jones, Cylonia J (b. - d. 2 Feb 1962)

Jones, Henderson W (b. 30 Aug 1881 - d. 8 Jun 1959)

Nichols, Mars H (b. 31 May 1907 - d. 10 May 1970)
S.sgt. Us Army World War II

Payne, Hayles Shepard (b. 1887 - d. 16 Jan 1978)
'Father' Footstone: H. S. P.

(Obituary Clipping) - Hayles Shepard Payne, 97, of 121 N. Nash St., died Mon. (Jan. 16, 1978) in Hillhaven Orange Nursing Center. He was a retired barber in Hillsborough... Surviving are 5 daus.: Mrs. Maggie Baines, Mrs. Eliza Wilson, and Mrs. Mabel Jones, all of Hillsborough; Mrs. Alice Kennedy of Compton, Calif.; and Mrs. Katie Evans of South Fallsburg, NY; 4 sons: Clyde Payne, Jesse Frank Payne, Joseph L. Payne, and David N. Payne, all of Hillsborough; a sister, Mrs. Minerva P. WilSon of Hillsborough; 44 grandchildren and 8 great-great(?) grandchildren.

Paynes, Jessie Mc. (b. 1886 - d. 1968)
(Wife of Hayles S Paynes) Footstone: J.M.P.

Rancher, Robert E (b. 10 Sep 1869 - d. 31 Mar 1973)
Web page updated 13 May 2017
Index of All Cemeteries
Alphabetical Index of All Burials
Previous Page