Index of All Cemeteries
Alphabetical Index of All Burials
Previous Page
Use the following to search across all the cemeteries listed.
Example: "Smith, Roger" (yes, use the quotes)
143 HARWARD FAMILY CEMETERY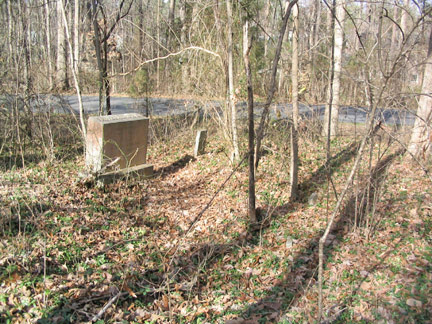 Location - In Carrboro on Bolin Forest Road on the east side of the road about 50 yards north of the large rocks near the subdivision entrance, next to the road in a small wooded area.

Coordinates: 35d 55m 22.0s N; 79d 04m 55.0s W Click here for Google maps

Survey - This cemetery was surveyed in March 1999 by Milton D. Forsyth, Jr. It was called to the attention of the society by Joyce Harshaw of the Register of Deeds Office.

Graves, Unmarked - In addition to the three marked graves, there are 8 additional sunken graves, possibly more.

Status - The cemetery was preserved during the development of the Bolin Forest Subdivision, but does not appear to be maintained on a regular basis. The burial area is mostly covered with vinca major.


Harward, Caroline Kirkland (b. 1845 - d. 1913)
Wife of William Hillard Harward.

Harward, William Hillard (b. 3 Sep 1838 - d. 13 Jun 1915)
Husband of Caroline Kirkland Harward. Stone: Father and Mother / Wm. H. Harward / 1838-1915 / His Wife / Caroline Kirkland Harward / 1845-1913. County records show he was born in Wake county on the date above and his death certificate gives the above death date (O. C. Death Records D2-68). His parents are listed as James Harward and Nancy Rogers. William Harward and Caroline Kirkland received bond to marry 26 May 1866 and were married 14 Jun 1866 (Orange Co. Marriage Records G/H-0637,0638).

Webb, William Sidney (b. 30 Nov 1896 - d. 17 Mar 1897)
Stone: Wm. Sidney / Son of / J. D. and M. E. Webb / Born Nov 30 1896 / Died Mar 17 1897 / Asleep In Jesus. Junius D. Webb married Mary Elizabeth Harward, daughter of William Harward and Caroline Kirkland Harward, 7 Nov 1886 (O. C. Marriage Record 05/574).
Web page updated 13 May 2017
Index of All Cemeteries
Alphabetical Index of All Burials
Previous Page