Index of All Cemeteries
Alphabetical Index of All Burials
Previous Page
Use the following to search across all the cemeteries listed.
Example: "Smith, Roger" (yes, use the quotes)
142 HOLLEMAN SLAVE CEMETERY, (CA. 1849)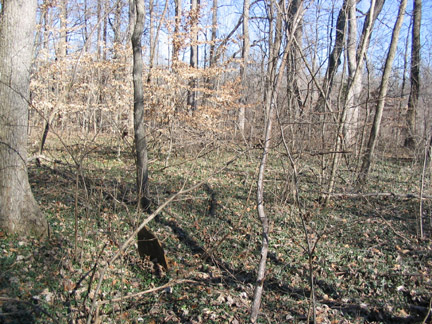 Location - In the NE corner of Little River Township on Sawyer Road (SR #1528) about .2 mile past the intersection with Gray Road (SR #1526). On left side of road up high bank in clump of trees as one approaches Person County line.

Coordinates: 36d 14m 10.0s N; 78d 59m 44.0s W Click here for Google maps

Survey - This cemetery was surveyed on March 1, 1974. Photograph by Milton Forsyth in January, 2005. Only one fieldstone marker appears in the photo, but note how the entire cemetery area is covered in vinca major (periwinkle). This is often found in old cemeteries and is something to watch for when searching for a cemetery in a wooded area in winter when this particular vegetation may be prominently visible.

Graves, Marked - There were 9 marked graves in this cemetery (earliest marked grave was 1849).


Cates, Pew (b. - d. 30 Mar 1934)
Aged 3-(?) Yrs. (fun. Marker Illeg.) (given Name Could Be Tew?)

H----, C. J. (b. - d. )
(Grave Surrounded by Daffodils)

Hole----, Partheana (b. - d. )

Holeman, Bill (b. - d. 1921)

Holeman, Estell Lunsford (b. - d. 18 Feb 1929)
Aged 28(9?) Yrs. (fun. Marker Illeg.)

Holman, J. Ray (b. - d. )
Born: A-- 8 ---Died: J-- 4 ----

Holman, Louvenia (Mrs.) (b. - d. 17 Nov 1936)

Holman, M. (b. - d. Oct 1849)

Tew, Moll (b. - d. )
Web page updated 13 May 2017
Index of All Cemeteries
Alphabetical Index of All Burials
Previous Page