Index of All Cemeteries
Alphabetical Index of All Burials
Previous Page
Use the following to search across all the cemeteries listed.
Example: "Smith, Roger" (yes, use the quotes)
141 HOGG-WEBB-NORWOOD SLAVE CEMETERY (CA. 1800 OR EARLIER)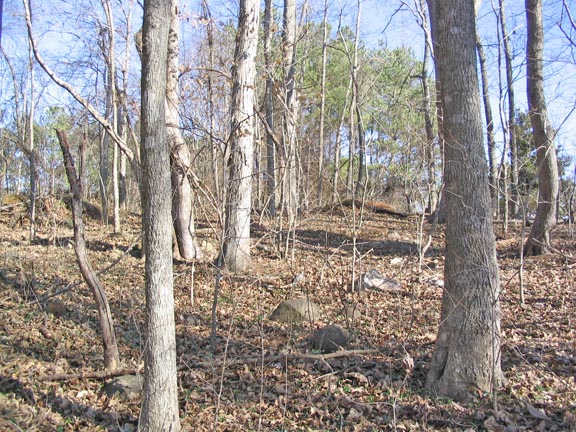 Location - In Hillsborough Township SE of Hillsborough 100 ft west of Elizabeth Brady Road (SR #1879) and .43 mi. north of its intersection with US 70 Business at New NC Hwy 86, between two commercial buildings.

Coordinates: 36d 04m 19.6s N; 79d 05m 11.5s W Click here for Google maps

Survey - This cemetery was surveyed on September 19, 1974. Margaret Jones of the Orange County Environment & Resource Conservation Department and Milton Forsyth visited the site on January 26, 2006 and provided photographs and a location update.

Unmarked Graves - Scores of unmarked mounded graves and deep depressions, many marked by pairs of rough field stones. Periwinkle covers a large section of the cemetery.

Comment - In 1974 the large cemetery was located "on a heavily wooded, boulder-strewn hillside. The waters of the Eno far below can be both seen and heard. There exists apparently only one marked stone, now fallen, dated 1852." The notes additionally mention a wire fence that "once ran down the hillside." In 2006 the marked stone could not be located and the cemetery had been "squeezed" by landscaping of the two commercial buildings to the north and south sides. But the wire fence still remained [PHOTO]. Nothing at the site would suggest any longer that it was a large African-American cemetery. Notes from the original survey are included HERE.


Wright, Becka (b. 4 Jul 1835 - d. 11 Sep 1852)
Aged 17 Yrs. (Stone Fallen) (date of Death Questionable)
Web page updated 13 May 2017
Index of All Cemeteries
Alphabetical Index of All Burials
Previous Page