Index of All Cemeteries
Alphabetical Index of All Burials
Previous Page
Use the following to search across all the cemeteries listed.
Example: "Smith, Roger" (yes, use the quotes)
139 HOGAN, THOMAS FAMILY CEMETERY (CA. 1845)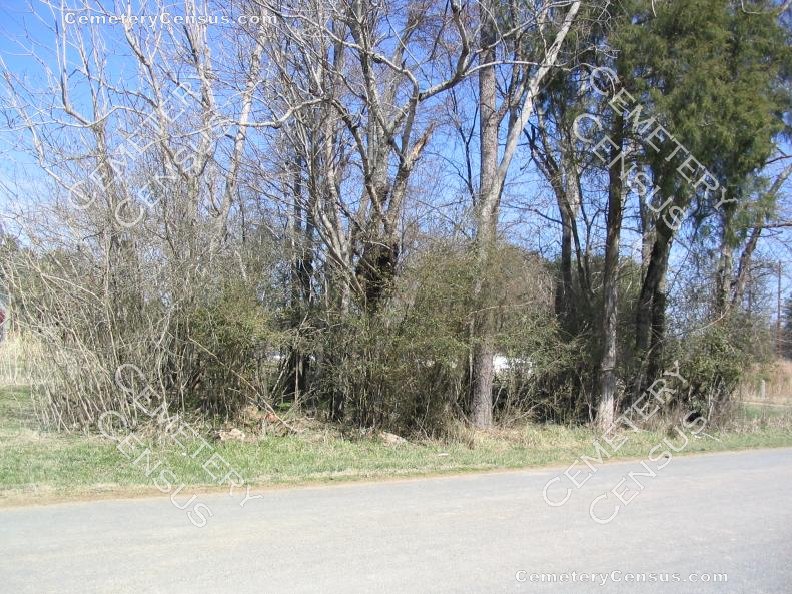 Location - In Chapel Hill Township at 1612 Purefoy Road, 500 ft east off Rogers Road (SR #1729), adjacent to the north side of the road. This is the location of the old Thomas Hogan house, a two-story gray house, which was still standing in 2005. On private property.

Coordinates: 35d 57m 35.0s N; 79d 04m 59.0s W Click here for Google maps

Survey - Surveyed on December 7, 1972. Visited and photographed in March 2005 by Milton Forsyth, who also revised the location description. Directions to the cemetery were provided by Mr. Roland Rogers, an area resident, and the homeowner kindly permitted a survey and photographs of the existing site.

Graves, Marked [1972] - There were 6 marked stones.

Graves, Unmarked [1972] - Uncertain as to number of unmarked graves.

Status [2005] - The small area of the cemetery is overgrown with trees and vines and is not maintained, but is acknowledged as a burial site by the residents of the area. Some trash has been piled in the cemetery and around the edges. The widening of the lane to become Purefoy Road possibly intruded on the south side of the cemetery. The extensively engraved stones read in 1972 are either missing or broken into fragments. The located pieces were photographed - a search of the site might turn up additional pieces.

Many fragments of markers. ||| Fieldstones. ||| Fragment no.1. ||| Fragment no.2. ||| Fragment no.3. ||| Unusual marker fragment.


Hogan, Alexander H. (b. 27 May 1836 - d. 3 Aug 1856)
"Here lies in hope of a glorious resurrection the body of Alexander H. Hogan, Son of William J. Hogan, Esq. Bn May 27, 1836, graduated at the University of N. C. June 11, 1856. Dcd. Aug 3d, 1856.", "To him who overcometh will I give to eat at the Tree of Li-- in the midst" Rev. 17
2nd fragment of marker. ||| 3rd fragment of marker.

Hogan, Augustus E (b. 6 Sep 1855 - d. 14 Feb 1857)
'Bn Sept. 6, 1855 Died Feb. 4, 1857 Sleep On Sweet Babe And Take Thy Rest God Called Thee Home He Thought It Best.'

Hogan, Elizabeth Freeland (b. 8 Aug 1790 - d. 14 Sep 1852)
'Sacred To The Memory of Elizabeth Hogan Wife of Thomas Hogan Decd. 62 Years, 1 Month, 6 Days Her Flesh Shall Slumber In The Ground Till The Last Trumpets Joyfull Sound Then Burst The Chains With Sweet Surprise And In Her Saviours Image Rise' Footstone: E.L.H. Crayon rubbing done in 1967 when grave marker was intact.

Hogan, Nancy Huntington (b. Abt 1800 - d. 5 Dec 1865)
'Sacred To The Memory of Nancy H. Hogan (Roswell'S Dau.) Wife of Wm. J. Hogan. She Entered Into The Rest of The People of God Dcbr 5th 1865 - Agd 65 Yrs. - She Sleeps In Jesus Blessed Sleep From Which None Ever Wakes To Weep' Footstone: N.H.H. Crayon rubbing done in 1967 when grave marker was intact.

Hogan, Thomas, Senior (b. 5 Aug 1785 - d. 4 Jul 1858)
Husband of Elizabeth Freeland Hogan. Son of Daniel Hogan and Sarah Lloyd Hogan. A fragment of his original marker. Another fragment of his marker. 'In memory of Thomas Hogam, Sen. who finished his work on earth July 4, 1858 - seeth thou a man deligent in his business, he shall stand before kings, he shall not stand before mean men. Proverbs ---'. Pictured with the newly installed in 2008 marker is the late Rob Hogan, Jr. Crayon rubbing done in 1967 when grave marker was intact.

McCauley, Sarah Lloyd (b. Abt 1812 - d. 26 Sep 1845)
(Cursive Script) 'In Memory of Sarah L McCauley Who Departed This Life Sept. 26th A.D. 1845 - Age 33 Years.'
Web page updated 13 May 2017
Index of All Cemeteries
Alphabetical Index of All Burials
Previous Page