Index of All Cemeteries
Alphabetical Index of All Burials
Previous Page
Use the following to search across all the cemeteries listed.
Example: "Smith, Roger" (yes, use the quotes)
135 HILL FAMILY CEMETERY (CA. 1895)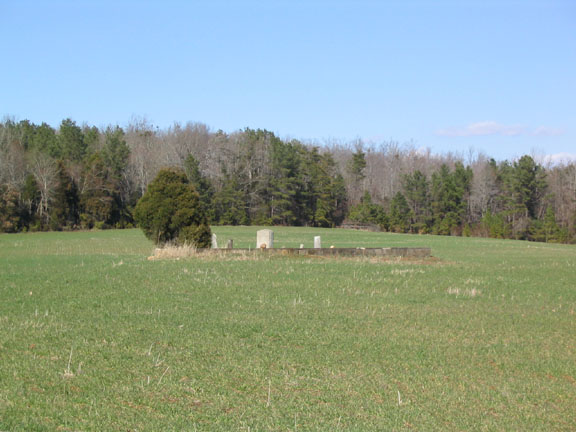 Location - In Eno Township on the north side of St. Marys Road (SR #1002) 3.9 miles northeast of intersection with Hwy US70 at Hillsborough. In 2005 it was in a field across from 4507 St. Mary's Road, 280 ft north of the road. Private property. From the 1970s description: "In back of Mick Hill's old cinderblock store building; near Thomas Holden's house."

Coordinates: 36d 06m 38.0s N; 79d 01m 14.0s W Click here for Google maps

Survey - Jean Bradley Anderson and Mr. Mickey (Mick) Hill of St. Mary's Road surveyed the cemetery but the date was not stated. It was at least re-checked in 1987. Photographs by Milton Forsyth in 2005. Click here for cemetery plat.

Graves, Marked - There are 10 marked graves.

Graves, Unmarked - There are no unmarked graves.

Current Status - Cemetery is well kept by Chester and Betty Sue Hill Crabtree who now own the property in 1987. Cemetery lies in a field that is used each year for planting. The Crabtrees clean the graveyard yearly.


Hill, Flora (b. 21 Jun 1907 - d. 17 Aug 1907)
Daughter of I. H. and Phebie Hill
Son of R. C. and Susan Hill. "A Little Time On Earth He Spent, Till God For Him His Angel Sent"
Wife of I. H. Hill. "In Thee O' Lord Have I Put My Trust"
"God's Finger Touched Him And He Slept"
'His Wife' (R. C. Hill's) 'A Kind Mother, And A Friend To All'
"Stop Blooming Youth As You Pass By, As You Are Now So Once Was I, As I Am Now So You Must Be. Prepare For Death And Follow Me"
Son of I. H. and Phebie Hill
Aged 81 Yrs. (This was not a relation of the Hill's but an old woman with no place to be buried. She lived with Andrew and Sudie Harris for years)
Web page updated 13 May 2017
Index of All Cemeteries
Alphabetical Index of All Burials
Previous Page