Index of All Cemeteries
Alphabetical Index of All Burials
Previous Page
Use the following to search across all the cemeteries listed.
Example: "Smith, Roger" (yes, use the quotes)
131 HALL AND SMITH CEMETERIES - BLACK AND WHITE (BY 1805)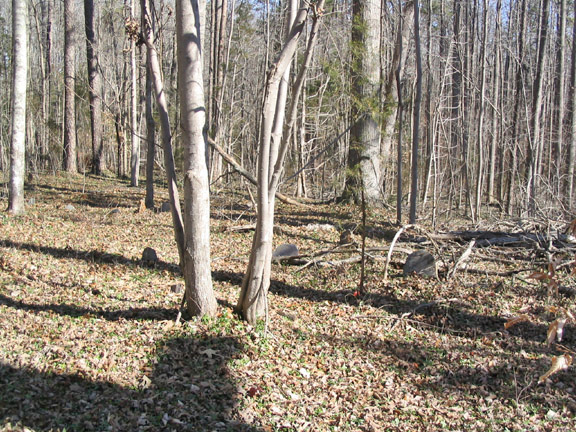 Location - In NE Little River Township East of Caldwell and north of Sneed Road (SR #1581). In a wooded area beyond a field. Private property.

Coordinates: 36d 11m 17.0s N; 79d 00m 07.0s W Click here for Google maps

Survey - No date was noted for this survey in the 1970s. The site was visited and photographed by Milton Forsyth in February 2005, who clarified the directions.

Current Status [2005] - Area appears mostly unchanged from the 1970s survey. Unattended and overgrown. Possibly difficult to access in summer months because of vegetation.

Comment - To get to the cemetery go east 0.7 mi. on Sneed Road from Glen/Glenn's Grove Church, which is located at the corner of Guess Road (SR #1003) and Sneed Road, to the small Glen/Glenn's Grove Church cemetery on left (north) side (see Cemetery #028). To get to the Hall and Smith cemetery, which is 900 ft north of the road in the woods, go north beyond the Church cemetery and along the western border of the plowed field into the woods and bear right. A very large cemetery and large expanse of periwinkle is in the older tall trees. In 2005 two newer houses could be seen to the north of the cemetery and a new road lies to the east and north of it.


Cates, Pearl (b. - d. 1816)
(First Name Could Be Pearl ?)

H----, T (b. - d. )

Horner, ----- (b. - d. )

Horner, J (1) (b. - d. )

Horner, J (2) (b. - d. 18 Feb 1824)

Horner, L (b. - d. 9 Dec 1838)

Horner, T (b. - d. )

Law, D (b. - d. )

Parke, C (b. - d. )
(Surname Is Questionable)

Smith, Nell (b. - d. 1916)
According To Mr George Walker, 'Nell' Smith Was Buried Here In 1916.

Smith, Stephen (Messersmith) (b. - d. 5 Oct 1825)
(from estate court records: Stephen Messersmith died 5 Oct 1825)

Smith, William Nelson (b. 3 Sep 1857 - d. 18 Jan 1916)
'At Rest'. Footstone: W.N.S.

Wagoner, Catay (b. - d. 1817)

Wagoner, H (b. - d. 1816)

Wagoner, Henry (b. - d. 1784)
Husband of Catay Wagoner. (death date 1784 according to his will and DAR records)

Wagoner, Jno (b. - d. 1 Jul 1829)
Web page updated 13 May 2017
Index of All Cemeteries
Alphabetical Index of All Burials
Previous Page