Index of All Cemeteries
Alphabetical Index of All Burials
Previous Page
Use the following to search across all the cemeteries listed.
Example: "Smith, Roger" (yes, use the quotes)
129 FREELAND, JOHN FAMILY CEMETERY (CA. 1827)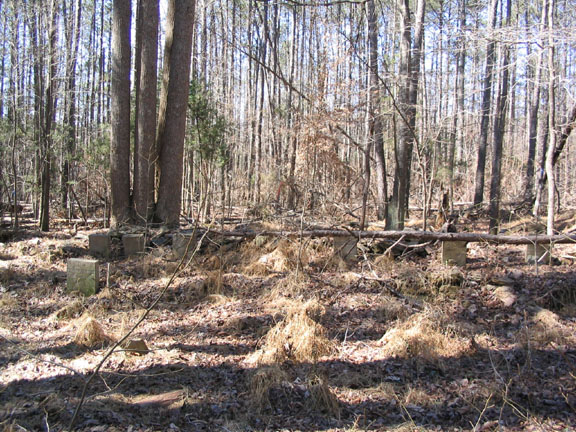 Location - In Chapel Hill Township, north of Chapel Hill on the east side of New Highway 86, just north of the intersection with Clyde Road (SR #1726 - on the west side). It is near where the old Freeland family house stood, and today is on the property at 6718 NC 86. In a wooded area 120 ft west of the driveway toward Hwy 86 (265 ft SW of the house). Private property.

Coordinates: 35d 58m 58.4s N; 79d 03m 59.5s W Click here for Google maps

Survey - Mrs. Doak, Mr. Hogan, and Mrs. Engstrom surveyed the cemetery on January 14, 1973. Milton Forsyth visited and photographed the cemetery in March 2005 through the courtesy of Mrs. W. I. Kirkland. He also revised the location description.

Graves, Marked - There were 8 marked graves.

Graves, Unmarked - There were two visible depressions and likely others.

Status [2005] - The cemetery in 1973 was in a clump of trees in a field, but in 2005 was in a wooded area. There is a house (#6718) to the NE of the cemetery as well as another newer one to the south. The cemetery sits on a raised oval of land with fallen rock walls encircling much of the oval. No old stones were observed in 2005, but each burial listed in 1973 had a cement gravestone erected at the grave location.


Freeland, Catharine Johnston (b. 1762 - d. 1827)
(Wife of John Freeland) old stone has initials 'K.F.' scratched on it. (daughter of Charles and Martha Johnston)
Comment - John Freeland and Wife Catherine 'Nancy' Johnston had four named children: (1) John J.; (2) Joseph M. (d. 1837) left sons William and Thomas and daughters Sally and Mary, all underage; (3) Thomas (1809-1835), unmarried; (4) Martha, who married a Cloud. (ref Will Books E:341; E:409; F:200).
Son of G. W. and M. C. Freeland
Old rough stone has unusual design of crosshatching; bears initials J.M.F.
Son of G. W. and M. C. Freeland
Wife of Hayes Smith. Aged 20 Yrs. (rough headstone)
Web page updated 13 May 2017
Index of All Cemeteries
Alphabetical Index of All Burials
Previous Page