Index of All Cemeteries
Alphabetical Index of All Burials
Previous Page
Use the following to search across all the cemeteries listed.
Example: "Smith, Roger" (yes, use the quotes)
126 EDWARDS-CABE FAMILY CEMETERY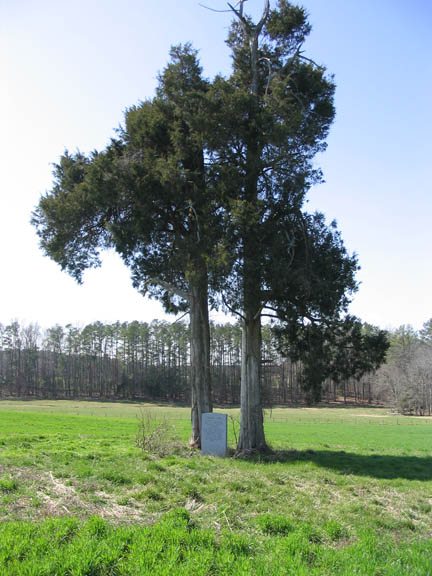 Location - In Bingham Township on a farm at 4006 NC Route 54 West, 0.52 mi. SW of the highway in a field. Private property.

Coordinates: 35d 55m 22.9s N; 79d 12m 26.9s W Click here for Google maps

Survey - This cemetery was surveyed on October 4, 1976. Milton Forsyth visited the site on 3 Mar 2006 through the courtesy of Mr. Shelton L. Ray, the landowner, and provided an update and photographs.

Graves - In 1976 there were two stones leaning against two ancient cedar trees, and Mr. Bud Durham said they were the graves of Mr. and Mrs. Henry Edwards and John Durham (baby of Ed Durham). He also said "Granny" Cabe was buried here. In 2006 two unmarked stones were found next to the cedar trees, but possibly not the same ones that were there in 1976. A splendid monument was erected in 2004 by Mr. Elton Edwards of Greensboro, NC, a descendant. The property was previously the old Betsy Cabe lands, and her house stood on a rise in the field near the cemetery.


Cabe, Granny (b. - d. )
Mr Bud Durham indicates that she was buried here.
Wife of Henry Edwards. In 1997, Mr. Elton Edwards provided information that she was the daughter of John Lindsey.
Husband of Elizabeth Lindsey Edwards. In 1997, Mr. Elton Edwards indicated the surname was Edwards, not Edward as had been previously recorded in this survey, and gave dates of death for he and his wife, which have been revised based on new information.
Father of Henry Edwards; believed to be buried here.
Wife of John Edwards and mother of Henry Edwards; believed to be buried here.
Web page updated 13 May 2017
Index of All Cemeteries
Alphabetical Index of All Burials
Previous Page