Index of All Cemeteries
Alphabetical Index of All Burials
Previous Page
Use the following to search across all the cemeteries listed.
Example: "Smith, Roger" (yes, use the quotes)
124 DURHAM, THOMAS M. FAMILY CEMETERY (CA. 1845)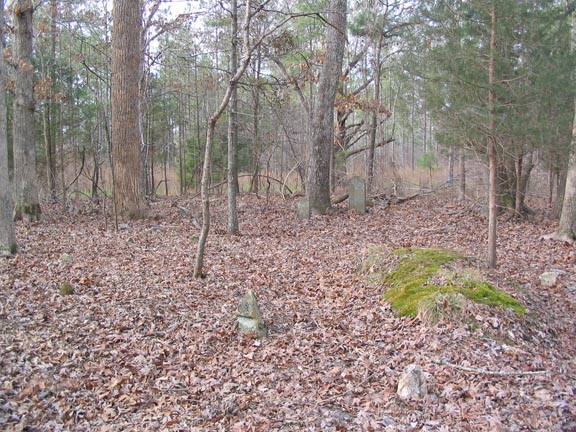 Location - In SW Bingham Township exactly 0.1 mile east of Collins Creek Bridge on Old Greensboro Rd (SR #1005, formerly Antioch Church Rd) and 185 ft north of the highway in a wooded area.

Coordinates: 35d 53m 50.7s N; 79d 13m 55.2s W Click here for Google maps

Survey - This cemetery was surveyed on March 4, 1976. Photographs and location revision by Milton Forsyth on January 16, 2006.

Graves, Marked - There was 1 marked grave.

Graves, Unmarked - There appeared to be 60 or 65 graves in at least 8 rows of visible graves & depressions.

Status [1976] - The abandoned cemetery appears to have been a rectangle about 50'X 50' square protected by an earth embankment or berm several feet high. It is now filled with many ancient & decaying trees - tulip poplar, red maple, & white oak festooned with grape vines & cross vines. A dense, deep carpet of periwinkle covers the cemetery which contains 1 tall lichen-covered marked stone: Thomas M. Durham d. May 31, 1845, and at least 8 rows of visible graves & depressions marked only by pairs of rough fieldstones. Not all rows are filled, but there may be 60 or 65 graves. An extraordinarily large mound covered with periwinkle and marked by a large headstone is near the grave of Thomas M. Durham in an adjacent row to the east.


Durham, Thomas M. (b. - d. 31 May 1845)
Inscription: "SACRED to the memory of THOMAS M. DURHAM who died May 31, 1845, Aged 45 Years, 7 Months and 9 Days." Footstone: T.M.D.
Web page updated 13 May 2017
Index of All Cemeteries
Alphabetical Index of All Burials
Previous Page