Index of All Cemeteries
Alphabetical Index of All Burials
Previous Page
Use the following to search across all the cemeteries listed.
Example: "Smith, Roger" (yes, use the quotes)
123 BARBEE-HARGRAVES CEMETERY - BLACK (CA.1790-1915)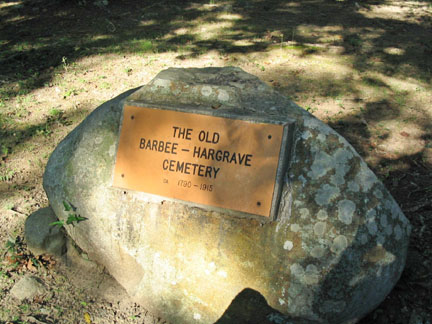 Location - At the end of Greenwood Road, in the loop, Chapel Hill. Owned and maintained by the Town of Chapel Hill.

Coordinates: 35d 55m 20.0s N; 79d 01m 38.0s W Click here for Google maps

Surveyed By M. Nygard, November 16, 1973. This cemetery was called a 'slave cemetery.'

Graves - Approximately 7 indistinct rows of depressions and stones, some 'true stones' very firmly set, probably 40 or 50 graves. Rows much Shorter at either end of oval. Few stones at western end; graves extend to road at eastern end. Difficult to survey because of the large number of native rocks. Some lettering and a date on a large boulder at extreme end: 'Thomas(?) 1805 (?)'

Current Status - Owned by the Town of Chapel Hill. The Town has installed a barrier to exclude vehicles from the site. A plaque on a large boulder on the edge of the cemetery tells that it is the Barbee-Hargrave Cemetery and gives dates of use as 1790-1915. (Copied from 'Historical Notes' 'Chapel Hill Weekly Newspaper' dated May, 1979). Picture of plaque by Milton Forsyth.

Comment - A note (1978) from Paul Green said that a 104-year-old negro, James Blacknell (of the Hargraves family) told him a Mrs. Flagler was once buried there and an iron fence surrounded the grave, but she was moved. Mr. Green doubted this. Also, Roger Foushee had a note from Ida Durham Lee (1978) that she had talked by telephone to Mrs. Louise Hargraves Durham of Cole St. and Mrs. Bessie Hargraves (pronounced 'Hargrove' most often by blacks) on Crest St. These descendants of the Hargraves slaves' families say that George Hargrove died in 1910 and was buried here, as was his wife Charlotte.


Web page updated 13 May 2017
Index of All Cemeteries
Alphabetical Index of All Burials
Previous Page