Index of All Cemeteries
Alphabetical Index of All Burials
Previous Page
Use the following to search across all the cemeteries listed.
Example: "Smith, Roger" (yes, use the quotes)
118 CROSSETT FAMILY CEMETERY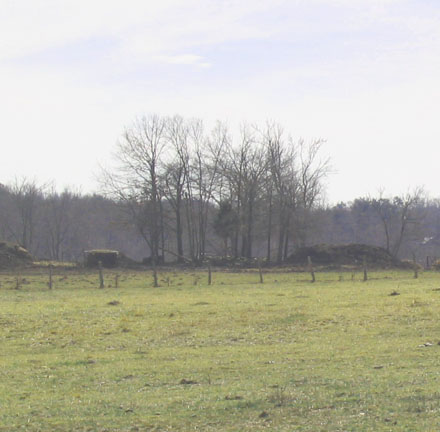 Location - In northern central Cedar Grove Township near the Orange, Person and Caswell County line intersection. Southeast of the intersection of Hensley Road (SR #1500) and Bama Road (SR #1503), on a farm across Bama Road from 4200 Bama Road. Private Property.

Coordinates: 36d 14m 19.0s N; 79d 09m 14.0s W Click here for Google maps

Survey - Surveyed on October 31, 1974. Milton Forsyth visited the area in February 2005; see "Current Status [2005]" below.

Graves, Marked - There were 2 marked graves.

Graves, Unmarked - There were 14 unmarked graves.

Status [1974] - The cemetery description in 1974 read as follows: "Turn right (south) on Bama Road toward a cluster of tobacco barns. Turn left (east) on a dirt road or lane between two tobacco barns, continue past an old house on the right. Lane gradually disappears near woodland but an old track leading to right through woodland brings into view a small picturesque stone-walled cemetery under the trees. Dogwoods have grown up through the walled enclosure area. A 2-1/2' high stone wall (laid with cement) has fallen in spots. Some thirteen graves are outside the wall. An obelisk to the north of the enclosure has toppled over. The cemetery appears to have been called 'Malone's Cemetery' locally."

Status Update [2005] - Milton Forsyth had permission to visit the cemetery but was dissuaded by a person on site because of bulls in the field. He was told that this cemetery is effectively destroyed. The area around it was cleared for a cattle operation, leaving only a small area of trees. Over time the cattle intruded on the cemetery area and portions of it were bulldozed and had tires stacked in it. No gravestones were said to remain and the wall was apparently destroyed. The photograph above is taken a distance from the treed circle where the cemetery was located, and the coordinates were calculated on the basis of available topographic and aerial photograph information (see aerial photograph).


Croset, Louisa F (b. Aug 1846 - d. 15 Jan 1852)
Footstone: L.F.C. A. 1846 Ja 15, 1852 (See Crossett)

Crosset, Hetty B (b. 6 Sep 1822 - d. 9 Sep 1895)
Wife of Sam'L Crossett Aged 73 Yrs., 3 Ds. (Obelisk) Erected by J. E. Crossett Footstone: H.B.C. (obelish Fallen From Plinth)

Crossett, Louisa F (b. Aug 1846 - d. 15 Jan 1852)
Footstone: L.F.C. A. 1846 Ja 15, 1852 (See Croset)
Web page updated 13 May 2017
Index of All Cemeteries
Alphabetical Index of All Burials
Previous Page