Index of All Cemeteries
Alphabetical Index of All Burials
Previous Page
Use the following to search across all the cemeteries listed.
Example: "Smith, Roger" (yes, use the quotes)
117 YANCEY FAMILY CEMETERY (CA. 1860S)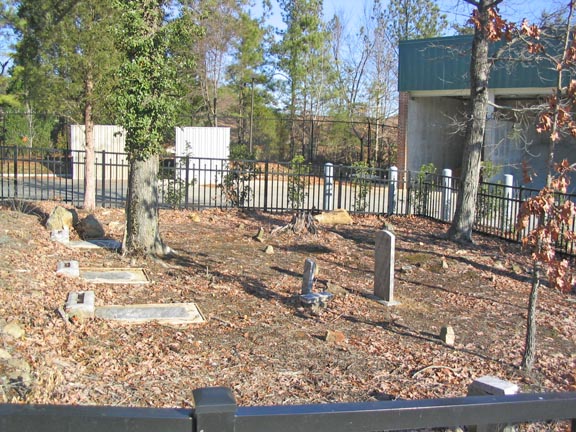 Location - In Chapel Hill Township at the Orange Water and Sewer Authority (OWASA) plant at 400 Jones Ferry Road, Carrboro, NC. At the east end of the Operations Center in a gated area. Permission must be obtained to visit the cemetery.

Coordinates: 35d 54m 37.4s N; 79d 04m 47.8s W Click here for Google maps

This cemetery is also known as the Pickett-Creel Cemetery.

Survey - The date of the 1970s survey is not stated. Mr. Max Saunders and Mr. Carroll Weaver, University Filter Plant employees, provided information about the cemetery at that time. Milton Forsyth visited and photographed the cemetery on December 20, 2005 in the company of Mr. Randy Horton, OWASA Assistant Distribution and Collections Manager.

Comment [1970s] - See the letter in 'Spencer Papers' [probably in UNC collection]: James Phillips to 'Tinnie', Chapel Hill, 28 May 1860.

Graves, Marked - 6 graves, earliest 1867.

Graves, Unmarked - 9 unmarked graves in this cemetery.

Status - The university put chain-link fence around this cemetery when they owned the property. OWASA preserved the cemetery and replaced this fence with a 4 ft high fine imitation wrought-iron fence of aluminum in the early 2000s when they expanded their plant and built the operations center building. The cemetery is approximately 40ft x 31ft. It is nicely maintained, and several gravestones that had been broken have been set horizontially in concrete over the grave. See the plat.


Creel, Elizabeth (b. - d. 17 Mar 1890)
Spouse - Nathan Creel . "A member of the Baptist Church of Chapel Hill". Aged 84 Yrs. (stone broken)

Creel, Mayoma (M?) (b. 1854 - d. 20 Jun 1867)
Daughter of J. N. and Elizabeth Creel. Born 5---1854. Footstone: M.M.C.

Creel, Nathan (b. 15 Jan 1808 - d. 20 Oct 1875)
"Joined the Baptist Church Oct. 5, 1856 and lived a consistent christian. And although bereft of sight in early life, in darkness here he groped his way. In heaven we trust he'll rest at last. And there behold the light of day."

Pickett, Callie (b. 17 Dec 1866 - d. 16 Oct 1877)

Pickett, Lottie (b. 7 Jan 1828 - d. 23 Feb 1904)
A consistent member of the Baptist Church

Unknown, Unknown (b. - d. )
Stone marker for an unknown grave.

Yancey, Charles (Dr.) (b. - d. 19 May 1860)
Web page updated 13 May 2017
Index of All Cemeteries
Alphabetical Index of All Burials
Previous Page