Index of All Cemeteries
Alphabetical Index of All Burials
Previous Page
Use the following to search across all the cemeteries listed.
Example: "Smith, Roger" (yes, use the quotes)
116 CRAIG FAMILY CEMETERY (CA. 1918?)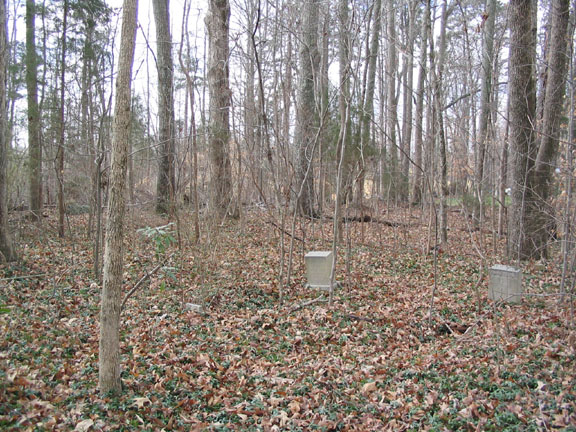 Location - Located in Chapel Hill Township south of Carrboro between Lots 13 and 14 in Dogwood Acres subdivision, across from #29 South Circle Drive.

Coordinates: 35d 52m 31.0s N; 79d 04m 37.0s W Click here for Google maps

Survey - Information provided by Prof. Julio Cortes, a local resident in the 1970s. Thanks to Bill Barber, a local resident in Oct 2005, for looking into the background of this cemetery. Photographs by Milton Forsyth in February 2005.

Graves, Marked - There were five marked graves.

Graves, Unmarked - There were some graves marked with fieldstones.

Status [2005] - The cemetery is unattended and overgrown with periwinkle and other vegetation. Several of the stones observed in 1975 were not seen in 2005, but might have been fallen and under vegetation.


Cole, Sallie (b. 1859 - d. 11 May 1918)
Wife of Haywood Cole. (O. C. Marriages 02-323, 13 Mar 1874; O. C. Death Cert. D4-224: Daughter of John Moore and Emaline --------; Age 59, buried "home cemetery", 12 May 1918; Undertaker: Haywood Cole). (Stone Fallen)

Cotton, Nannie (b. 1901 - d. 1 Sep 1929)
(Stone fallen in 1975; upright in 2005)

Craig, Lunar (b. 1866 - d. Oct 1926)

Craig, Manuel (b. Apr 1850 - d. 21 May 1916)
There is no stone. Husband of Sarah Jane Hopkins, married 8 Feb 1877. Son of Charles Craig and Martha -------. (O. C. Marriage Cert. 03-231; O. C. Death Cert. D3-163: born in Chapel Hill; buried "Craig Cemetery", 22 May 1916).

Craig, Nettie Mae (b. - d. 17 May 1925)
Aged 24 Yrs. 'Faithful To Her Trust, Even Unto Death' (Stone fallen in 1975; broken in 2005)

Craig, Sarah Jane (b. 2 May 1855 - d. 3 Jul 1923)
Inscription: "Wife of Manuel Craig/Age [3]8 Yrs/ ...Mother" (stone not found in 2005). (O. C. Death Cert. D8-120: widow; buried "Smith Grave Yard", 4 Jul 1923; age 68 yr, 2 mo, 1 dy).
Web page updated 13 May 2017
Index of All Cemeteries
Alphabetical Index of All Burials
Previous Page