Index of All Cemeteries
Alphabetical Index of All Burials
Previous Page
Use the following to search across all the cemeteries listed.
Example: "Smith, Roger" (yes, use the quotes)
114 COUCH-PICKETT FAMILY CEMETERY (CA.1844)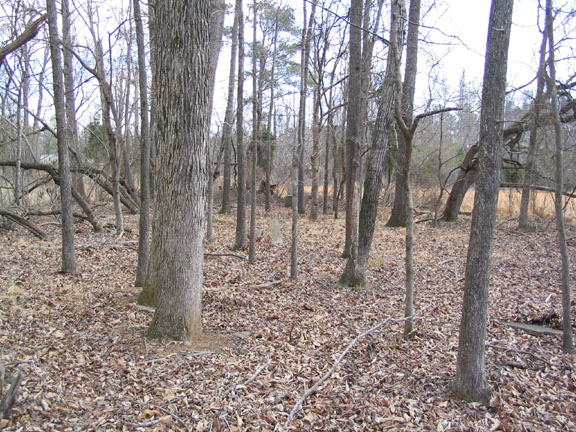 Location - In NE Chapel Hill Township where the 'Old Pickett Place' previously stood, on the west side of Kerley Road (SR #1717) at 4500 Kerley Road, a short distance below the intersection with SR #1716 (Cornwallis Road). A lane leads to a modern house and a few outbuildings. The cemetery is 525 ft north in an oval shaped clump of trees on a rise beyond the pond. Private property.

Coordinates: 36d 00m 22.0s N; 78d 59m 39.0s W Click here for Google maps

Survey - This cemetery was surveyed On June 6, 1974. Milton Forsyth visited and photographed the cemetery in February 2005 through the courtesy of Mr. and Mrs. P. H. Klopfer. He also refined the location directions. Another view of cemetery.

Graves, Marked - There were 6 marked graves.

Graves, Unmarked - There were 13 unmarked graves (including rough stones and depressions).

Current Status - The cemetery contains 6 marked graves (earliest Samuel Couch, d. 1844), approx. 13 unmarked ones (visible) in 7 rows. Very likely other persons are buried here. In 2005 the cemetery was not maintained but was reasonably free of low undergrowth.


Couch, Samuel (b. - d. 26 May 1844)
Wife of J C Davis. Footstone: E.D. (Headstone off base)
Aged 84 Yrs. Footstone: J.C.D. (Headstone off base)
Daughter of W. H. and E. O. Hester. Footstone: L.M.H.
Son of W. H. and E. O. Hester. Footstone: M.G.H.
Daughter of E. L. and L. A. Pickett. "She was the flower of our home." Footstone: A.M.P.
Web page updated 13 May 2017
Index of All Cemeteries
Alphabetical Index of All Burials
Previous Page