Index of All Cemeteries
Alphabetical Index of All Burials
Previous Page
Use the following to search across all the cemeteries listed.
Example: "Smith, Roger" (yes, use the quotes)
113 COUCH FAMILY CEMETERY (1888)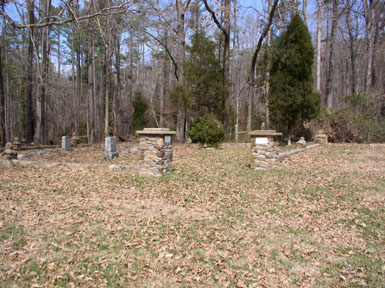 Location - In NE Chapel Hill Township at 4900 Cornwallis Road (SR #1716), 0.8 mi west of Kerley Road (SR #1717). The historic farmhouse at this location was restored in 2005.

Coordinates: 36d 00m 55.0s N; 79d 00m 10.0s W Click here for Google maps

Survey - B. Doak and Mrs. A. G. Engstrom surveyed this cemetery on January 22, 1973. Photographed by Allen Dew in March 2003. Closeup picture of entrance pillars.

Graves, Marked - There were 9 marked graves.
Graves, Unmarked - There were 3 unmarked graves.


Couch, Edgar R (b. 17 Mar 1889 - d. 10 Jan 1954)
North Carolina, PFC Co G 53rd Infantry, World War I
Spouse - Samuel J Couch. 'Mother' Footstone: M.M.C.
Spouse - Maggie Martin Couch. 'Father' Footstone: S.J.C.
Spouse - Malissa H. Garrard. 'No pains, no grief, no anxious fears can reach our love ones sleeping here.' Footstone: 'Father'
Spouse - Duncan C. Garrard. 'No pains, no griefs, no anxious fears can reach our love ones sleeping here.' Footstone: 'Mother'
Spouse - Lona E. Couch White
Web page updated 13 May 2017
Index of All Cemeteries
Alphabetical Index of All Burials
Previous Page