Index of All Cemeteries
Alphabetical Index of All Burials
Previous Page
Use the following to search across all the cemeteries listed.
Example: "Smith, Roger" (yes, use the quotes)
112 PETTIGREW-RICE FAMILY CEMETERY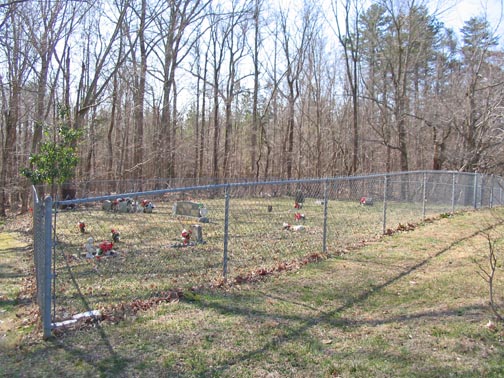 Location - In NW Cheeks Township at the end of a private drive off Old Sourwood Trail, a private lane off Saddlecreek Road (SR #1346) about 0.3 mi. south of its intersection with Cummings Drive. Private property.

Coordinates: 36d 07m 40.2s N; 79d 15m 12.2s W Click here for Google maps

Survey - Margaret Jones of the Orange County Environment and Resource Conservation Department and Milton Forsyth surveyed this cemetery 7 Feb 2007 with the permission of the property owner.

Graves, Marked - There are 17 graves marked with memorial stones. The earliest marker commemorates a death in 1846.

Graves, Unmarked - Scattered fieldstones indicate some unmarked graves.

Comments - This fenced, well-maintained old family cemetery is located on the grounds of "The Old Place Bed and Breakfast," which opened in 1989 in a reconstructed 200-year-old house listed on the National Register of Historic Places on property that has been in the Rice family for generations.


Beaddles, Robert James "Dink" (b. 4 Jan 1959 - d. 28 Nov 1982)
Pettigrew, Amanda (b. - d. )
Handmade concrete marker.
Husband of Alice C. Rice.
Inscription: At Rest Beyond the Sun
Inscription: Infant Dau. of Robert K. and Martha E. Rice
Inscription: Infant son of Bill & Annie Bell Rice - Our Darling
Wife of Robert K. Rice. Inscription: Mother - At Rest.
Inscription: The Lord is My Shepherd
Husband of Martha E. Rice. Inscription: Father - At Rest.
Web page updated 13 May 2017
Index of All Cemeteries
Alphabetical Index of All Burials
Previous Page