Index of All Cemeteries
Alphabetical Index of All Burials
Previous Page
Use the following to search across all the cemeteries listed.
Example: "Smith, Roger" (yes, use the quotes)
111 COMPTON FAMILY CEMETERY (CA. 1819 OR EARLIER)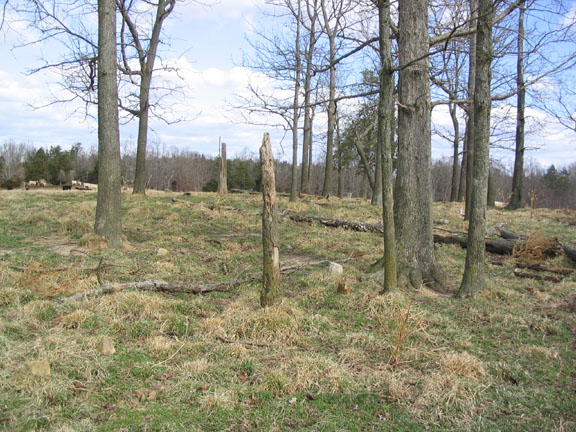 Location - In NW Cedar Grove Twp on a farm at 6703 Corbett Ridge Road (SR #1004), 1.7 mi north of Carr intersection (Hwy 49). In a clump of trees on a rise in the pasture southeast of a large white house which is just off the road. Private property.

Coordinates: 36d 13m 49.0s N; 79d 14m 04.0s W Click here for Google maps

Survey - Map drawn and data supplied by Mr. and Mrs. M. F. Rogers on March 8, 1975. Visited and photographed by Milton Forsyth in February, 2005 in the company of the landowner, Mr. Marvin Rogers. Location directions also revised.

Graves, Marked - 4 marked stones. A fifth stone was found in 2005.

Graves, Unmarked - Many unmarked graves, total number not stated.

Status [2005] - Cemetery is open to the cows who have kept down the vegetation. Stones mostly fallen and some buried in turf. Mr. Rogers said Compton descendants had visited the cemetery in the past but not in recent years.


Compton, Erasmus (b. 7 Jan 1778 - d. 4 Sep 1836)
Aged 58 Yrs., 8 Mos., 28 Ds. - Footstone: E.C. (Stone Fallen)

Compton, L (b. - d. 1851)
(Letters incised in rough stone) C(ompton?)

Compton, Margaret (b. 26 Jan 1780 - d. 28 Dec 1819)
Aged 39 Yrs., 11 Mos. and 1 D. - Footstone: M.C. (Stone Fallen)

Compton, S. G. (b. - d. 4 Jun 1858)
(Inscribed fieldstone "S.G.C. / D. JU. 4. 1858)

Simpson, Martha W (b. - d. 30 Dec 1857)
Wife of Thos T Simpson Aged 28 Yrs., 2 Mos., 15 Ds. (Stone Fallen)
Web page updated 13 May 2017
Index of All Cemeteries
Alphabetical Index of All Burials
Previous Page