Index of All Cemeteries
Alphabetical Index of All Burials
Previous Page
Use the following to search across all the cemeteries listed.
Example: "Smith, Roger" (yes, use the quotes)
109 PAUL, JOHN FAMILY CEMETERY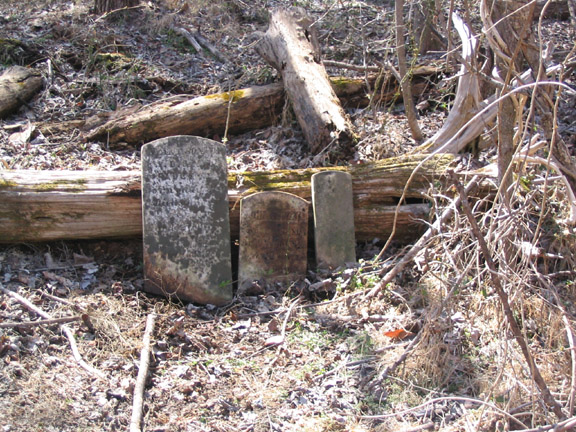 Location - In Cheeks Township north of Efland off High Rock Road (SR #1340), 0.25 mi NNE into the woods in back of the residence at 4201 High Rock Road, which is about 0.1 mi. north of the intersection with Lebanon Road (SR #1306). Private property.

Coordinates: 36d 06m 40.3s N; 79d 10m 50.9s W Click here for Google maps

Survey - This cemetery was visited on July 20, 1977 by W. Ernest Blalock, whose letter on the subject is included in the name listing under the entry for Paul, John. Through the courtesy of Mrs. J. E. Cheek and directions from Jody Cheek, Milton Forsyth visited and photographed the cemetery in March 2005, and revised the location directions.

Status [2005] - The cemetery is difficult to locate. It is to the NE of the remains of the old Paul house (which sit next to a field), just across a fence into the property to the east. If you reach the power line clearing you are too far north. The area is heavily wooded with patches of brambles and vines. The cemetery has numerous fallen limbs on it and the area around it was logged in the past. Milton Forsyth found only two engraved stones and one footstone. From the 1977 description: "Go a very short distance to a mailbox on the right for a house that sits out of sight from the road. Turn right and go into the farm of Jimmy Cheek. The graveyard is some distance back of the house, through the pastures to the old Paul home site, and the graves are to the east of that through a pasture some distance. The markers were broken off and just inside a fence to the pasture."

Picture of John Paul house remains. Picture looking north. Picture looking southeast.


Faucett, Infant (b. 10 May 1856 - d. 2 Jun 1856)
Infant Son of W. D. and M. J. Faucett. Aged 21 Dys. 'In this lonely tomb, My lovely infant lies, The flower has scarcely bloomed, When lo, it droops and dies.'

Paul, John (b. - d. )
[No Stone]. From a letter from W. Ernest Blalock, dated 20 Jul 1977 addressed to Mary Claire Engstrom:

"My curiosity being more than I can cope with, I visited the old Paul Family cemetery today near Efland, NC. I visited with Mr. Bill Dorsett as you suggested; he sent me on to see Miss Maude Faucette for more information after telling me how to find the graveyard. Miss Faucette did not have much information although she said some of her ancestors did marry Pauls. I found only four markers with names and dates. There must be between 50 to 100 graves in this cemetery that covers about an acre of ground. There are numerous brown rocks marking gravesites. The Paul family owned many slaves and they are probably buried here also. There are large trees and evidence that there were many huge cedar trees in years past. Mr. Jimmy Cheek, who owns the farm now, is very interested in the cemetery and the history of his farm. His place of work was closed and he may have to sell and move to Ind. to follow his trade. He has owned the farm for only one year. This cemetery will cease to exist in a few years. All four of the markers are broken and/or dislodged from their proper place. It is in a pasture and trampled by livestock. There are numerous fences to cross to get to it. Mr. Cheek said that when he bought the farm last year, there was fresh dirt around one grave as though someone had been digging in it. He also told me about people looking for things on the farm with metal detectors. I firmly believe that this was the homeplace of my John Paul.

"The inscriptions read: Thomas P. Paul - Born April 2, 1803, Died July 28, 1854, Aged 51 Yrs., 2 Mos., 26 Ds; Margaret Paul - Decs'd April 12, 1848 In The 44th Year of Her Age; John M. Paul - Born Aug. 8, 1805 And Died April 10, 1878, Aged 72 Yrs., 8 Mos., 2 Ds; Infant Son of W.D. and M.J. Faucett - Born May 9th and Died June 1st, 1856, aged 21 Days. 'In this lonely tomb, My lovely infant lies, The flower has scarcely bloomed, When lo, it droops and dies.'

"According to wills I have found, Thomas P. Paul was the Son of John Paul. Margaret Paul was Wife of Thomas P. Paul and daughter of Samuel Nelson. John M. Paul was Thomas' brother and also a Son of John Paul. The Faucett infant was the Son of William D. Faucett and his wife, Margaret Jane Paul, daughter of Thomas P. and Margaret Paul."

Paul, John M. (Jack) (b. 9 Aug 1805 - d. 11 Apr 1878)
Aged 72 Yrs, 8 Mos, 2 Dys. Footstone: J.M.P.

(According to W. Ernest Blalock, he was the Son of John Paul and brother of Thomas P. Paul, and father of Fannie Paul Squires.)

Paul, Margaret (Nelson) (b. 1804 - d. 13 Apr 1848)
Decs'd April 12, 1848 in the 44th year of her age.

(According to W. Ernest Blalock, she was the Wife of Thomas P. Paul and the daughter of Samuel Nelson.)

Paul, Thomas P. (b. 3 Apr 1803 - d. 29 Jul 1854)
Aged 51 Yrs, 2 Mos, 26 Dys.

(According to W. Ernest Blalock, he was the Son of John Paul.)
Web page updated 13 May 2017
Index of All Cemeteries
Alphabetical Index of All Burials
Previous Page