Index of All Cemeteries
Alphabetical Index of All Burials
Previous Page
Use the following to search across all the cemeteries listed.
Example: "Smith, Roger" (yes, use the quotes)
102 BRYANT / FAUCETTE MILL GRAVES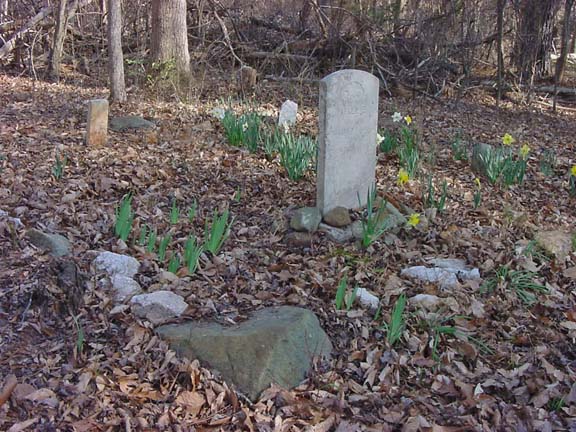 Location - In NE Cheeks Township west of the end of Faucette Mill Rd (SR #1328), near the site of the old mill and millpond. About 300 Feet east of the old dock location at the pond. Private property.

Coordinates: 36d 06m 11.5s N; 79d 08m 29.8s W Click here for Google maps

Survey - Charles H. Blake surveyed this cemetery 8 Jun 1976. Margaret Jones of the Orange County Environment & Resource Conservation Department visited the site in March 2006 in the company of the landowner and provided photographs.

Graves, Marked - There is one marked grave. The traditional story is that this is the grave of a child who fell out of the mill window, but see "Comments (2006)."

Graves, Unmarked - Two slate stones inline E-W having no evidence of inscriptions. Possibly the grave of a young child who is said to have fallen out of the mill window.

Status (2006) - The site is beautifully maintained by the grandchildren of the landowner.

Comments (2006) - The statement that Mallie Bryant is the child who fell from the mill window is disputed by a death certificate (O. C. death record D4-397, filed 6 Nov 1918). This certificate states that Maller Bryant, "age 14," a "cotton mill wkr.," son of William Bryant and Louise Spivey, died 28 Oct 1918 at 7:30 pm after a 5 day illness with influenza [he was a victim of the 1918 flu pandemic].

The census indicates William Hardy Bryant and his family came from Chatham County between 1900 and 1910 and were for some years farmers in Cheeks Township or worked at the Hillsborough cotton mill. In 1920 they were living in the "Cotton Mill Village" in Hillsborough. Louise Spivey Bryant, who died in 1952 at her son's home in Laurinburg, NC at age 84 leaving 32 living descendants, is buried in the Hillsborough Town Cemetery in a now unmarked grave [Durham Morning Herald, 22 Apr 1952, sec 1, p. 2].

Mallie Bryant, shown in the family as age 3 in the 1910 census, was buried on the property of his mother's brother, Ely Spivey (family buried Efland UMC, cem #019). This property of 33 5/8 acres included the mill; Ely Spivey owned and operated the mill from 1911 to 1919 [see OC DB 58:154, 30 Nov 1904; DB 63:508, 1 Apr 1911; DB 77:239, 9 Dec 1919; 1920 Census, NC, Orange Co, Hillsboro Twp, ED 183, Page 22A (161), line 7, fam 427 - Occupation: "farmer & miller." A 1918 soil map discovered by Margaret Jones refers to the mill as "Spivey's Mill." The property was purchased in 1919 by W. A. Collins and several 1930s deeds of adjacent property refer to "Collins Mill."] The tract came into the current owner's family on 28 Jan 1937 [OC DB 105:208] and was combined with other property. Eventually the 17 acre property on which the "Faucette Mill" stands today was subdivided from the original 33 5/8 acres [OC DB 200:54, 25 Nov 1964].

Who might have caused the gravestone to be erected is undetermined. (Gravestones were expensive and cotton mill workers were poor, leaving the reasonable conclusion that the stone was placed some years later, which might account for the difference in the death date). [Research by Milton Forsyth, with thanks to Mr. Eric Rudd, Lowe Funeral Home and Crematory, Burlington, NC for information on Louise Spivey Bryant].


Bryant, Maller (Mallie) (b. 17 Feb 1906 - d. 28 Oct 1918)
Death date from Orange Co. death record. Stone says: "Mallie/Son of William & Louise Bryant/Born 17 Feb 1906/Died 26 Nov 1918/(verse inscription)."
Web page updated 13 May 2017
Index of All Cemeteries
Alphabetical Index of All Burials
Previous Page