Index of All Cemeteries
Alphabetical Index of All Burials
Previous Page
Use the following to search across all the cemeteries listed.
Example: "Smith, Roger" (yes, use the quotes)
100 LIGHTHOUSE BAPTIST CHURCH CEMETERY (c.1969)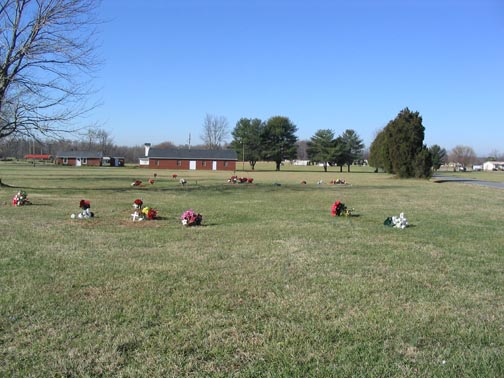 Location - In Cheeks Township at the intersection of Bowman Road (SR #1142) and West Ten Road (SR #1144), at 6601 Bowman Rd.

Coordinates: 36d 04m 18.8s N; 79d 13m 57.8s W Click here for Google maps

Survey - Margaret Jones of the Orange County Environment and Resource Conservation Department and Milton Forsyth surveyed this cemetery on 3 Jan 2007.

Graves, Marked - There are 18 graves marked with gravestones.

Comments - The trustees of the Lighthouse Baptist Church were conveyed land from Hermon W. and Agnes E. Lloyd by deed of 29 Sep 1969 "to be used as a place of Divine Worship" [O. C. Deed Book 222:547]. The cemetery was apparently established at some point after that, the earliest noted burial being in 1974.


Buchanan, Michael Anthony "Jack" (b. 25 Apr 1935 - d. 28 Apr 1994)
Carden, Dorothy Terry (b. 29 Mar 1927 - d. 13 Nov 1998)
Inscription: "Beloved Father"
Inscription: "I Love Mother"
Husband of Annie R. Johnson
Wife of Ambrose D. Johnson
Sgt US Army, Operation Iraqi Freedom. Inscription: "Beloved Son, Devoted Father, Loving Brother, Loyal Friend"
Wife of Hermon W. Lloyd. Grantor of land for the church.
Husband of Agnes R. Lloyd. Grantor of land for the church.
Homemade marker. "Gone but not forgotten"
Inscription: "You will always be Mommy's little angel, I love you"
Web page updated 13 May 2017
Index of All Cemeteries
Alphabetical Index of All Burials
Previous Page