Index of All Cemeteries
Alphabetical Index of All Burials
Previous Page
Use the following to search across all the cemeteries listed.
Example: "Smith, Roger" (yes, use the quotes)
097 BREEZE FAMILY CEMETERY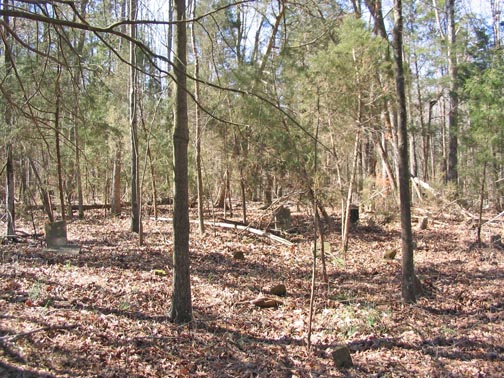 Location - In NE Cedar Grove Township west of Brown Rd (SR #1516) inside the edge of a wooded area next to a pasture. Private property.

Coordinates: 36d 12m 55.6s N; 79d 04m 41.6s W Click here for Google maps

Survey - Margaret Jones of the Orange County Environment and Resource Conservation Department and Milton Forsyth surveyed this cemetery on 6 Mar 2007 with the permission of the landowners, family descendants, after a preliminary visit by Milton Forsyth who was shown the cemetery by Hope Breeze, who identified it to the survey.

Graves, Marked - There are 4 graves marked with gravestones or engraved fieldstones.

Graves, Unmarked - There are some 15 graves, possibly more, marked only with fieldstones.

Comments - This unattended family cemetery is in a wooded area with some fallen trees or limbs, and several of the gravestones are broken.


B., J. R. W. (b. - d. )
Fieldstone mostly unreadable: B. A. (born Apr or Aug), D. A. (died Apr or Aug).

Breeze, Augusta D. (b. 12 May 1859 - d. 14 Jan 1898)
First wife of S. R. Breeze, who is buried at New Eno Presbyterian Church Cemetery. Aged 38 ys 8 ms 2 ds. Inscription: "You children as you pass by, Behold and see, as you are now, so once was I, as I am now you must be, propare for death and follow me." Bottom part of broken stone. Footstone: A. D. B.

Breeze, John H. (b. 3 Apr 1817 - d. 2 Oct 1899)
Age 82 yrs, 6 mo. Inscription: "Rock of ages cleft for me, let me hide myself in thee." Husband of Mary Ann Eliza Jordan, O. C. Marriage Bond 3 Mar 1852. Footstone: J. H. B.

Breeze, Mary Ann Eliza Jordan (b. 21 Aug 1827 - d. 31 Dec 1869)
Age 42 y. 4 m. 10 d. Inscription: "Asleep in Jesus, blessed sleep, from which none ever wake to weep." Wife of John H. Breeze. Footstone: M. A. E. B.
Web page updated 13 May 2017
Index of All Cemeteries
Alphabetical Index of All Burials
Previous Page