Index of All Cemeteries
Alphabetical Index of All Burials
Previous Page
Use the following to search across all the cemeteries listed.
Example: "Smith, Roger" (yes, use the quotes)
096 BARBEE, JOHN FAMILY CEMETERY (BEF. 1810?)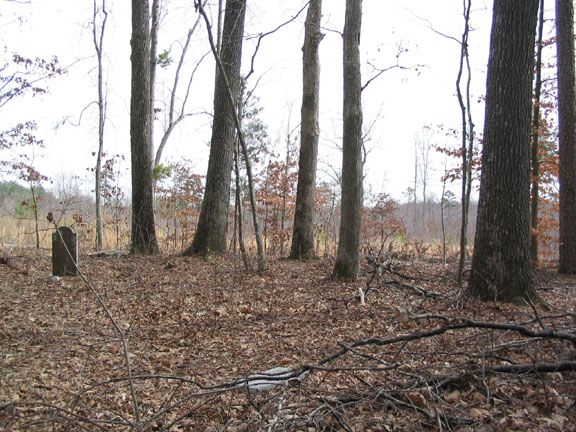 Location - In Chapel Hill Township in Duke Forest, on the north side of New Hope Creek between Whitfield Road (SR #1731) and Mt. Sinai Road (SR #1718). Adjacent to an authorized trail, but not in an authorized access area and permission to enter the cemetery must be obtained from the Office of the Duke Forest.

Coordinates: 35d 59m 13.0s N; 79d 01m 12.0s W Click here for Google maps

Survey - Milton Forsyth visited and photographed the cemetery in February 2005.

Graves - There is 1 marked grave and indications of other fieldstone markers. Additionally, there is one contemporary memorial stone (dated 1986) although it is not clear that the person is buried at this location. A visitor in 2008 reported that another modern stone had been placed in the cemetery next to this stone, but the origin of either stone is unknown.

Comment - The cemetery location is shown on a map on page 160 of "Barbee Families of Chatham, Orange, and Wake Counties" edited by Ruth Herndon Shields. This map places the cemetery in Duke Forest just north of Mimosa Drive (which is on the south side of the creek). This would appear to be the same cemetery shown on both the USGS topographical map and the Korstian Division of Duke Forest trail map, where it is indicated as being adjacent to the trail. The cemetery is about 0.64 mi north of Duke Forest entrance 25 off Whitfield Road (SR #1731) - the walk on the trail is longer and takes about 25-35 minutes. From Mt. Sinai Road the entrance is 22 or 23. The cemetery is approached from the north, and is readily visible to the right of the trail. The property was originally deeded to John Barbee.


Jenkins, Mann P. (b. 15 Jun 1795 - d. 25 Jan 1856)
Web page updated 13 May 2017
Index of All Cemeteries
Alphabetical Index of All Burials
Previous Page