Index of All Cemeteries
Alphabetical Index of All Burials
Previous Page
Use the following to search across all the cemeteries listed.
Example: "Smith, Roger" (yes, use the quotes)
090 ANDREWS, CHESLEY FAMILY CEMETERY (1897)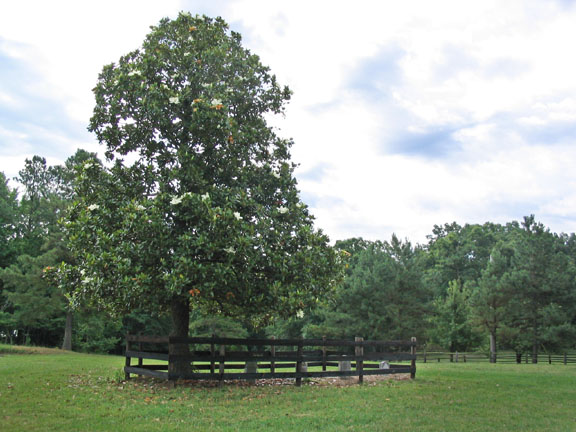 Location - In Bingham Township off Carlisle Road, a privately-maintained lane west off Dodson's Crossroads (SR #1102) about 1.3 miles north of its intersection with Dairyland Road (SR #1177). Where the lane ends in a 'T' turn left for about 100 yds, the cemetery is 100 ft to the left (east) in a horse pasture of the Gretna Green Ranch. It is enclosed by a wood rail fence and is exceptionally well maintained. Private property.

Coordinates: 35d 59m 12.0s N; 79d 10m 04.0s W Click here for Google maps

Survey - This cemetery was surveyed in March, 1973. Photographs by Milton Forsyth in June 2005 through the courtesy of the current property owners, the Muirhead family. He also revised the location description.

Graves, Marked - There were 4 marked graves.

Note - For information on the Andrews families, click here to see the original Mary Andrews Brooke notes transcription.


Andrews, Chesley (b. 20 Jan 1820 - d. 16 Feb 1915)
Spouse - Martha Ann Andrews. "Gone but not forgotten". Footstone: C.A.

Andrews, Martha Ann (b. 10 Apr 1840 - d. 26 Oct 1900)
Wife of Chesley Andrews. "She was a kind and affectionate wife, a fond mother, and a friend to all." Footstone: M.A.A.

Andrews, Robert Lee (b. 6 Nov 1871 - d. 31 Mar 1897)
"Gone but not forgotten". Footstone: R.L.A.

Andrews, Wilson Johnston (b. 23 Feb 1866 - d. 14 Jun 1949)
Web page updated 13 May 2017
Index of All Cemeteries
Alphabetical Index of All Burials
Previous Page