Index of All Cemeteries
Alphabetical Index of All Burials
Previous Page
Use the following to search across all the cemeteries listed.
Example: "Smith, Roger" (yes, use the quotes)
089 BLACKWOOD FAMILY CEMETERY (BEF. 1834)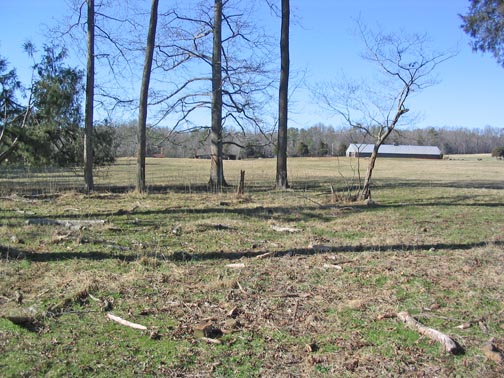 Location - In Chapel Hill Township 0.45 mi. south of Mt. Sinai Church Road (SR #1713) and 0.55 mi. east of New Hwy 86 at the border of a pasture on a farm. Private property.

Coordinates: 35d 59m 14.6s N; 79d 03m 36.2s W Click here for Google maps

Survey - Margaret Jones of the Orange County Environment and Resource Conservation Department and Milton Forsyth surveyed this cemetery on 3 Jan 2007 accompanied by the landowner, Mr. Jim Hopper. They were alerted to the existence of this cemetery by Mr. Bob Strayhorn. Mr. Louis Freeland, descendant of the family that purchased this property in 1834, and Mr. Robert A. "Bob" Blackwood, a descendant of the Blackwood family, provided information on the cemetery. Photographs by Milton Forsyth.

Graves - There are no longer any marked graves, but there are a few depressions. With the exception of one preserved gravestone no record of who was buried here survives. The large, broken, slate-like stone reads: --N BLACKWOOD / DIED / APRIL THE 3(0?) / 1828 [See Gravestone] Bob Blackwood says the stone at one time had an entire first name on it: JOHN

Comments - The Blackwood family were among the original settlers of this area, and were among the founders of the New Hope Presbyterian Church. In 1834 the Freeland family purchased the property on which this cemetery was located from Johnston Blackwood. A fence surrounded the cemetery for many years and protected it from the animals on the farm, but that was removed some time ago. The fieldstones that previously marked the graves were removed by residents of an adjacent trailer park; one engraved slate-like stone that was located and preserved by Bob Blackwood. He also provided the names listed in the burials.


Blackwood, Eleanor Craig (b. 25 Mar 1781 - d. 30 Apr 1828)
Daughter of David Craig(e) and Eleanor Johnston. First wife of John Blackwood, m. 22 Jul 1800, by whom she had 13 children. Believed buried here. The date on the stone suggests it might be her gravestone, with portions of the text missing.

Blackwood, John (b. 2 Aug 1779 - d. 16 Dec 1843)
Son of William Blackwood, husband of Eleanor Johnston and Mary McCauley. Believed buried here.

Blackwood, Mary McCauley (b. - d. )
Said to be the daughter of John McCauley and Janette (Jane) Blackwood. Second wife of John Blackwood, m. 13 Apr 1830, by whom she had 7 children. Believed buried here.
Web page updated 13 May 2017
Index of All Cemeteries
Alphabetical Index of All Burials
Previous Page