Index of All Cemeteries
Alphabetical Index of All Burials
Previous Page
Use the following to search across all the cemeteries listed.
Example: "Smith, Roger" (yes, use the quotes)
088 ANDREWS, ARCHIBALD FAMILY CEMETERY (CA. 1892?)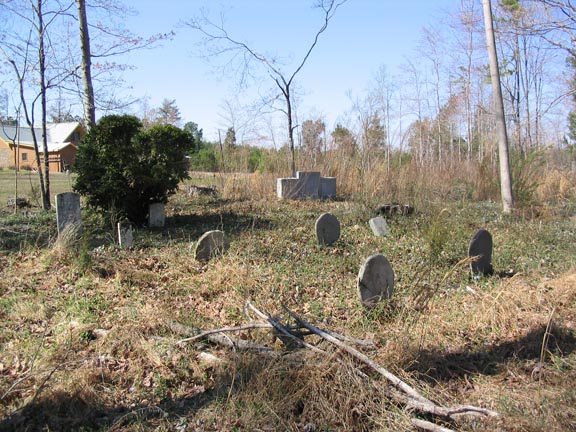 Location - In Bingham Township on the property of 6314 N. Dodson's Crossroads (SR #1102), 300 ft. from the road east of the new house just beyond an open field. Private property.

Coordinates: 35d 59m 04.5s N; 79d 09m 28.8s W Click here for Google maps

Survey - The date of the 1970s survey is not given. Margaret Jones of the Orange County Environment & Resource Conservation Department and Milton Forsyth visited and photographed the cemetery on 15 Mar 2006 through the courtesy of the property owner.

Graves, Marked - There were 9 marked graves counted in this cemetery in the 1970s survey. A monument listing 8 persons was erected in modern times; burials were also listed in the notes by Mary Andrews Brooke.

Status - In the 1970s the cemetery was described as being "behind the house by a big cherry tree. There is an old well and remains of a house foundation. The slave cemetery is in the front yard under a flower bed." Mary Andrews Brooke noted: "Archibald purchased the Justice [possibly Justus] plantation on the old Pittsboro-Hillsborough Rd. The house was constructed of logs, two story and had glass windows. It was considered the finest house in that area. There were barns for the cows, sheep & horses, besides the many cleared acres for crops & grazing, as well as ample housing for his slaves." In 2006 the old house and house remains were gone and a new home had been constructed on the property. It is not known where the slave cemetery might have been. The cemetery is maintained by the descendants, but has vegetation growth. This cemetery is also known as the Andrews-Justice cemetery. Click here to see the original Mary Andrews Brooke notes transcription.


A., W. (b. Unknown - d. Unknown)
Andrews, Ann (b. 1826 - d. )
Daughter of Archibald and Polly Andrews.

Andrews, Archibald B. (b. 21 Jan 1788 - d. 23 Apr 1891)
Husband of Polly Reeves Andrews

Andrews, Atlas (b. 1832 - d. 1863)
Son of Archibald and Polly Andrews. Died in the Civil War.

Andrews, Calvin (b. 1822 - d. 1865)
Son of Archibald and Polly Andrews. A physician; died of malaria.

Andrews, Elizabeth (b. - d. )
Daughter of Archibald and Polly Andrews.

Andrews, Elizabeth Temple (b. Abt 1824 - d. ? Jun 1864)
First wife of Chesley Andrews, who is buried in the Chesley Andrews Cemetery. Footstone: E. A.

Andrews, Mary (b. 1833 - d. 1898)
Daughter of Archibald and Polly Andrews.

Andrews, Mary E. (b. 1 Jun 1864 - d. 10 Oct 1865)
Daughter of Chesley and Elizabeth Temple Andrews. Inscr: "Daughter of C. & E. Andrews; "Aged 1 Yr 4 Ms 9D." Footstone: M.E.A.

Andrews, Polly Reeves (b. 23 Dec 1787 - d. 27 Mar 1885)
Wife of Archibald Andrews; dau of John Reeves. Mother of 10 children.

Andrews, Sally (b. 1814 - d. )
Listed on the monument, not further identified.

Andrews, Sarah (b. 1780 - d. )
Sister of Archibald Andrews.

Justus, ------ (b. 1770 - d. )
Gravestone is almost impossible to read. Footstone: unmarked

Justus, Sarah (b. 10 Jul 1811 - d. 26 Aug 1861)
Footstone: unmarked. (birth and death years are questionable)

Reeves, Susanna (b. - d. )
Sister of Polly Reeves Andrews.
Web page updated 13 May 2017
Index of All Cemeteries
Alphabetical Index of All Burials
Previous Page