Index of All Cemeteries
Alphabetical Index of All Burials
Previous Page
Use the following to search across all the cemeteries listed.
Example: "Smith, Roger" (yes, use the quotes)
087 UNIDENTIFIED CEMETERY - WOODGATE DRIVE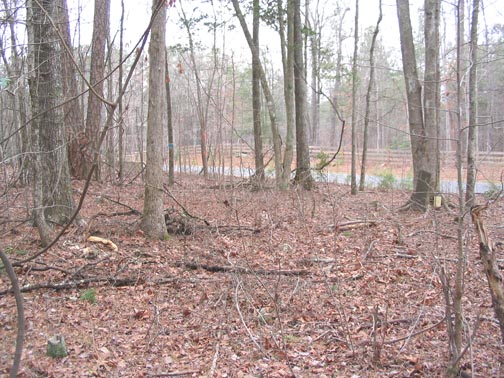 Location - In SW Chapel Hill Township south of Jones Ferry Road (SR# 1942) off Woodgate Drive which runs to the Woodlands Subdivision east from Nine Gates Road, on the south verge of the road.

Coordinates: 35d 52m 20.4s N; 79d 08m 33.3s W Click here for Google maps

Survey - Milton Forsyth surveyed the cemetery on 27 Feb 2007 and provided photographs. The location of the cemetery was provided by Pam Allman and Marcus Delvers, who resided in the subdivision.

Graves, Marked - There is one gravestone, out of place leaning up against a tree, with an unmarked footstone beside it.

Graves, Unmarked - The unmaintained cemetery in a wooded area beside a new road is approximately 70 ft square, with 20 to 25 graves, possibly more, some marked with fieldstones, others just depressions.


Allen, Sophronia H. (b. 20 Jun 1848 - d. 14 Sep 1861)
Out of place against a tree, unmarked footstone nearby. Person of this name is not located on 1850 and 1860 Census records.
Web page updated 13 May 2017
Index of All Cemeteries
Alphabetical Index of All Burials
Previous Page