Index of All Cemeteries
Alphabetical Index of All Burials
Previous Page
Use the following to search across all the cemeteries listed.
Example: "Smith, Roger" (yes, use the quotes)
083 COUNTY HOME (OLD) BURIAL GROUND (ABT 1823)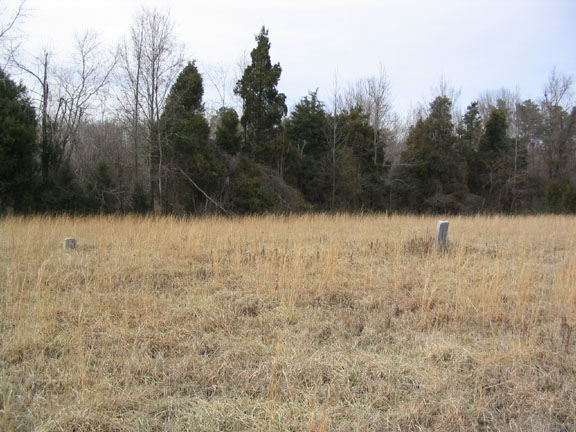 Location - At the NW corner of the Efland-Cedar Grove Road (SR #1004) intersection with Lebanon Road (SR #1306), About 1 1/2 miles north of Efland.

Coordinates: 36d 06m 15.0s N; 79d 10m 42.0s W Click here for Google maps

Survey - Mary Claire Engstrom surveyed the cemetery on Oct 24, 1974. Milton Forsyth visited and photographed the cemetery in February 2005. He observed only the 3 stones previously identified in the 1974 survey.

Graves - There were 3 marked graves and 3 unmarked depressions in 1974; in 2005 the 3 marked graves remained but no depressions were obvious, possibly due to the high grass covering the cemetery.

Comments [2009] - The Orange County Home/Poor House was established in 1823 and closed in 1941 (see Lefler and Wager, "Orange County, 1752-1952," pp. 186-188 and 195-196). Over those years many persons lived there and the available records indicate a number died there. It is unknown how many of these persons were buried in the Home cemetery, as apparently no burial records were kept.

In 2007 Milton Forsyth examined the extant "Poor Book Records, 1842-1868," and found only one name relating to an expediture for a burial, but no location was given. There were three references to payment for four "coffins" without the deceased being named. In 2008 Steve Rankin examined the "Wardens of the Poor Proceedings, 1854-1879" and the 1880 Census Mortality Schedule and found nearly 100 deaths at the County Home from 1858 to 1880. None of these entries stated the person was buried in the cemetery. He also compiled a listing of residents of the Home over the years based on the Federal Census and other documents. This data is a vital record of persons who lived at the home and may be buried in the cemetery. (See Steve Rankin summary in an online document entitled: "Recorded Deaths at the Poor House in Orange County, North Carolina").

Names are listed here only when a clear burial indication from a gravestone, record, or verifiable statement is found. Where a record indicates only that a resident "died" at the institution no assumption is made they were buried in the cemetery. Based on these criteria five burials were removed from the list. Background was added about the persons buried here, and note at least two of these were not residents of the institution. Information verifying additional burials is welcome - contact CemeteryCensus.com.


Allred, Thomas (b. 15 Jun 1884 - d. 6 Feb 1971)
Stone inscribed: "1874-1971" [O. C. Death Cert D54-299 records the death of Thomas Allred, age 86, b. 15 Jun 1884 - d. 6 Feb 1971, Buried: "Orange County Cem." Husband of Julia Ireland Allred (d. 19 Aug 1972; buried in a family plot in Rose Cemetery, Mocksville, NC)]. Why Mr. Allred was buried here 30 years after the Home closed is unknown.

Bynum, Brinkley (b. Abt 1846 - d. 3 Aug 1935)
Inscription: "Died August 3, 1935 at the age of 89. He served faithfully with the Confederate Army as body-servant to Kearney and Crosley Stone of Chatham County." [O. C. Death Cert D18-222; Died 4 Aug 1935, age "89-90", widowed; a resident of the Home. Buried: "County Home Cemetery." O. C. Death Records show his wife, Nancy Stone Bynum, dau. of Tom Stone of Chatham Co., d. 15 Dec 1927, age 78, and was buried in "Markham Chapel" cemetery. According to the 1910 census, they were married about 1870 and had two children. One of these is clearly Olivia Bynum, who m. (1) ----- Smith, and had 8 children, 7 living in 1910, and about 1909 (2) Henry Cotton, by whom she had at least 4 children, including a son, Brinkley Cotton.]

Guy, Cyrus (b. Abt 1845 - d. Dec 1869)
A mulatto, hung under tragic circumstances, then buried at the Poor House Cemetery. [From Sheriff's receipts found in county records by Stewart Dunaway, 2008; for additional information see the web site under the search subject: "Cyrus Guy" Orange County NC].

Taylor, Robert (b. 28 May 1897 - d. 18 Oct 1931)
Inscription: " Florida, Pvt 547 Engrs." [Born in Tallahassee, FL, residing in "Camberton" (Campbellton), FL: inducted in Marianna, FL 22 Aug 1918, Army service number 2,908,690. Member of Co. C, 547th Engineers Service Battalion; served overseas from 25 Oct 1918 to 12 Jul 1919. Honorably discharged 22 Jul 1919. The 547th Engineers was an African-American unit of the U. S. Army from Florida during WWI. (From: WWI Service Cards, State Library and Archives of Florida.) Death record in Durham Co.]
Web page updated 13 May 2017
Index of All Cemeteries
Alphabetical Index of All Burials
Previous Page