Index of All Cemeteries
Alphabetical Index of All Burials
Previous Page
Use the following to search across all the cemeteries listed.
Example: "Smith, Roger" (yes, use the quotes)
081 RILEY-TERRY FAMILY CEMETERY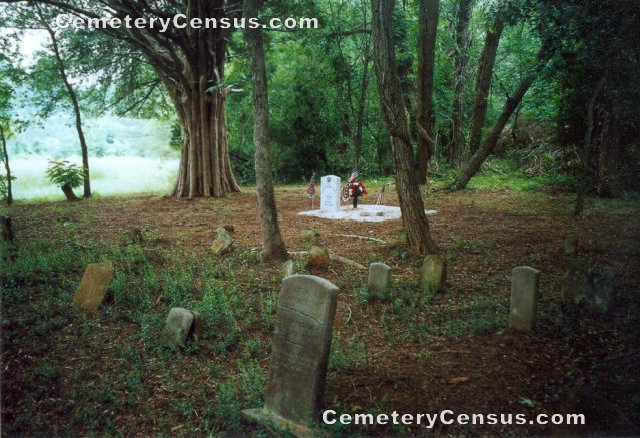 Location - In NE Cedar Grove Township just north of Hawkins Rd (SR #1508), about 0.7 west of Walnut Grove Church Rd. Private property.

Coordinates: 36d 12m 12.3s N; 79d 06m 03.1s W Click here for Google maps

Survey - Information on this cemetery was provided in February 2007 by a descendant, David N. Terry, who has maintained the cemetery in recent years. Photographs by David N. Terry.

Graves - There are approximatly 25 graves located in a wooded area, most are very old and are marked with fieldstones. A few have markings with dates and the names Horner and Riley. The Riley family is said to have owned the property for two or more generations.

Mr. Terry arranged for gravestones to be erected in the cemetery for Bedford Marion Terry and his wife, Elizabeth Mildred Riley Terry, although the exact location of their graves is unknown. A ceremony was conducted on 8 May 2010 by the the Terry family with participation by the Sons of Confederate Veterans Honor Guard and the United Daughters of the Confederacy to dedicate these new stones.


Horner, Lyda L. (b. 26 May 1874 - d. 6 Nov 1889)

P., E. A. (b. - d. 28 Jan 1856)
Initials on fieldstone, person unknown. "D. JA28, 1856"

Riley, Liley Eter (b. 30 Jun 1874 - d. 6 Jul 1877)
Daughter of Margret Riley. "Gon(e) to rest God call(ed) the(e) home"

Riley, Margaret (b. 14 Jul 1842 - d. 15 May 1926)
Daughter of Neal Riley and Suckey Ray. No gravestone located. [O. C. Death Record 26-415: age 84 yrs, 10 mos, 1 day; buried Riley Cemetery].

Terry, Bedford Marion (b. 20 Dec 1833 - d. 24 Nov 1906)
Husband of Elizabeth M. Riley; O. C. Marriage Bond 18 Mar 1857. Civil War veteran: Enl. Confederate Army 8 Jul 1862; served in Co. F, 33rd Inf. Reg., NC; wounded at Cold Harbor, VA 3 Jun 1863; surrendered 9 Apr 1865 at Appomattox Court House, VA.

Terry, Elizabeth Mildred (Bettie) Riley (b. 1838 - d. 1905)
Wife of Bedford Marion Terry. Daughter of Neal Riley and Suckey Ray.
Web page updated 13 May 2017
Index of All Cemeteries
Alphabetical Index of All Burials
Previous Page