Index of All Cemeteries
Alphabetical Index of All Burials
Previous Page
Use the following to search across all the cemeteries listed.
Example: "Smith, Roger" (yes, use the quotes)
079 HILLSBOROUGH TOWN CEMETERY (1871 OR EARLIER) &nbsp- &nbsp Surname starts with Y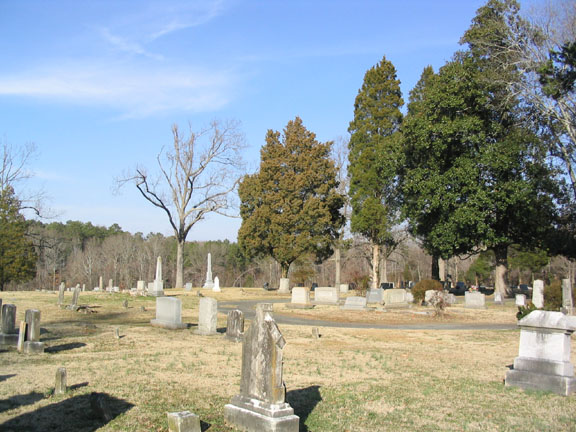 Location - On East Corbin Street in Hillsborough at the intersection with North Cameron Street; extends to Hwy US70 Bypass on the northern boundry. Covers six acres, purchased by the Town on June 12, 1871.

Coordinates: 36d 05m 01.0s N; 79d 05m 49.0s W Click here for Google maps

Survey - This cemetery was surveyed On November 20, 1973. Many pictures provided by Jacqueline Tilley Wilkerson and Ellen F. Kerley in May 2003. Picture of cemetery by Milton Forsyth in 2005. Updates and pictures by Carolina Caswell in February 2010.
Panoramic view of cemetery.

Graves, Marked - There were 1372 marked graves.

Graves, Unmarked - There were 114 unmarked graves.


Yancey, Dorothy M. (b. 2 May 1919 - d. )
Yancey, Tom N. (b. 8 Jun 1919 - d. 18 Nov 1971)
Young, Andrew R. (b. 1883 - d. 1965)
Young, Charlie Sidney (b. 20 Dec 1932 - d. 9 Nov 1954)
Footstone: Ch.S.) (Footstone Incorrect)

Young, Inez (b. 20 Sep 1922 - d. 31 Jan 1936)

Young, Jessie R (b. 1920 - d. )

Young, Mary E. (b. 1887 - d. )

Young, Robert S. (b. 1913 - d. 1966)

Young, Talmadge A. (b. 30 Apr 1918 - d. 28 Dec 1922)

Young, Willie H. (b. 14 Jul 1908 - d. 24 Oct 1925)
Web page updated 13 May 2017
Index of All Cemeteries
Alphabetical Index of All Burials
Previous Page