Index of All Cemeteries
Alphabetical Index of All Burials
Previous Page
Use the following to search across all the cemeteries listed.
Example: "Smith, Roger" (yes, use the quotes)
061 PEOPLE'S CHURCH CEMETERY ['FREE SPIRIT CAMP'] (CA. 1949)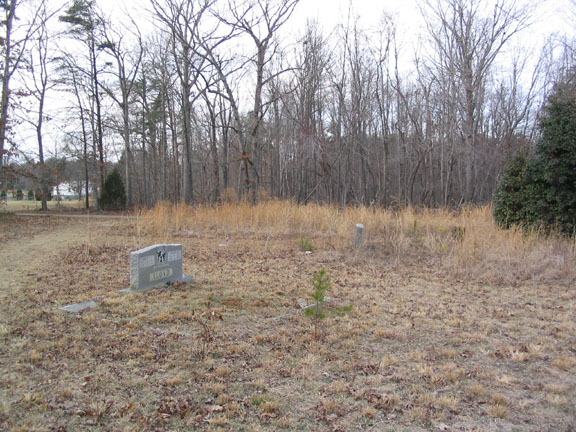 Location - East of Mebane in Cheeks Township, north of Hwy US70, off Hoover Road (SR #1308); a number of houses are on the road now, but north slightly less than 0.2 mi. a readily visible dirt road turns eastward and northward to the small burial place on the left side, across from a large modern home.

Coordinates: 36d 05m 34.0s N; 79d 14m 21.0s W Click here for Google maps

Survey - This cemetery was surveyed on May 22, 1976. Milton Forsyth visited and photographed the cemetery in February 2005.

Graves, Marked - There were 3 marked graves.

Graves, Unmarked - There was 1 unmarked grave.

County Data - See DB 199:337.


Holmes, Lisa Renea (b. - d. 25 Feb 1971)
Spouse - Shirley J. Lloyd. "Precious Lord take my hand"
Spouse - Bobby M. Lloyd. "Precious Lord take my hand"
Free Spirit Camp Footstone: N.J.N.
Tec 5 121 Evacuation Hosp. World War II
Web page updated 13 May 2017
Index of All Cemeteries
Alphabetical Index of All Burials
Previous Page