Index of All Cemeteries
Alphabetical Index of All Burials
Previous Page
Use the following to search across all the cemeteries listed.
Example: "Smith, Roger" (yes, use the quotes)
032 HARVEY'S CHAPEL A.M.E. CHURCH CEMETERY-BLACK (CA. 1960?)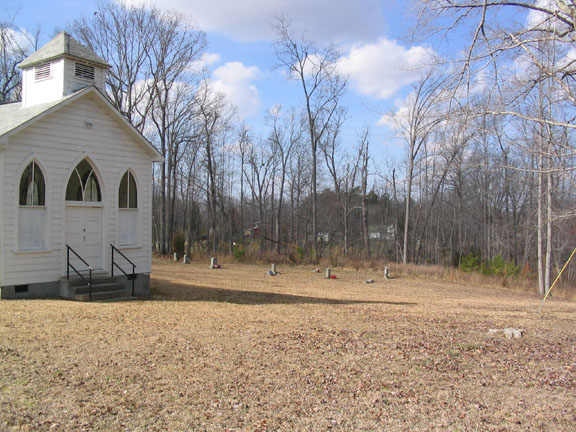 Location - SW of Hillsborough in SE Cheeks Township at 2507 Dimmock's Mill Road (SR #1134), north of its intersection with Orange Grove Road (SR #1006).

Coordinates: 36d 02m 21.0s N; 79d 08m 20.0s W Click here for Google maps

Survey - This cemetery was surveyed in September, 1974. Photograph by Milton Forsyth in 2005.

Graves, Marked - There were 7 marked graves.

Graves, Unmarked - There were 3 unidentifiable graves.


Poteat, Ernest L (b. 8 Mar 1911 - d. 4 May 1973)

Russell, Boyd (b. - d. 15 Dec 1971)
(Fun. Marker Illegible) Date of Death Uncertain 1971(?)

Thompson, James U (b. - d. 19 Sep 1971)

Walker, George W (b. 15 May 1877 - d. 16 Jan 1968)

Walker, Robina T (b. 23 Aug 1877 - d. 17 Oct 1967)
(Wife of George W Walker) Footstone: 'Mother'

Whitfield, Annie D (Mrs.) (b. - d. 7 Dec 1960)

Whitfield, John D (b. 1871 - d. 1956)
Web page updated 13 May 2017
Index of All Cemeteries
Alphabetical Index of All Burials
Previous Page