Index of All Cemeteries
Alphabetical Index of All Burials
Previous Page
Use the following to search across all the cemeteries listed.
Example: "Smith, Roger" (yes, use the quotes)
030 HARMONY PRIMITIVE BAPTIST CHURCH CEMETERY (1835)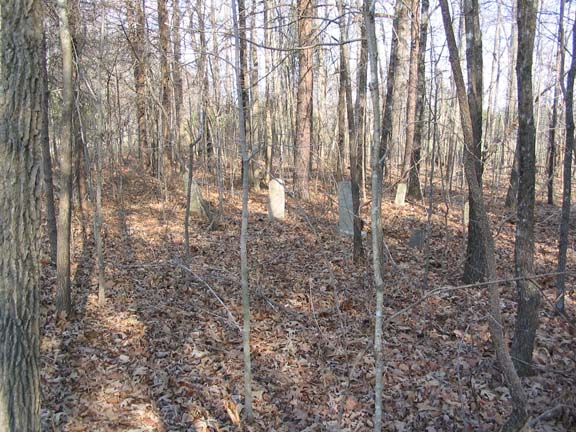 Location - In Cedar Grove Township, west of Cedar Grove on Harmony Church Road (SR #1341) about .3 Miles below its intersection with Lonesome Road (SR #1350). On the east side of the road.

Coordinates: 36d 09m 48.8s N; 79d 13m 25.4s W Click here for Google maps

Survey - This cemetery was surveyed on March 23, 1973, September 26, 1974 and April 5, 1976. Milton Forsyth visited the cemetery on 1 Mar 2006 through the courtesy of Ken and Kathy Walker, who live next to the cemetery. He provided an update and photographs. The cemetery was previously described in the survey as destroyed, which was in error.

Graves, Marked - There were 15 marked stones.

Graves, Unmarked - The cemetery contained more than a hundred unidentified graves in at least 9 rows.

Status (2006) - The cemetery of less than one acre is in a wooded area to the south of the residence at 7409 Harmony Church Rd, the house of which address sits on the site of the former church. The cemetery was registered in the name of the "Primitive Baptist Association" by the previous owner when the adjoining property was sold [OC PIN 9837-38-8463]. It is in a natural state but not overgrown, and much is covered by periwinkle. It is watched over by the Walkers.


Day, H H (b. - d. 17 Aug 1897)

Freeman, Nora Geneva (b. 15 Jul 1889 - d. 11 Dec 1918)

H----, F (b. - d. )

J----, W (b. - d. )
(May be W L on stone with P T)

Jeffreys, James Ira (b. 10 Apr 1888 - d. 9 May 1936)

Jeffreys, Lula (b. Abt 1855 - d. 28 Feb 1927)
Aged 71 Yrs. "Gone to a brighter home, where grief cannot come."

Jeffreys, Rufus (b. 6 Jan 1847 - d. 29 Nov 1938)
'Father'. "Dear parent, though we miss you much we know you rest with God."

McCollo---, Mary (b. 5 Mar ???? - d. )
Stone broken, major piece missing, bottom piece with inscription: "Not Lost Blest.../But gone be.../Where we shall me.../To part no more." [Not lost, Blest thought/But gone before/Where we shall meet/To part no more].

Pr-May, Sue W (b. - d. )
(Indecipherable Last Name; incised in rough stone)

T----, P (b. - d. )
On concrete marker with W J

Vincent, Bertha M (b. 3 May 1883 - d. 25 Jul 1904)

Vincent, Matilda A (b. 1846 - d. 24 Nov 1909)
Wife of Solomon Vincent. Footstone: M.A.V.

Wagestaff, David (b. 11 Dec 1892 - d. 24 Nov 1915)
"We can safely leave our boy, our darling, in Thy trust."

Wagestaff, Henry (b. - d. 18 Aug 1926)

Wagstaff, Candis (b. 19 Jan 1858 - d. 2 Nov 1934)
"She is not dead but sleeping." Footstone: C.W.

Walker, Mary Wiles (b. 25 Nov 1837 - d. 20 Dec 1917)

Walker, Pinkney G (b. 14 Feb 1832 - d. 9 Dec 1904)
Husband of Mary Wiles Walker
Web page updated 13 May 2017
Index of All Cemeteries
Alphabetical Index of All Burials
Previous Page