Index of All Cemeteries
Alphabetical Index of All Burials
Previous Page
Use the following to search across all the cemeteries listed.
Example: "Smith, Roger" (yes, use the quotes)
028 GLEN/GLENN'S GROVE BAPTIST CHURCH CEMETERY-BLACK (CA. 1880)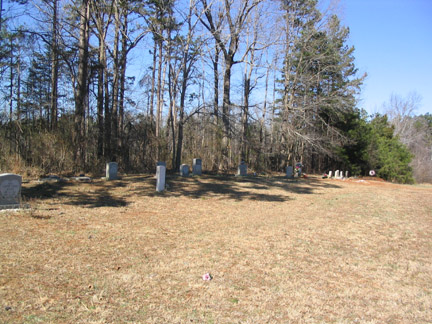 Location - In NE Little River Township East of Caldwell on Sneed Road (SR #1581). Go east 0.7 mi. on Sneed Road from the Glen/Glenn's Grove Church building, located at the corner of Guess Road (SR #1003) and Sneed Road [see photo], to the small Glen/Glenn's Grove Church cemetery on left (north) side of the road.

Coordinates: 36d 11m 09.0s N; 79d 00m 10.0s W Click here for Google maps

Survey - This cemetery was surveyed on May 12, 1976. Milton Forsyth visited and photographed the cemetery and pre-1980 stones in February 2005. Picture of Church provided by Margaret Jones in April 2003.

Graves, Marked - There were 14 marked graves.

Graves, Unmarked - There were 28 unmarked graves.

Comment [Revised 2005] - The newer part was originally a Sneed family cemetery, with the oldest stone dated 1921. A rectangular plot of ground was deeded to the Church in recent years by the family for use as a cemetery. There is an old cemetery in a triangular grove of trees to the west immediately behind the newer part of the church cemetery (size approximately 40 paces west by 60 paces north). Apparently some church members were in past years buried in this section, but its origin is not clear. Only one stone is found with an inscription, dated 1933, and it appears this portion contains most of the unmarked graves noted in the 1976 survey as well as possibly some of the listed burials where "Funeral Marker" is indicated. This area is unattended and overgrown. The Church does not own the old section, and certain land ownership considerations have precluded its cleanup.


B----, Henry (b. Abt 1890 - d. Sep 196-)
D. Sep 196- Aged 70 Yrs. (Fun. Marker Illegible)

Cates, Walter Lee (b. - d. 9 Dec 1971)

Jones, Terri O. (b. 17 Apr 1963 - d. 15 Jun 1963)

Lawson, Mildred Ann (b. 1967 - d. 1967)

Pierce, Nancy (Mrs) (b. - d. 11 Feb 1933)
The only engraved stone in the old cemetery

Ramsey, Master Tony Lamont (b. - d. 23 Jan 1967)
Aged (?) Mos, 11 Ds. (fun. Marker Illegible)

Reaves, Allie M. (b. 1901 - d. 1980)

Sneed, Henry (b. 13 Jun 1857 - d. 7 Sep 1945)
'Life On Earth - 88 Years And 2 Months'. Footstone: H.S.

Sneed, Henry W. (b. 27 Mar 1901 - d. 2 Sep 1969)

Sneed, Zora D. (b. 14 Sep 1901 - d. 7 Mar 1985)

Tilley, Arthur Offie (b. - d. 26 Dec 1973)

Torain, Ed (b. 5 Jan 1860 - d. 6 Jun 1941)

Torian, Bobby (b. - d. 18 Dec 1966)

Torian, Bud (b. 1883 - d. 1956)
Spouse - Nannie Torian. 'Husband', 'At Rest'

Torian, Jasper (b. 25 Feb 1852 - d. 24 Sep 1921)

Torian, Nannie (b. 1887 - d. 1987)
Spouse - Bud Torian. 'In Loving Memory'

Waller, Joe R (b. 1908 - d. 1971)

Wardlow, Nathanel (b. - d. 21 Apr 1971)
Aged 23 Yrs. Year of Death 1971(?)

Wimple, Joe Louis (b. - d. 28 Jul 1974)
Web page updated 13 May 2017
Index of All Cemeteries
Alphabetical Index of All Burials
Previous Page