Index of All Cemeteries
Alphabetical Index of All Burials
Previous Page
Use the following to search across all the cemeteries listed.
Example: "Smith, Roger" (yes, use the quotes)
025 FLAT ROCK A.M.E. CHURCH CEMETERY (OLD) - BLACK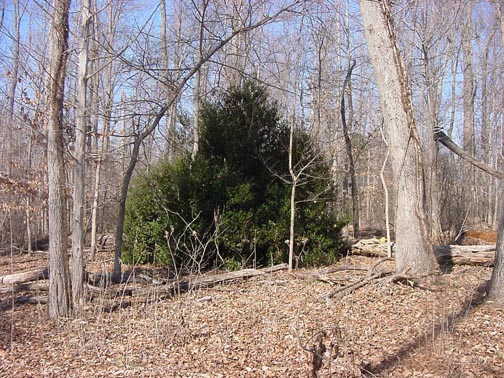 Location - In SW Eno Township east of Hillsborough, west of New Sharon Church Road (SR #1538) a short distance from its intersection with St. Mary's Road (SR #1002). In a wooded area just west of Little Creek, a tributary of the Eno River. The old Flat Rock School once stood near the cemetery. Private property.

Coordinates: 36d 05m 47.3s N; 79d 03m 29.4s W Click here for Google maps

Survey - This cemetery was surveyed on May 21, 1976. Margaret Jones of the Orange County Environment and Resource Conservation Department visited the cemetery in the company of the landowner, Mr. Larry Roberts, on 30 Jan 2007. Photographs by Margaret Jones.

Graves, Marked - There was only 1 marked grave.

Graves, Unmarked - There were 19 unmarked graves.

Comments (1976) - The old cemetery today is covered by a dense mat of periwinkle which has escaped in all directions. The cemetery is in the midst of woodland, and a single tree box of some size stands near the center of the area and at the head of the only marked grave, that of Joe Holmond, d. Nov 20, 1903. In the same row are at least 9 mounds, marked by rough headstones and footstones, and there are two other similar rows and perhaps parts of others. Although it is difficult to be exact, one might conservatively estimate that there are perhaps 20 graves in the cemetery. Two large boulders appear to mark the lower corners near the creek. Distinctive rock outcroppings mark the area, hence, possibly, the name "Flat Rock."


Holmond, Joe (b. 15 Nov 1832 - d. 20 Nov 1903)
Footstone: J.H. (Grave Marked by Large Box Tree)
Web page updated 13 May 2017
Index of All Cemeteries
Alphabetical Index of All Burials
Previous Page