Index of All Cemeteries
Alphabetical Index of All Burials
Previous Page
Use the following to search across all the cemeteries listed.
Example: "Smith, Roger" (yes, use the quotes)
013 COOL SPRINGS BAPTIST CHURCH CEMETERY (CA. 1870S) [ABANDONED]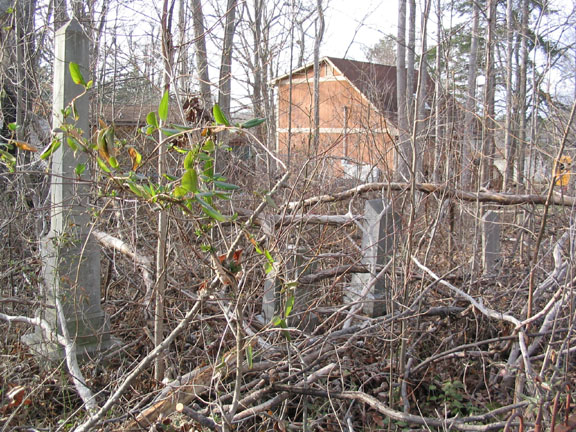 Location - In Cheeks Township in Efland on the south side of Rte US 70 behind a small brick church building on the SW corner of Gaines Chapel Road (SR #1316). In the middle of a multifamily-building housing development.

Coordinates: 36d 04m 49.0s N; 79d 11m 00.0s W Click here for Google maps

This cemetery is also known as the 'Durham Family' or 'Durham-Thompson' cemetery.

Survey - This cemetery was surveyed on October 24, 1974. Milton Forsyth visited the site and photographed some stones in this cemetery in February 2005. 1974 cemetery plat. 1978 newspaper article about church.

Graves, Marked - There were 22 marked graves.
Graves, Unmarked - There were 33 unmarked graves.

Status [2005] - To get to this cemetery turn south from Rte US 70 onto Gaines Chapel Road (SR #1316 - a new church is on the SE corner of this intersection) and take the first right turn (west) onto a short gravel road that leads to the parking area of the small brick church. The cemetery is about 100 paces south of the church. It is about 50 ft by 50 ft and is enclosed by an old 3-ft high iron fence, broken in places. The cemetery is unattended and full of broken tree limbs and branches and covered by vines and vegetation; some stones are fallen. The Cool Springs Church was incorporated into Efland Baptist Church and the cemetery was apparently abandoned.


Durham, J. R. (b. Oct 1854 - d. 31 May 1910)
"Gone but not forgotten". Footstone: J.R.D.

Durham, Mary (b. 10 Jun 1823 - d. 22 Jul 1911)
Wife of Elisha Durham. Footstone: M.D.

Durham, T. F. (b. 18 Mar 1857 - d. 21 Nov 1914)
..'Brother'.. Footstone: T.F.D.

Flintall, Minnie (b. - d. 20 Aug 1936)

Forrest, Orpah West (b. 18 Jan 1899 - d. 28 May 1899)
Daughter of E. R. and M. J. Forrest. Footstone: O.W.F.

Poland, Mamie E (b. 25 Jan 1864 - d. 4 Jun 1897)
Wife of John Poland Footstone: M.E.P.

Quarls, Lettie (b. 7 Apr 1900 - d. 20 Nov 1900)
(Dates Reversed In Inscription Scratched On Rough Stone)

Riley, Ellie (b. - d. 15 May 1921)

Riley, Grover (b. - d. 6 Jun 1922)
(Rough Stone) Question concerning day of death Jun 6(5?), 1922

Riley, Ollie Lunettie (b. - d. 27 Dec 1910)

Scott, Kate (b. 31 Aug 1882 - d. 29 Jun 1941)
"She hath done what she could". Footstone: K.S.

Scott, Thomas H. (b. 30 Jun 1847 - d. 6 Aug 1923)
Son of Hanson Scott and Susan Crabtree(? - dead in 1875). [From O. C. Death Cert. 08-210. Recorded age used to calculate birth date]. Married Nelia Ann Ward, dau. of Samuel Ward and Milly (----) [O. C. Marriage License 02-603, 10 Mar 1875]

Spencer, Infant Son (b. - d. 16 Dec 1905)
Stillborn Son of Joseph and Malissa Spencer

Thompson, F. M. (b. 29 Sep 1837 - d. 3 Dec 1900)
(Headstone Gone In 1974) Footstone: F.M.T.

Thompson, John Lynn (b. - d. 1 Jun 1908)
Son of Lonnie and Rosa Thompson. Aged 4 Mos. Footstone: J.L.T.

Thompson, John Williamson (b. 27 Sep 1833 - d. 24 Oct 1898)
(Grave in coping with Rebecca Edwards Thompson)

Thompson, Joseph T. (b. 22 Mar 1875 - d. 7 Mar 1901)
Son of F M and N E Thompson. J.O.U.A.M. Emblem. Aged 26 Yrs, 15 Ds. Footstone: J.T.T.

Thompson, Laura (b. 29 Jan 1886 - d. 30 Jun 1916)
Daughter of F. M. and N. E. Thompson. "We trust our loss will be her gain.". Footstone: L.T.

Thompson, Marvin (b. 14 Feb 1884 - d. 30 Jun 1928)

Thompson, Nannie B (b. 3 Oct 1882 - d. 2 Mar 1883)
Daughter of F M and N E Thompson Footstone: N.B.T.

Thompson, Nannie Elizabeth (b. 16 Jul 1843 - d. 2 Apr 1913)
Wife of F. M. Thompson. 'Mother'. Footstone: N.E.T.

Thompson, Rebecca Edwards (b. Abt 1845 - d. 18 Jan 1929)
Aged 83 Yrs. (Grave in coping with John Williamson Thompson)

Williams, Wesley (b. - d. 15 Aug 1935)
Web page updated 13 May 2017
Index of All Cemeteries
Alphabetical Index of All Burials
Previous Page