Index of All Cemeteries
Alphabetical Index of All Burials
Previous Page
Use the following to search across all the cemeteries listed.
Example: "Smith, Roger" (yes, use the quotes)
004 TABERNACLE UNITED METHODIST CHURCH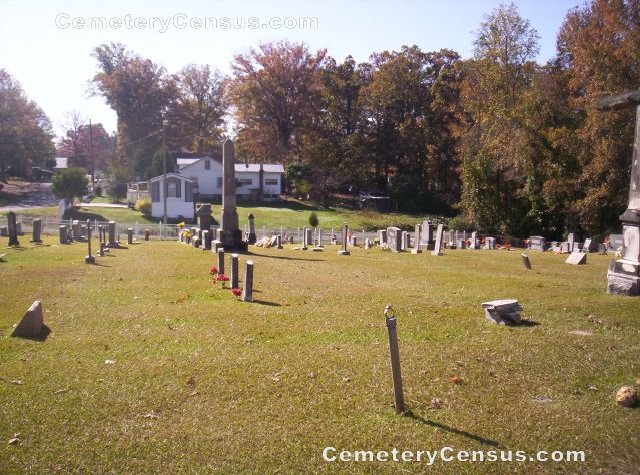 Location - 251 NC Hwy 705, between Church St and Melton St in Robbins.

Coordinates: 35d 25m 50.3s N; 79d 35m 07.6s W Click here for Google maps

Surveyed by Wayne Ham and Laurell Ham, Randleman, NC in December 2009. Photographs by Wayne Ham in 2009.

Partial listing as of December 28, 2009.


Baldwin, Merl Fred (b. 24 Aug 1925 - d. 13 Feb 1978)
Barber, Clyde Evelyn Jr (b. 12 Jun 1930 - d. 12 Jun 1930)
Barber, Farrell (b. 8 Dec 1941 - d. 11 Jan 1942)
Barber, William Ray Norman (b. 13 Jul 1931 - d. 10 Aug 1931)
Barner, Ralph James (b. 9 Jan 1947 - d. 9 Jan 1947)
Barns, Mary Jane Rouse (b. 24 Mar 1854 - d. 6 Feb 1915)
Bell, Dora Lee Williams (b. 11 Aug 1895 - d. 23 Feb 1989)
Bell, Ernest Berkley (Rev.) (b. 15 Dec 1886 - d. 22 Dec 1976)
Bell, Ernest Lee (b. 22 Oct 1916 - d. 8 Mar 2001)
Benson, Billy Ray (b. 22 Mar 1933 - d. 30 Oct 1933)
Black, Mary E (b. 29 Feb 1853 - d. 12 Oct 1941)
Brady, Ellen (b. 4 May 1873 - d. 14 Oct 1945)
Brady, M C (b. 3 Nov 1869 - d. 9 Nov 1921)
Brady, Maggie (b. 1894 - d. 31 Dec 1918)
Brewer, Alena (b. 28 Aug 1848 - d. 13 May 1923)
Brewer, Murphy (b. 13 Apr 1879 - d. 10 Apr 1947)
Brick, Charles (b. 15 May 1852 - d. 15 Apr 1888)
Brick, Martha Furr (b. 24 Jul 1857 - d. 24 Jul 1910)
Brown, Annie May (b. 22 May 1900 - d. 15 Sep 1920)
Brown, Blanche R (b. 23 Jan 1902 - d. 28 Sep 1988)
Brown, Buckner A (b. 26 Aug 1907 - d. 9 Sep 1966)
Brown, Catherine I (b. 15 Oct 1858 - d. 6 Jul 1937)
Brown, Daug. (b. 29 Jan 1907 - d. 29 Jan 1907)
Brown, Denise Baggett (b. 18 Nov 1924 - d. 19 Jan 2007)
Brown, Dora P (b. 3 Jul 1879 - d. 1 Jan 1961)
Brown, Emma B (b. 17 Oct 1889 - d. 12 Jul 1971)
Brown, G W (b. 5 Dec 1886 - d. 28 Oct 1947)
Brown, Henry G (b. 14 Mar 1840 - d. 28 Sep 1910)
Brown, Infant Son (b. Unknown - d. 3 Jul 1943)
Brown, J Madison (b. 7 Sep 1876 - d. 20 Jul 1931)
Brown, Jack Dare (b. 20 Jan 1930 - d. 23 Jun 2002)
Brown, Jame Wesley (b. 20 Aug 1891 - d. 13 Jul 1971)
Brown, James M (b. 26 Sep 1898 - d. 26 Mar 1964)
Brown, John W (b. 7 Jan 1866 - d. 10 Oct 1940)
Brown, Katie Garner (b. 6 Jun 1895 - d. 2 Feb 1988)
Brown, Lacey Albert (b. 19 May 1912 - d. 7 Apr 1986)
Brown, Louretta T (b. 2 Jun 1844 - d. 8 Mar 1916)
Brown, Mary M (b. 20 Jun 1846 - d. 21 Jul 1897)
Brown, Matthew Wilson (b. 30 Oct 1916 - d. 7 Dec 1916)
Brown, Mattie M (b. 23 Dec 1907 - d. 29 Jun 2000)
Brown, O Fletcher (b. 1 Jan 1900 - d. 11 May 1937)
Brown, Ollie (b. 1907 - d. 28 Apr 1907)
Brown, Paul (b. 6 Jul 1923 - d. 2 Nov 1926)
Brown, Pearl (b. 21 Jan 1920 - d. 16 Sep 1920)
Brown, Rona Nall (b. 11 Apr 1917 - d. 20 Apr 1993)
Brown, Rosa B (b. 31 Jul 1891 - d. 1 Apr 1954)
Brown, Sarah J (b. 6 Apr 1886 - d. 23 Aug 1967)
Brown, W C (b. 29 May 1907 - d. 29 May 1907)
Brown, William C (b. Unknown - d. 28 Feb 1917)
Brown, William Wesley (b. 29 Oct 1837 - d. 13 Mar 1906)
Brown, Willie C (b. 11 Nov 1886 - d. 24 Dec 1931)
Burns, Ann R (b. 9 Oct 1841 - d. 27 Apr 1902)
Burns, Armitte Evelyn (b. 6 May 1879 - d. 10 Jun 1954)
Burns, Barney L (b. 16 Apr 1878 - d. 2 Jul 1904)
Burns, Chloria Mae (b. 12 Jan 1912 - d. 29 Jul 1993)
Burns, Franklin Ray (b. 18 May 1891 - d. 10 May 1983)
Burns, George A (b. 3 Aug 1890 - d. 2 Oct 1918)
Burns, Henry L (b. Unknown - d. 27 Jun 1917)
Burns, Henry Lindsay (b. 19 Feb 1844 - d. 30 Oct 1906)
Burns, Ira Nelson (b. 30 Mar 1889 - d. 30 Jul 1889)
Burns, J F (b. 5 Mar 1829 - d. 21 Sep 1906)
Burns, James Kimball (b. 4 Jun 1932 - d. 20 Oct 1993)
Burns, Jonas (b. 27 Aug 1884 - d. 8 Jun 1952)
Burns, Kinred P (b. 19 Dec 1852 - d. 27 Jun 1936)
Burns, Laura Louise Furr (b. 18 Dec 1879 - d. 19 Mar 1954)
Burns, Lillie Ann Britt (b. 1 Oct 1895 - d. 28 Sep 1959)
Burns, Maggie Lola Furr (b. 14 Oct 1892 - d. 6 Sep 1960)
Burns, Maida Horner (b. 21 Jan 1910 - d. 6 Feb 1998)
Burns, Martha Jane Garner (b. 18 Jan 1856 - d. 14 Nov 1933)
Burns, Mary Ellen (b. 30 May 1893 - d. 30 May 1893)
Burns, Minnie L D Morgan (b. 2 Feb 1886 - d. 22 Dec 1922)
Burns, Nezzie (b. 29 Apr 1881 - d. 24 Apr 1903)
Burns, Ressie Green Cockman (b. 25 Sep 1913 - d. 15 Feb 2008)
Burns, Rome H (b. 11 May 1876 - d. 7 Jul 1966)
Burns, Sherman Paul (b. 25 Aug 1930 - d. 25 Aug 1930)
Burns, Thomas Edward (b. 1 Dec 1912 - d. 13 Aug 1935)
Burns, Wallace (b. 3 Jul 1910 - d. 7 Feb 1941)
Burns, Zemery Mitchell (b. 25 Aug 1876 - d. 31 Oct 1945)
Butler, Ethel Agnes McNeill (b. 21 Feb 1908 - d. 30 Dec 1995)
Butler, O'dell Caswell (b. 2 Jul 1907 - d. 1 Jun 1967)
Butler, Ocia Jerdyl (b. 13 Dec 1932 - d. 8 Sep 1934)
Cagle, Roy C (b. 20 Jun 1917 - d. 20 Feb 1997)
Cameron, Gladys Hussey (b. 2 Oct 1920 - d. 21 Dec 2001)
Cameron, Joe M (b. 14 Dec 1919 - d. 12 Mar 2005)
Carter, Alta Pearl Stutts (b. 13 Dec 1888 - d. 3 Nov 1980)
Carter, Annie L (b. 28 Sep 1887 - d. 17 Feb 1914)
Carter, Mary Esther (b. 23 Aug 1923 - d. 1 Oct 2000)
Chase, Alice Louitia Freeman (b. 15 Jun 1883 - d. 19 Dec 1969)
Clegg, W G (b. 13 Apr 1834 - d. 9 Jun 1912)
Cockman, Dalton Wayne (b. 9 Aug 2001 - d. 2 Sep 2001)
Cockman, Ella L Phillips (b. 21 Aug 1871 - d. 21 May 1905)
Cockman, Esther Murial (b. 16 Sep 1928 - d. 14 Dec 1941)
Cockman, Farley Lewis (b. 31 Aug 1923 - d. 9 May 1929)
Cockman, Henry H (b. 7 Nov 1898 - d. 29 Jan 1989)
Cockman, J S (b. 7 Jun 1848 - d. 7 Apr 1912)
Cockman, Michael Lewis (b. 30 Apr 1945 - d. 19 Jul 1992)
Cockman, Nancy Jane Melton (b. 2 Jul 1841 - d. 5 Jan 1886)
Cockman, Nannie Mae (b. 1930 - d. 1943)
Cockman, Nettie G (b. 15 Jun 1883 - d. 10 Mar 1939)
Cockman, Noah Wesley (b. 5 Jun 1884 - d. 12 Mar 1971)
Cockman, Tracey W (b. 3 Jul 1926 - d. 14 Nov 1926)
Cockman, W J (b. 6 Jul 1883 - d. 3 Jul 1947)
Cockman, Wilma L (b. 11 Jan 1903 - d. 6 Feb 1966)
Coker, Hattie Forrister (b. 18 Aug 1976 - d. 17 May 1936)
Cook, Mary Myrtle Williams (b. 10 Feb 1913 - d. 24 Dec 1977)
Coulter, Harvey Eugene (b. 18 Jun 1924 - d. 26 Mar 1980)
Coulter, Mabel Green Maness (b. 3 Nov 1925 - d. 5 Feb 1993)
Cox, Causey Alton (b. 30 Jan 1862 - d. 27 Aug 1947)
Cox, Causey Alton Jr (b. 11 Sep 1911 - d. 15 Jul 1927)
Cox, Martha Alice (b. 17 Sep 1882 - d. 28 Aug 1975)
Cox, Martha Ann Furr (b. 17 May 1883 - d. 21 May 1932)
Cox, Mattie Fry (b. 25 Mar 1880 - d. 18 Jun 1965)
Cox, Nova L (b. 11 Aug 1900 - d. 11 Mar 1972)
Cox, R Clyde (b. 24 Apr 1915 - d. 13 Mar 1931)
Cox, Thomas Eugene (b. 26 May 1912 - d. 23 Apr 1918)
Cox, Thomas Ezra (b. 7 Aug 1876 - d. 8 Dec 1954)
Cramer, Sarah Maness (b. 1827 - d. 2005)
Culbertson, James (b. 1912 - d. 1990)
Culbertson, Louvine Kennedy (b. 1911 - d. 1992)
Currie John L (b. 3 Dec 1870 - d. 28 Jun 1951)
Currie, Blennie Jane Etta Stutts (b. 29 Apr 1871 - d. 12 Dec 1959)
Currie, Elgie Lee (b. 18 Dec 1907 - d. 13 Dec 1991)
Currie, John Wilbur (b. 1909 - d. 1 Nov 2007)
Currie, Mildred Lorene Stewart (b. 16 Jul 1911 - d. 15 Nov 1900)
Davis, Alma G (b. 25 Apr 1910 - d. 9 Sep 1974)
Davis, Annie May (b. 29 Apr 1926 - d. 15 Jun 1928)
Davis, Barney (b. 7 Mar 1907 - d. 11 Nov 1981)
Davis, Baxter (b. 25 Feb 1839 - d. 2 Nov 1914)
Davis, Fannie (b. 15 Jul 1870 - d. 24 Nov 1988)
Davis, George Baxter (b. 16 Aug 1882 - d. 22 Oct 1958)
Davis, Graham (b. 19 Oct 1901 - d. 21 Apr 1923)
Davis, Hattie Jane McNeill (b. 6 Jan 1886 - d. 29 Oct 1945)
Davis, Henry Mitchell (b. 23 Frb 1868 - d. 8 Dec 1943)
Davis, Howard C (b. 13 Jul 1914 - d. 30 Jan 2000)
Davis, Iola Williams (b. 17 Oct 1890 - d. 27 May 1939)
Davis, James B (b. 22 Feb 1863 - d. 26 Aug 1895)
Davis, Lettie Mae (b. 1 Jan 1917 - d. 24 Dec 1992)
Davis, Margaret (b. 29 Nov 1943 - d. 4 Dec 1943)
Davis, Marjorie (b. 29 Nov 1943 - d. 1 Dec 1943)
Davis, Mary Ann Cockman (b. 12 Feb 1871 - d. 17 Jul 1958)
Davis, Sarah Yow (b. 15 Aug 1841 - d. 10 Dec 1919)
Davis, Stella Catherine Moore (b. 11 Jan 1908 - d. 29 Feb 2004)
Elmer, Robert Watson (b. 1915 - d. 1992)
Feeney, P C (b. 11 Jan 1904 - d. 13 Aug 1905)
Feeney, Patrick W (b. 9 May 1856 - d. 1 Jan 1915)
Freeman, Sarah Jane (b. 26 May 1861 - d. 15 May 1927)
Frye, Martha Ann (b. 23 Feb 1845 - d. 19 Dec 1932)
Frye, William Allen (b. 10 Jun 1846 - d. 3 Feb 1930)
Furr, Celia Jane Davis (b. 1859 - d. 1894)
Furr, Elizabeth (b. 7 Nov 1849 - d. 2 Oct 1922)
Garner, A D (b. 5 Aug 1870 - d. 22 Jan 1894)
Garner, Annie Ruth (b. 10 Jul 1929 - d. 20 Jul 1929)
Garner, Cornelius R (b. 10 May 1893 - d. 14 Dec 1917)
Garner, Curtis (b. 18 Aug 1929 - d. 2 Aug 1987)
Garner, Dora (b. 12 Feb 1920 - d. 12 Feb 1920)
Garner, Elizabeth (b. 27 Apr 1885 - d. 18 Apr 1920)
Garner, Ella (b. 21 May 1877 - d. 12 Nov 1950)
Garner, Etta M (b. 9 Jul 1896 - d. 17 Feb 1920)
Garner, Fulton (b. 18 Aug 1929 - d. 17 May 1930)
Garner, G Hobart (b. 21 Nov 1896 - d. 12 Nov 1981)
Garner, James (b. 10 May 1792 - d. 15 Nov 1882)
Garner, James Calton (b. 20 Oct 1922 - d. 8 Apr 1998)
Garner, James Thomas (b. 30 May 1886 - d. 3 Feb 1980)
Garner, Jerry M (b. 17 Sep 1947 - d. 11 Mar 1949)
Garner, John Marshall (b. 29 Sep 1873 - d. 27 Feb 1917)
Garner, Katie Jane (b. 5 Apr 1905 - d. 19 Nov 1952)
Garner, Kenneth (b. 22 Jul 1883 - d. 12 Aug 1924)
Garner, L Coolidge (b. 30 Aug 1923 - d. 7 Nov 1988)
Garner, Lannie H Jr (b. 12 Dec 1942 - d. 3 May 2006)
Garner, Lellie (b. 17 Jun 1866 - d. 12 May 1958)
Garner, Martha F (b. 15 May 1865 - d. 10 Sep 1948)
Garner, Mary E (b. 25 Nov 1860 - d. 14 Jun 1925)
Garner, Mary Maness (b. 9 May 1923 - d. 27 May 1986)
Garner, Mattie Brewer (b. 10 Sep 1896 - d. 8 Jun 1977)
Garner, Paul (b. 21 Jul 1904 - d. 18 Jul 1917)
Garner, Pauline (b. 16 Sep 1926 - d. 3 Nov 1926)
Garner, Roland Reid (b. 9 Mar 1921 - d. 3 Nov 1940)
Garner, S Laney (b. 10 Mar 1863 - d. 3 Apr 1947)
Garner, Sherman G (b. 3 Jan 1876 - d. 12 Dec 1934)
Garner, Steadman (b. 12 Sep 1843 - d. 10 Jun 1948)
Garner, Steven C (b. 22 Feb 1874 - d. 31 Jan 1951)
Garner, William T (b. 19 May 1856 - d. 24 Feb 1936)
Garner, Willie M (b. 12 Aug 1948 - d. 10 Dec 1967)
Garner, Willie M (b. 26 Aug 1919 - d. 29 Aug 1957)
Granford, Giles J (b. 16 Jul 1901 - d. 5 Jul 1903)
Greeson, Son (b. Unknown - d. 31 Mar 1934)
Gregory, Birtie May (b. 26 Mar 1904 - d. 17 Apr 1921)
Grubbs, Mattie Key (b. 23 Jun 1912 - d. 31 Aug 1934)
Guyer, Bonnie May Burns (b. 10 Mar 1906 - d. 31 Oct 1975)
Guyer, Clarence Larkins (b. 23 Jun 1896 - d. 17 May 1977)
Hackney, Ruth Iassac (b. 1922 - d. 30 Aug 2007)
Hancock, Albert F (b. 16 Feb 1911 - d. 6 Oct 1978)
Hancock, Anna Vida (b. 16 Mar 1882 - d. 29 Oct 1968)
Hancock, Devotion (b. 10 Nov 1855 - d. 11 Nov 1925)
Hancock, Henrietta (b. 27 Sep 1852 - d. 17 Jun 1883)
Hancock, Infant Son (b. Unknown - d. 30 Apr 1893)
Hancock, John Alvin (b. 25 Aug 1905 - d. 5 Mar 1980)
Hancock, John Augustus (b. 22 Jul 1872 - d. 10 Feb 1920)
Hancock, Martha Ann Williams (b. 17 Oct 1871 - d. 27 Jan 1955)
Hancock, Myrtie May (b. 30 May 1878 - d. 23 Nov 1963)
Hancock, Raymond L (b. 7 Sep 1912 - d. 1 Nov 1933)
Hancock, Retta V (b. 5 May 1883 - d. 27 Jul 1883)
Helms, Fonnie Ocia Moore (b. 6 Jan 1912 - d. 2 Jan 2001)
Helms, Oddis Hosey (b. 1 May 1900 - d. 4 May 1977)
Horner, Archie Daniel (b. 2 Jun 1907 - d. 4 Dec 1980)
Horner, Clarkey Ann Cockman (b. 13 Aug 1842 - d. 8 Oct 1919)
Horner, Daniel H (b. 8 Sep 1869 - d. 8 Jan 1919)
Horner, George Washington (b. 19 Dec 1867 - d. 14 Mar 1927)
Horner, James Washington (b. 19 Apr 1912 - d. 26 Nov 1914)
Horner, Martha Jane Garner (b. 15 Jun 1881 - d. 16 Dec 1920)
Horner, Mary Ann Hunsucker (b. 29 Jan 1877 - d. 4 May 1960)
Horner, Molly (b. Sep 1902 - d. 10 Apr 1921)
Horner, Myrtle Lizar Wallace (b. 25 Mar 1911 - d. 1 Jan 1988)
Horner, Radie Ora (b. 28 Mar 1920 - d. 28 mar 1920)
Horner, Sarah L (b. 9 Oct 1871 - d. 18 Apr 1934)
Horner, William Branson (b. May 1872 - d. Jun 1925)
Horner, William Thomas (b. 29 Aug 1840 - d. 1 Apr 1919)
Hunsucker, Flora Emma Warner (b. 29 Jun 1888 - d. 17 Dec 1978)
Hunsucker, George (b. 17 Dec 1917 - d. 17 Oct 1947)
Hunsucker, James Madison (b. 10 May 1876 - d. 19 Sep 1956)
Hunsucker, Katie M Short (b. 17 May 1886 - d. 13 Mar 1939)
Hunsucker, Melvin J (b. 11 Aug 1910 - d. 11 Aug 1910)
Hunsucker, Molsey Stutts (b. 1828 - d. 1880)
Hunsucker, Viola Frances (b. 28 Dec 1924 - d. 20 Mar 1926)
Hussey, Ollie Gertrude Hunsucker (b. 6 Jul 1912 - d. 5 Aug 1991)
Hussey, Terry Vann (b. 19 May 1948 - d. 3 Aug 2008)
Hussey, William Earl (b. 22 Mar 1908 - d. 11 Jun 1999)
Jackson, Andrew (b. 9 May 1873 - d. 14 Oct 1946)
Jackson, Ethel M Hancock (b. 18 Dec 1894 - d. 14 Oct 1946)
Kennedy, Dora Cockman (b. 17 Jun 1892 - d. 30 Jun 1983)
Kennedy, Edna Williams (b. 27 Dec 1899 - d. 1 Aug 1972)
Kennedy, Lacy C (b. 31 Mar 1892 - d. 6 Jul 1972)
Kennedy, Russell L (b. 7 Oct 1929 - d. 31 Oct 1942)
Kennedy, W L (b. 30 Sep 1888 - d. 9 Nov 1934)
Key, Emma Smith (b. 11 Oct 1911 - d. 30 Aug 1995)
Key, Jack C (b. 7 Nov 1933 - d. 3 Jul 1973)
Key, James (b. 25 Jun 1934 - d. 25 Oct 1936)
Key, James Madison (b. 15 Nov 1913 - d. 6 May 1979)
Key, Mary Belle McLauchlin (b. 29 Jul 1893 - d. 13 Oct 1978)
Key, Thelma Agnes McCaskil (b. 31 Jul 1909 - d. 14 Aug 2002)
Key, William Henry (b. 17 Dec 1907 - d. 26 Feb 1988)
Kindley, Ometa L Stewart (b. 29 Aug 1893 - d. 13 Jun 1953)
King, Maggie Lee (b. 4 Jul 1894 - d. 8 Nov 1939)
Kinlaw, Otis G (b. 11 Nov 1898 - d. 7 Nov 1975)
Kinlaw, Patrice M (b. 1 Jan 1918 - d. 6 Mar 1985)
Kirkland, Ernest Aubrey (b. 17 Jan 1875 - d. 6 Jan 1939)
Lambert, Emily L (b. 24 Feb 1860 - d. 16 May 1933)
Lassiter, Bonnie Morgan (b. 19 Jul 1913 - d. 29 Mar 1984)
Lassiter, Sarah Kay (b. 4 Nov 1947 - d. 2 Aug 1970)
Lassiter, Walter D (b. 12 Feb 1904 - d. 13 Nov 1983)
Lewis, Everette Eugene (b. 27 Jan 1924 - d. 19 Dec 2002)
Lewis, Luther (b. 6 Apr 1901 - d. 22 Jul 1984)
Lewis, Mollie W (b. 30 Jun 1905 - d. 4 Mar 2001)
Maness, Annie L Covington (b. 14 Aug 1895 - d. 17 Feb 1983)
Maness, Beulah Belle McNeill (b. 19 Apr 1894 - d. 5 Apr 1982)
Maness, Edith Gertrude (b. 22 Dec 1913 - d. 8 Oct 1916)
Maness, Eli Carson (b. 25 Jun 1891 - d. 17 Jan 1968)
Maness, Eliza J (b. 10 Oct 1876 - d. 3 May 1930)
Maness, Emily Lambert (b. 24 Feb 1860 - d. 16 May 1933)
Maness, Floyd (b. 27 Sep 1915 - d. 4 Oct 1916)
Maness, Garrett Hobart (b. 21 Nov 1896 - d. 21 Nov 1981)
Maness, Hattie Lee Hunsucker (b. 1868 - d. 1906)
Maness, John Lockey (b. 10 Dec 1887 - d. 25 Sep 1973)
Maness, Julia Frances Wallace (b. Dec 1850 - d. 6 Feb 1919)
Maness, Katie Jane Gail Garner (b. 5 Apr 1903 - d. 19 Nov 1952)
Maness, Lewis Scott (b. 12 Apr 1855 - d. 14 Aug 1943)
Maness, Marshall G (b. 8 May 1844 - d. 20 Jul 1907)
Maness, Martha Alice Wallace (b. 10 Dec 1862 - d. 27 Feb 1902)
Maness, Mary Elizabeth (b. 16 Jul 1915 - d. 30 Oct 1917)
Maness, Mary Lee Williams (b. 13 Aug 1991 - d. 18 Feb 1978)
Maness, Mary Louise Brown (b. 31 Jul 1860 - d. 9 Apr 1945)
Maness, Nannie Bima (b. 21 May 1901 - d. 27 Aug 1952)
Maness, Olivia Dale (b. 1901 - d. 1904)
Maness, Polly L Brown (b. 31 Jul 1860 - d. 9 Mar 1945)
Maness, Rosa P (b. 10 May 1901 - d. 30 Nov 1901)
Maness, Talbert Turner (b. 8 Jan 1896 - d. 19 May 1985)
Maness, Walter L (b. Unknown - d. 15 Nov 1950)
Maness, Wiley Reynolds (b. 27 Apr 1867 - d. 8 Feb 1908)
Maness, William Lewis (b. 1 Apr 1890 - d. 1 Jul 1985)
Marley, Augustus Greene (b. 2 Jun 1872 - d. 17 Aug 1960)
Marley, Everette Harris (b. 18 Feb 1945 - d. 26 Mar 2005)
Marley, Flossie Mae Stutts (b. 23 May 1908 - d. 11 Jan 1994)
Marley, Grady L (b. 10 Nov 1937 - d. 15 Jan 1938)
Marley, Infant Daughter (b. 2 Jun 1916 - d. 3 Jun 1916)
Marley, James Ruffin (b. 21 Feb 1846 - d. 24 Sep 1909)
Marley, Laura Alice McNeill (b. 23 Sep 1875 - d. 12 Dec 1962)
Marley, Lemuel B (b. 29 Aug 1874 - d. 3 Mar 1892)
Marley, Lucinda A Brown (b. 7 Jul 1849 - d. 24 Jul 1924)
Marley, Nancy L Garner (b. 17 Nov 1890 - d. 8 Dec 1972)
Marley, Robert Nathaniel (b. 17 Apr 1928 - d. 27 Apr 1989)
Marley, Thomas Jefferson (b. 15 Sep 1887 - d. 25 Apr 1967)
Marley, William Plenty (b. 15 Dec 1896 - d. 8 Jan 1963)
Mason, Dorothy L Hunsucker (b. 6 Jun 1928 - d. 17 Mar 2007)
Matthews, James (b. 11 Aug 1845 - d. 6 Jun 1926)
Matthews, Sarah Davis (b. 6 Oct 1848 - d. 9 Aug 1929)
McCall, Frances Irene Davis (b. 16 Dec 1935 - d. 20 May 2003)
McCaskill, Arthur Lee (b. 14 Sep 1932 - d. 14 Sep 1932)
McCaskill, Glenn Edward (b. 11 Dec 1934 - d. 11 Dec 1934)
McCoy, Ethel Horner (b. 19 Mar 1896 - d. 17 Nov 1996)
McDaniel, Jerry Lee (b. 23 May 1942 - d. 23 May 1942)
McLauchlin, Flora (b. 1863 - d. 1908)
McLauchlin, Oliver (b. 1860 - d. 1920)
McNeill, Charlie C (b. 10 Jul 1911 - d. 23 Oct 1911)
McNeill, Coy H (b. 3 Mar 1873 - d. 8 Nov 1954)
McNeill, Infant Daug. (b. 25 Oct 1920 - d. 25 Oct 1920)
McNeill, Infant Son (b. 5 Apr 1901 - d. 5 Apr 1901)
McNeill, Laura Louise Wallace (b. 1 Aug 1873 - d. 8 Oct 1931)
McNeill, Lemuel Alexander (b. 4 Dec 1868 - d. 4 Dec 1939)
McNeill, Lou Minnie Williams (b. 22 Dec 1885 - d. 5 Mar 1936)
McNeill, Mamie L (b. 10 Apr 1910 - d. 24 Mar 1996)
Melton, Henry (b. 4 Apr 1877 - d. 26 Sep 1918)
Melton, James Harold (b. 30 Jun 1935 - d. 30 Sep 1935)
Moffitt, Clarence Woodrow (b. 7 Jul 1913 - d. 26 Aug 1999)
Monroe, Charles Edward (b. 21 Jul 1918 - d. Jul 1945)
Monroe, John Fulton (b. 22 Jan 1890 - d. 5 Jan 1988)
Monroe, Stella Wallace (b. 31 Aug 1887 - d. 25 Jun 1971)
Moore, Annie C (b. 14 Aug 1895 - d. 17 Feb 1983)
Moore, Beulah McNeil (b. 19 Apr 1894 - d. 5 Apr 1982)
Moore, Delphinal Brown (b. 19 Jul 1850 - d. 20 Sep 1917)
Moore, Edith C (b. 22 Dec 1913 - d. 3 Oct 1916)
Moore, Eli C (Rev.) (b. 25 Jun 1891 - d. 17 Jan 1968)
Moore, Floyd (b. 29 Sep 1915 - d. 4 Oct 1916)
Moore, G Thomas (b. 7 Jul 1877 - d. 19 Mar 1954)
Moore, Hattie Lee (b. 1868 - d. 1906)
Moore, Infant Son (b. 2 Sep 1919 - d. 2 Sep 1919)
Moore, James Albert (b. 28 May 1934 - d. 8 Jun 1963)
Moore, James Curtis (b. 4 Apr 1913 - d. 3 Oct 1993)
Moore, John L (b. 10 Dec 1887 - d. 25 Sep 1973)
Moore, Lee W (b. 13 Aug 1891 - d. 18 Feb 1978)
Moore, Lessie E Woodard (b. 19 Apr 1906 - d. 13 Jun 1937)
Moore, Letla C Marley (b. 22 Apr 1877 - d. 4 Jun 1948)
Moore, Leuris Scott (b. 12 Apr 1855 - d. 14 Aug 1943)
Moore, Marshall G (b. 8 May 1844 - d. 20 Jul 1907)
Moore, Martha A (b. 10 Dec 1862 - d. 27 Feb 1902)
Moore, Mary Elizabeth (b. 16 Jul 1915 - d. 30 Oct 1917)
Moore, Mary R (b. 15 Apr 1881 - d. 23 Apr 1912)
Moore, Oliva Dale (b. 1901 - d. 1904)
Moore, Polly L Brown (b. 31 Jul 1980 - d. 19 Apr 1945)
Moore, Rosa P (b. 10 May 1901 - d. 20 Jul 1907)
Moore, Thomas J (b. 4 Apr 1916 - d. 14 Dec 1987)
Moore, Troy Lee (b. 12 Aug 1933 - d. 19 May 1996)
Moore, Wiley Reynolds (b. 27 Apr 1867 - d. 8 Feb 1908)
Moore, William L (Rev.) (b. 1 Apr 1890 - d. 1 Jul 1985)
Morgan, Kenneth Roscoe (b. 4 Jan 1914 - d. 14 Jun 1916)
Morgan, Noah Albert (b. 14 Nov 1873 - d. 16 Feb 1954)
Morgan, Sarah Ella Shields (b. 18 Aug 1860 - d. 25 Sep 1958)
Murrow, Dale Ritter (b. 22 Nov 1933 - d. 23 Nov 1933)
Murrow, Hugh Coy (b. 3 Mar 1903 - d. 8 Jul 1987)
Murrow, Samantha Leta Ritter (b. 24 Sep 1905 - d. 29 Nov 1998)
Page, Gilbert Martin (b. 18 May 1862 - d. 17 Feb 1925)
Page, Nancy Ann Reynolds (b. 18 May 1871 - d. 9 Aug 1954)
Phillips, Minnie Williams (b. 31 Jan 1886 - d. 5 Feb 1968)
Phillips, Rona May Stutts (b. 26 Jul 1886 - d. 5 Feb 1968)
Ragsdale, E Ray (b. 15 Sep 1902 - d. 1 Mar 1931)
Ray, Ida Jane Davis (b. 8 Jun 1876 - d. 30 Aug 1927)
Ray, Malcom (b. 13 Oct 1868 - d. Apr 1902)
Ray, Thomas (b. 20 Nov 1893 - d. 11 Jan 1949)
Ray, Virginia Brown (b. 28 Jun 1907 - d. 10 Nov 1967)
Rexrode, Dola Fenie Horner (b. 6 Apr 1918 - d. 24 Jul 2002)
Rhoades, Archie Willard (b. 10 Mar 1907 - d. 27 Apr 1987)
Rhoades, Frances Pauline Currie (b. 22 Jul 1914 - d. 26 May 2004)
Ritter, Viola H (b. 3 Oct 1907 - d. 19 Aug 2000)
Ritter, Wiley F (b. 30 Mar 1903 - d. 2 Aug 1967)
Rouse, Dewey Hobson (b. 4 Apr 1901 - d. 22 Jun 1975)
Rouse, Effie Jane (b. 6 Feb 1893 - d. 26 Sep 1941)
Rouse, Enoch (b. 1833 - d. 1905)
Rouse, Harrison S (b. 13 Oct 1898 - d. 27 Nov 1914)
Rouse, Hurley Lee (b. 10 Nov 1904 - d. 3 Dec 1986)
Rouse, Ida Louise (b. 7 Mar 1890 - d. 30 Dec 1894)
Rouse, James Grier (b. 30 Nov 1947 - d. 23 Jul 1948)
Rouse, Josie Jane Cockman (b. 9 Dec 1910 - d. 3 Jul 1984)
Rouse, Jurlene (b. 20 Jul 1929 - d. 29 Oct 1930)
Rouse, Malcolm Street (b. Aug 1871 - d. 1948)
Rouse, Mamie Horner (b. 23 May 1905 - d. 24 Apr 1999)
Rouse, Rebecca Jane Maness (b. 23 Sep 1869 - d. 30 Sep 1951)
Rouse, Wilbert Lee (b. 8 Oct 1930 - d. 9 Feb 2004)
Sanders, Claude Lillian (b. 6 Feb 1925 - d. 28 Mar 1954)
Sanders, Donnie Lee (b. 6 Jan 1916 - d. 28 Mar 1954)
Sanders, Maggie (b. 8 Dec 1874 - d. 8 Mar 1923)
Sanders, Martha Mattie Burns (b. 10 Aug 1878 - d. 15 May 1950)
Sanders, O S (b. 23 Feb 1885 - d. 8 Aug 1933)
Sanders, Ralph Anzie (b. 1 Jan 1927 - d. 16 Sep 1960)
Seawell, Elizabeth Jane Shields (b. 23 Feb 1837 - d. 19 Feb 1910)
Sheffield, Charles A (b. 1927 - d. 1965)
Sheffield, Ernest Jr (b. 22 Jan 1881 - d. 6 Nov 1936)
Sheffield, Harold Gene (b. 4 Mar 1942 - d. 23 Jul 1959)
Sheffield, Martha Jane Morgan (b. 23 Aug 1883 - d. 18 Dec 1941)
Sheffield, Mary Jane (b. 5 Aug 1884 - d. 17 Nov 1965)
Sheffield, Mattie Florence (b. 24 Oct 1916 - d. 22 Jul 1993)
Shields, Amanda J Burns (b. 10 Nov 1836 - d. 27 Jun 1932)
Shields, Cass Andrew (b. 3 Apr 1842 - d. 3 Jan 1926)
Shields, Hugh Madison (b. 31 Dec 1876 - d. 20 Feb 1934)
Shields, James Martin (b. 29 Nov 1836 - d. 26 Dec 1912)
Shields, Kate Murchison Kelly (b. 8 Aug 1875 - d. 20 Jun 1935)
Shields, Nannie G (b. 9 Nov 1868 - d. 14 Feb 1947)
Simmons, Grace Pearl Stutts (b. 23 Sep 1912 - d. 4 Mar 1997)
Simmons, Thomas Roger (b. 20 Sep 1944 - d. 1 Nov 2004)
Simmons, Woodrow Wilson (b. 1 Dec 1913 - d. 19 Nov 1992)
Smith, Cecil Benton (b. 22 Dec 1929 - d. 12 Oct 1930)
Smith, Ruby Mae Cockman (b. 10 Jul 1910 - d. 1988)
Snuggs, Edith Horner (b. 30 Jan 1908 - d. 21 Mar 1994)
Snuggs, Marvin Bryan (b. 23 Dec 1896 - d. 29 May 1967)
Snuggs, W J Brown Paul (b. 6 Jul 1923 - d. 2 Oct 1926)
Spinks, Annie Lee Williams Brown (b. 1 Sep 1915 - d. 11 Dec 2008)
Stewart, Aetemetia A Kennedy (b. 17 Aug 1899 - d. 22 Nov 1965)
Stewart, Arthur Eugene (b. 2 Jun 1923 - d. 27 Feb 1991)
Stewart, James Arthur (b. 6 Mar 1884 - d. 23 Jul 1959)
Stewart, Margaret Shields (b. 25 Feb 1858 - d. 9 Mar 1933)
Stewart, Peter M (b. 5 Jan 1857 - d. 21 Jun 1922)
Stutts, A C (b. 14 Oct 1866 - d. 8 Dec 1868)
Stutts, A H (b. 3 Jul 1865 - d. 20 Jan 1900)
Stutts, Ada Lillian (b. 3 Nov 1878 - d. 8 Sep 1962)
Stutts, Arthur A (b. 21 Aug 1896 - d. 1 Sep 1948)
Stutts, Arthur Lewis (b. 3 Nov 1878 - d. 26 Jan 1956)
Stutts, Clarkie Hunsucker (b. 25 Jul 1818 - d. 26 Oct 1911)
Stutts, Delphinia J (b. 19 Jul 1850 - d. 29 Sep 1917)
Stutts, Deltica Warren Rush (b. 22 Apr 1906 - d. 6 May 1973)
Stutts, Dempsey (b. 1841 - d. 26 Nov 1913)
Stutts, Erie Cockman (b. 29 Mar 1875 - d. 8 Nov 1940)
Stutts, Flossie H Answorth (b. 4 Jun 1884 - d. 24 Sep 1939)
Stutts, Henry Blaine (b. 1 Dec 1893 - d. 29 Sep 1977)
Stutts, Herbert C (b. 24 Feb 1895 - d. Mar 1952)
Stutts, Herbert C (b. 24 Feb 1895 - d. 13 Mar 1952)
Stutts, Isabella (b. 8 Jun 1829 - d. 18 May 1888)
Stutts, James N (b. 17 Dec 1870 - d. 1 Nov 1899)
Stutts, James Wesley (b. 5 Oct 1844 - d. 10 Apr 1887)
Stutts, John Franklin (b. 23 Jan 1869 - d. 19 Feb 1947)
Stutts, John Henry Clay (b. 27 Jun 1867 - d. 11 May 1942)
Stutts, Julia Rosetta Brick (b. 2 Oct 1886 - d. 13 Jun 1966)
Stutts, Lee Iler (b. 1 Oct 1879 - d. 9 Aug 1934)
Stutts, Lydia F McKinnon (b. 27 Feb 1846 - d. 23 Jun 1899)
Stutts, Maggie D (b. 7 Jun 1886 - d. 14 Sep 1961)
Stutts, Maggie M (b. 17 Aug 1905 - d. 26 Mar 1908)
Stutts, Mamie Agusius Williams (b. 2 Aug 1902 - d. 25 Sep 1995)
Stutts, Martha Ellen (b. 4 Oct 1850 - d. 22 Dec 1930)
Stutts, Martha Jane Stewart (b. 15 Mar 1843 - d. 19 Mar 1934)
Stutts, Mattie Williamson (b. 2 Oct 1904 - d. 21 Aug 1894)
Stutts, Melvin Hazel (b. 26 Oct 1917 - d. 9 Jun 2001)
Stutts, Minnie M Hunsucker (b. 21 Nov 1874 - d. 27 May 1920)
Stutts, Neal (b. 4 Jan 1870 - d. 7 Jan 1944)
Stutts, Noah Bethuel (b. 13 Aug 1845 - d. 22 Jun 1919)
Stutts, Ruth (b. 26 Mar 1925 - d. 20 Jun 1926)
Stutts, Thomas S (b. 18 Jan 1876 - d. Oct 1892)
Stutts, William C (b. 19 Sep 1818 - d. 5 Nov 1908)
Stutts, Winfred Clifton (b. 4 Mar 1927 - d. 14 Dec 1992)
Thomas, Josie Ella Williams (b. 17 Jan 1903 - d. 28 May 1924)
Valk, Ellsworth Terry (b. 30 Dec 1922 - d. 6 Mar 1957)
Wallace, Addie Florence (b. 17 Mar 1872 - d. 18 Aug 1943)
Wallace, Beaulah Mae Kennedy (b. 30 Aug 1910 - d. 16 Dec 1997)
Wallace, Chester Alton (b. 4 May 1907 - d. 20 Mar 1982)
Wallace, Clara Ailee Cockman (b. 5 Sep 1915 - d. 29 May 1986)
Wallace, Connie Thomas (b. 26 Oct 1916 - d. 18 Jan 1972)
Wallace, Elizabeth Melton (b. 1 Mar 1830 - d. 15 Oct 1875)
Wallace, Hurley Carlton (b. 5 Jan 1905 - d. 14 Apr 1994)
Wallace, James Lewis (b. 9 Feb 1875 - d. 27 Feb 1950)
Wallace, Lillie Jane Maness (b. 22 Sep 1884 - d. 6 Oct 1919)
Wallace, Lucian Thomas (b. 15 Jan 1876 - d. 1 Jul 1935)
Wallace, Mallie Lester (b. 31 May 1910 - d. 29 Jul 2002)
Wallace, Nancy Jane Williams (b. 21 Dec 1875 - d. 15 Aug 1967)
Wallace, Priscilla Lois (b. 13 Feb 1946 - d. 13 Feb 1946)
Wallace, Roscoe Green (b. 1 Nov 1900 - d. 10 Aug 1960)
Wallace, Thelma Williams (b. 1915 - d. 29 Aug 2008)
Wallace, Veona L (b. 15 May 1934 - d. 17 May 1934)
Wallace, William Howard Taft (b. 16 Nov 1908 - d. 13 Nov 1987)
Wallace, William Wesley (b. 1 Jun 1828 - d. 4 Oct 1908)
Williams, Alma R McLean (b. 6 Nov 1898 - d. 28 Apr 1920)
Williams, Annie Louise Maness (b. 17 Jun 1876 - d. 7 Jan 1957)
Williams, Baxter (b. 4 May 1859 - d. 14 Mar 1936)
Williams, Beecher C (b. 29 Jun 1888 - d. 15 Jan 1951)
Williams, Billy Don (b. 4 Jun 1944 - d. 10 Jul 1944)
Williams, Bonnie Fay (b. 1 Apr 1916 - d. 22 Feb 1985)
Williams, C Essie (b. 6 May 1911 - d. 21 May 1987)
Williams, Callie F (b. 20 Dec 1900 - d. 4 Oct 1981)
Williams, Clarence (b. 26 Oct 1916 - d. 19 May 1982)
Williams, Clarence E (b. 26 Nov 1912 - d. 26 Nov 1912)
Williams, Conie B (b. 29 Sep 1888 - d. 3 Aug 1979)
Williams, Cora Horner (b. 26 Feb 1898 - d. 20 Apr 1962)
Williams, Corimna H (b. 2 Mar 1895 - d. 30 Oct 1895)
Williams, Curtis C (b. 25 Feb 1893 - d. 1 Oct 1957)
Williams, Curtis D (b. 21 Feb 1896 - d. 9 May 1933)
Williams, Edwin Jr (b. 27 Jun 1928 - d. 22 Sep 1929)
Williams, Elizabeth (b. 28 May 1861 - d. 25 Aug 1934)
Williams, Emma Furr (b. 20 Nov 1883 - d. 18 Mar 1955)
Williams, Emsley Thomas (b. 11 Jul 1888 - d. 4 Feb 1963)
Williams, George (b. 26 Aug 1865 - d. 25 Mar 1942)
Williams, Gladys (b. 14 Apr 1912 - d. Aug 1939)
Williams, Grover (b. 1914 - d. 1914)
Williams, Gurney G (b. 26 May 1914 - d. 17 Aug 1987)
Williams, Howard Taft (b. 30 Oct 1908 - d. 25 Nov 2000)
Williams, Iola (b. 17 Oct 1890 - d. 27 May 1939)
Williams, Irene B (b. 7 Jul 1922 - d. 4 Nov 1995)
Williams, J T (b. 20 Jul 1836 - d. 22 Jul 1923)
Williams, J Thomas (b. 1862 - d. 1932)
Williams, James Carlton (b. 7 Mar 1919 - d. 30 Oct 1924)
Williams, Jennee Horner (b. 14 Dec 1875 - d. 4 Aug 1927)
Williams, Jesse V (b. 3 May 1890 - d. 21 Aug 1960)
Williams, Jessie Paul (b. 8 Feb 1822 - d. Jul 1874)
Williams, Jim (b. 22 Apr 1914 - d. 11 Dec 1982)
Williams, John (b. 13 Jun 1842 - d. 7 Sep 1924)
Williams, Julia Ann (b. 30 Jan 1878 - d. 9 Jul 1978)
Williams, June M (b. 20 Aug 1911 - d. 19 Sep 1966)
Williams, Junius Bryant (b. 9 Aug 1920 - d. 15 Nov 2004)
Williams, Kate Hunsucker (b. 15 Aug 1864 - d. 3 Apr 1917)
Williams, Kenneth K (b. 15 Nov 1854 - d. 1935)
Williams, Kenneth Watson (b. 27 Nov 1888 - d. 22 Jun 1983)
Williams, Lacy M (b. 19 Jan 1883 - d. 8 Mar 1930)
Williams, Leeton (b. 27 Dec 1910 - d. 1 May 1923)
Williams, Lissie M (b. 4 Dec 1907 - d. 9 Feb 1928)
Williams, Lula Florence Wallace (b. 16 Nov 1886 - d. 15 Jun 1915)
Williams, Luther C (b. 7 Aug 1909 - d. 11 May 1962)
Williams, M Ethel Bray (b. 19 Oct 1898 - d. 4 May 1978)
Williams, Margaret Garner (b. 3 Oct 1822 - d. 6 Dec 1906)
Williams, Martha F Stutts (b. 17 Apr 1869 - d. 6 Feb 1935)
Williams, Martha J (b. 1870 - d. 1931)
Williams, Mary Alice Maness (b. 15 Apr 1881 - d. 3 Apr 1912)
Williams, Mary Ann Horner (b. 13 Sep 1878 - d. 15 Feb 1914)
Williams, Mary C (b. 12 Jun 1846 - d. 11 Jun 1966)
Williams, Mary Faye (b. 23 Dec 1837 - d. 7 Jun 1900)
Williams, Mary H (b. 21 Feb 1858 - d. 5 Mar 1919)
Williams, Mary Katherine (b. 12 Jun 1843 - d. 13 Jun 1935)
Williams, Millard F (b. 28 Feb 1886 - d. 20 Apr 1952)
Williams, Myra Blue (b. 9 Mar 1909 - d. 24 Feb 1983)
Williams, O N (b. 16 Oct 1878 - d. 14 Mar 1959)
Williams, Offic A (b. 9 Aug 1888 - d. 5 Mar 1919)
Williams, Oscar Green (b. 20 May 1880 - d. 3 Apr 1910)
Williams, Patrick (b. 6 Jun 1894 - d. 31 Mar 1978)
Williams, Patsy Phillips (b. 16 Jul 1883 - d. 27 Jun 1946)
Williams, Preston A (b. 6 Jun 1847 - d. 1 Jan 1912)
Williams, Raymond Green (b. 6 Oct 1924 - d. 7 May 1985)
Williams, Robert H (b. 2 Dec 1894 - d. 29 Sep 1918)
Williams, Sarah C Wallace (b. 13 Oct 1868 - d. 29 Aug 1941)
Williams, Stephen Howard (b. 4 Apr 1898 - d. 23 May 1958)
Williams, Swanna Kennedy (b. 20 Jul 1907 - d. 23 Jun 1957)
Williams, Tessie V (b. 3 May 1890 - d. 21 Aug 1960)
Williams, Theresa W (b. 28 Nov 1917 - d. 25 Oct 1997)
Williams, Trugia L (b. 24 Nov 1852 - d. 21 Mar 1925)
Williams, Virginia (b. 1 Nov 1914 - d. 3 May 1927)
Williams, Waiter (b. 22 Dec 1885 - d. 17 Aug 1951)
Williams, Walter (b. 16 Aug 1881 - d. 27 Jan 1952)
Williams, William T (b. 9 Nov 1848 - d. 10 Apr 1923)
Williams, William T (b. 12 Jan 1873 - d. 18 Oct 1932)
Williams, William Wesley (b. 18 Aug 1823 - d. 1 Mar 1911)
Williams, Willie (b. 21 Sep 1920 - d. 24 Sep 1920)
Williams, Willis Moses (b. 12 Jun 1878 - d. 1 Sep 1957)
Williams, Worthy Curtis (b. 1 Mar 1933 - d. 13 Feb 1998)
Williamson, Bertha Lee (b. 22 Mar 1900 - d. 18 Jun 1900)
Williamson, Elvatena (b. 8 Apr 1870 - d. 4 Dec 1887)
Williamson, Emily Julia Davis (b. 8 Sep 1872 - d. 18 Oct 1935)
Williamson, Jesse (b. 29 Jan 1835 - d. 6 Aug 1908)
Williamson, Labon (b. 15 Mar 1868 - d. 1 Mar 1908)
Williamson, Virginia Bell Davis (b. 26 Dec 1878 - d. 29 Aug 1932)
Woodward, Celia Sheffield (b. 11 Jan 1911 - d. 29 Mar 2000)
Woodward, James Johnson (b. 28 Apr 1906 - d. 14 Jan 1984)
Woratschek, Virginia Allene Guyer (b. 16 Aug 1925 - d. 16 Dec 1966)
York, Ervin Lee (b. 14 Apr 1983 - d. 3 Nov 1999)
Yow, Edd M (b. 26 Aug 1885 - d. 13 Sep 1935)
Yow, Mamie D (b. 1 Oct 1889 - d. 27 Oct 1976)
Yow, Mary M (b. Unknown - d. 25 Sep 1900)
Web page updated 27 November 2016
Index of All Cemeteries
Alphabetical Index of All Burials
Previous Page