Index of All Cemeteries
Alphabetical Index of All Burials
Previous Page
Use the following to search across all the cemeteries listed.
Example: "Smith, Roger" (yes, use the quotes)
0660 HONEYCUTT, LEWIS S.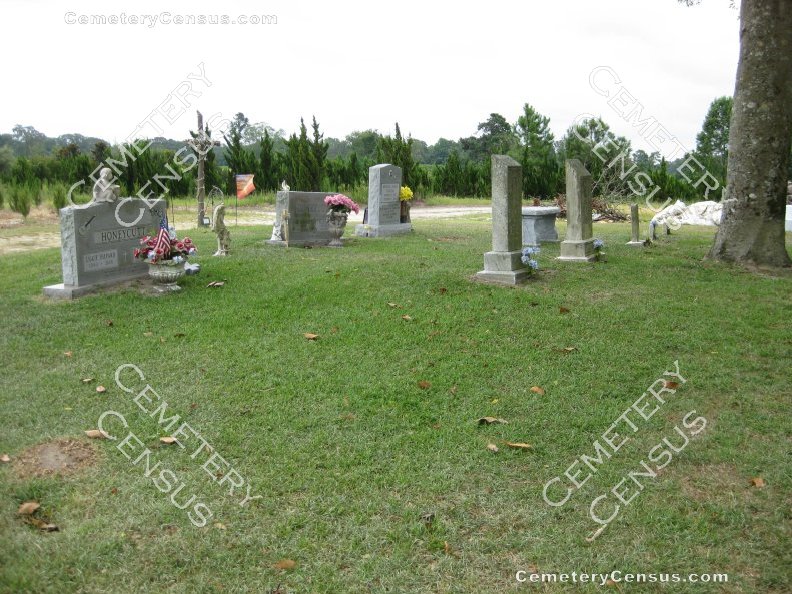 Location - off Old Fairgrounds Rd (SR-1309) about 500 feet down a dirt road, Pleasant Grove.

Coordinates: 35d 30m 53.5s N; 78d 36m 11.9s W Click here for Google maps

Directions: From Hwy 50 and Hwy 210 (McGee's Crossing) travel West on Hwy 210 about 1.5 miles to Old Fairgrounds Rd. Turn left onto Old Fairgrounds Rd and travel about half a mile to the Fellowships Church and cemetery. It will be on your right. A small dirt/gravel unmarked road will be on your left. Turn left onto the dirt road. Travel about 500 feet down the dirt road. Behind the house trailer and the barn are the graves. They are not visible from Old Fairgrounds Rd.

The cemetery is well kept and in use showing several new burials since the previous survey in 1976. View #2 of the cemetery.

Compiler: Darlene McLamb, Mar 1976. Updates and photographs by Gerry Morgan in August 2016.


Honeycutt, Bonnie Elaine Barbour (b. 29 Feb 1952 - d. Reserved)
Wife of Liggie Shepard Honeycutt. Daughter of Joseph C. Barbour.
Wife of Lewis S. Honeycutt. Daughter of McDaniel Langdon and Dorcas Stephenson Langdon.
Wife of William Reggie Honeycutt. Together Forever
Husband of Daisy Honeycutt.
Husband of Bonnie Elaine Barbour Honeycutt. Son of William Reggie Honeycutt and Elsie Messer Honeycutt.
Infant son of Lewis S. Honeycutt and Daisy Langdon Honeycutt.
Should we lose each other in the Shadow of the Evening Trees, I'll wait for You and should I fall behind wait for Me. Rest Easy with Jesus - Daddy, Son and Friend. Cross.
Web page updated 6 August 2016
Index of All Cemeteries
Alphabetical Index of All Burials
Previous Page