Index of All Cemeteries
Alphabetical Index of All Burials
Previous Page
Use the following to search across all the cemeteries listed.
Example: "Smith, Roger" (yes, use the quotes)
0207 JOHNSON, W.L.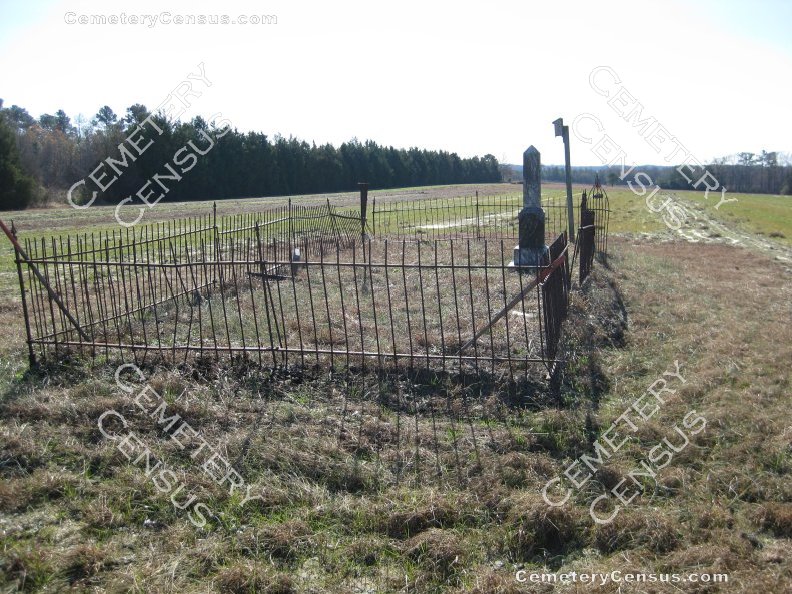 Location - off Cornwallis Rd, in a field, about 1.5 miles west of Cleveland Rd.

Coordinates: 35d 34m 19.6s N; 78d 33m 36.5s W Click here for Google maps

On farm of Deb Wood. On the south side of Cornwallis Rd (SR-1525). Enclosed by a fence. 1 marked grave with indication of 4 other graves.

Obelisk with all four names on three of the sides.
Johnson name on gate fence.

Compiler: Claudia S Brown, 1975. Survey and photographs by Gerry Morgan in November 2016.


Johnson, Martha E. (b. 4 Aug 1866 - d. 13 Sep 1872)
Budded on earth to bloom in heaven.

Johnson, Sarah J. (b. 22 Oct 1879 - d. 19 Feb 1895)

Johnson, Sarah S. (b. 28 Nov 1844 - d. 8 Mar 1902)
Wife of William L. Johnson. She was a kind affectionate wife, A fond mother and friend.

Johnson, William L. (b. 16 Jun 1841 - d. 11 Feb 1914)
Husband of Sarah S. Johnson. To live in the Hearts we leave behind is not to die.
Web page updated 25 December 2016
Index of All Cemeteries
Alphabetical Index of All Burials
Previous Page