Index of All Cemeteries
Alphabetical Index of All Burials
Previous Page
Use the following to search across all the cemeteries listed.
Example: "Smith, Roger" (yes, use the quotes)
224 REDEEMED APOSTOLIC CHURCH OF CHRIST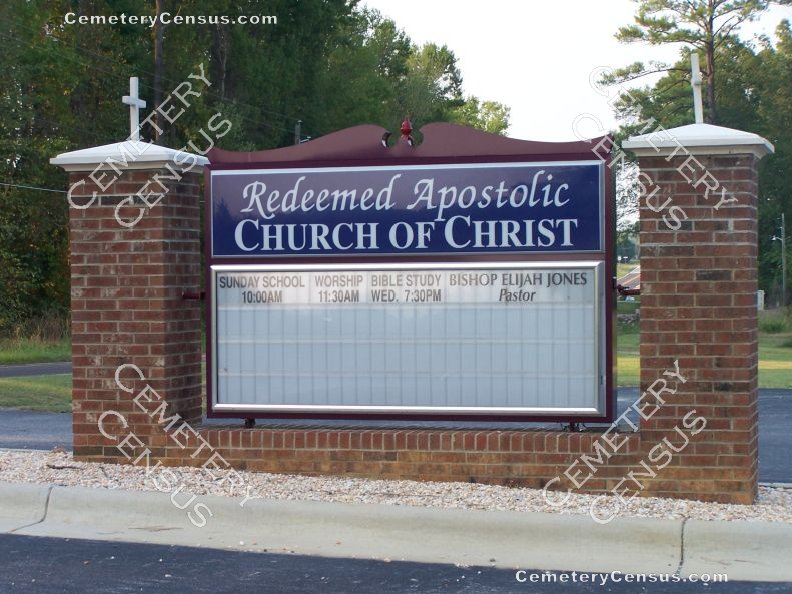 Location - 1480 Purfoy Rd, Angier.

Coordinates: 35d 32m 08.9s N; 78d 46m 42.8s W Click here for Google maps

View of the church. View of the church sign.

Surveyed by and photographs by Harnett County Friends of the Library, Julie & Vernon Gambrell, and others. Updates by Allen Dew in February 2017.


Adams, Tameka Sharee "Tee" (b. 15 Sep 1983 - d. 28 Jun 1998)
Dennis, Millie J. (b. 1 Aug 1910 - d. 20 Oct 2005)
Funeral marker. Survived in death by 3 Sons: Alexander and Roy Rogers, and Freddie McEachin 6 daughters : Queenie Chrisp, Remonia Rogers, Gloria Chisolm, Christine Hinton, Dorothy Bryant, and Mary McEachin sister: Pecolia Tyndall 35 grandchildren; 60 great-grandchildren.
Survived in death by husband, Danny Thomas; son, Addison Thomas; daughters Brittney Thomas; mother, Lola M. Taylor; father, Joshua McCormick; stepmother, Sandra McCormick; step sister, Sharon Brown;.
Web page updated 31 August 2017
Index of All Cemeteries
Alphabetical Index of All Burials
Previous Page