Index of All Cemeteries
Alphabetical Index of All Burials
Previous Page
Use the following to search across all the cemeteries listed.
Example: "Smith, Roger" (yes, use the quotes)
154 JOHNSONVILLE CHURCH OF GOD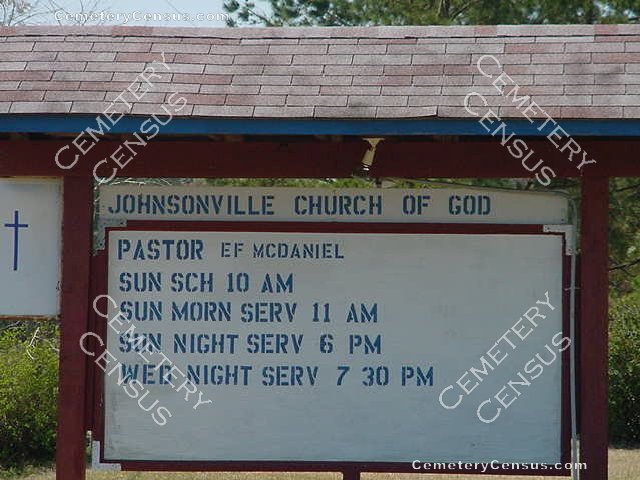 Location - on Brooks Mangum Rd, about 0.6 mile north of Hwy 24, Johnsonville.

Coordinates: 35d 17m 07.9s N; 79d 05m 24.1s W Click here for Google maps

View of the church.

Surveyed by and photographs by Harnett County Friends of the Library, Julie & Vernon Gambrell, and others. Updates by Allen Dew in December 2016.


Harder, Jenny Taylor (b. 17 Jun 1950 - d. 10 Apr 2002)
Born in Alabama. Wife of Robert L. Harder.
Husband of Jenny Taylor Harder. Survived in death by Robert L. Harder Sr. and Judith Bates Harder parents, David Harder brother, Robyn Coleman sister, George and Virginia Bates maternal grandparents. SP-4 US Army.
Wife of Walter Howard Moore.
Husband of Verna Mae Gibson Moore,
Web page updated 31 August 2017
Index of All Cemeteries
Alphabetical Index of All Burials
Previous Page