Index of All Cemeteries
Alphabetical Index of All Burials
Previous Page
Use the following to search across all the cemeteries listed.
Example: "Smith, Roger" (yes, use the quotes)
129 FAITH TABERNACLE O.U.H.C. (Old Union Holiness Church)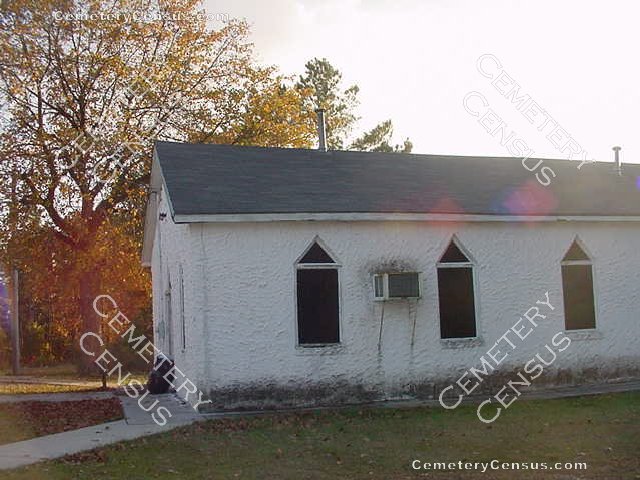 Location - Raynor-McLamb Rd about 0.7 miles south of McLean Chapel Church Rd, Bunnlevel.

Coordinates: 35d 17m 45.2s N; 78d 50m 02.6s W Click here for Google maps

View of the new church. View of the church sign.

Surveyed by and photographs by Harnett County Friends of the Library, Julie & Vernon Gambrell, and others. Updates by Allen Dew in December 2016.


Elliott, Lillie Mae (b. 26 Apr 1948 - d. 20 Apr 2000)

Elliott, Walter O. (b. 27 Mar 1957 - d. 8 Aug 1999)

McLean, Archie Joe (b. 1950 - d. 21 Nov 2000)
Funeral marker. Survived in death by Wife, Shirley Bell McLean; daughters Alicia McLean; sons, Michael, Alvis, and Kenny McLean; father, Archie C. McLean; 7 grandchildren..

McLean, William H. (b. 1941 - d. 2001)

Smith, Robert Bobby, Jr. (b. Abt 1936 - d. 1 May 2001)
Age at death 64. Survived in death by wife, Margaret Smith; 4 son, Roy J, Dean, Aleveolus and Lamonte Smith; 3 daughters Barbara Brandon, Rosa Serra, Deborah Richmond; 3 brother , Roy, Alexander and Devon smith; 26 grandchildren; 5 great-grandchildren ;.

Walker, Anna Louise (b. Abt 1926 - d. 12 Feb 2010)
Age at deateh [83]. Survived in death by Nephew and niece, Mr. and Mrs. Burnice Hicks of the home; sisters, Pastor Lee Anna McNeill, Florence Elliott and Vennie Williams, all of Linden; and brothers, Joe Walker, Elder William Walker Sr. and James Walker, all of Linden. V. Funeral home: Walker Memorial Funeral Home Inc.,

Williams, Annie Walker (b. 1963 - d. 2001)
Web page updated 31 August 2017
Index of All Cemeteries
Alphabetical Index of All Burials
Previous Page