Index of All Cemeteries
Alphabetical Index of All Burials
Previous Page
Use the following to search across all the cemeteries listed.
Example: "Smith, Roger" (yes, use the quotes)
128 POLLARD FAMILY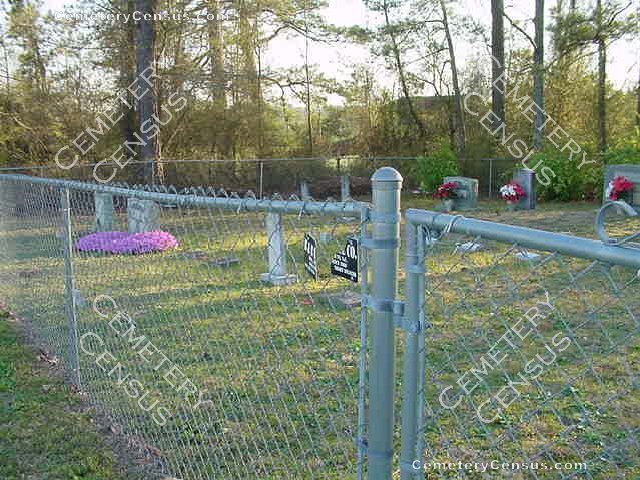 Location - on Festus Rd, about 0.5 mile north of Hwy 27, east of Coats.

Coordinates: 35d 24m 56.7s N; 78d 37m 28.1s W Click here for Google maps

View #2 of the cemetery. View #3 of the cemetery.

Surveyed by and photographs by Harnett County Friends of the Library, Julie & Vernon Gambrell, and others. Updates by Allen Dew in December 2016.


Ennis, Bertie Nordan (b. 1892 - d. 24 May 1905)
Wife of John Festus Ennis.
Husband of Bertie Nordan Ennis.
Sister of Nellie Ennis Moore.
Sister of Olene Ennsi. Survived in death by Jimmy, Ray, Stacy Mangum sons Kathleen Lee, Edna Gray, Olene Ennis sisters Walter Ennis brother Six grandchildren Four great-grandchildren. Funeral marker.
Husband of Florence C. Pollard. Closeup.
Wife of C. Leonard Pollard.
Husband of Millie Pollard.
Wife of Lloyd W. Pollard.
Husband of Josephine Ennis Rose. Survived in death by wife, Josephine Ennis Rose; step-son, Larry Rose. US Navy, Vietnam. Military marker. - Funeral marker.
Wife of James Terry Rose. Preceded in death by parents, John Fetus & Vertie Nordan Ennis; husband, James T 'Jim' Rose;. Survived in death by son, Larry Rose; 4 sister, Kathleen Lee, Nellie Moore, Edna Gray, Olenek Ennis; brother , Walter 'Bill' Ennis; several nieces and nephews. Funeral marker.
Web page updated 31 August 2017
Index of All Cemeteries
Alphabetical Index of All Burials
Previous Page