Index of All Cemeteries
Alphabetical Index of All Burials
Previous Page
Use the following to search across all the cemeteries listed.
Example: "Smith, Roger" (yes, use the quotes)
076 BLACK RIVER GROVE PRIMITIVE BAPTIST CHURCH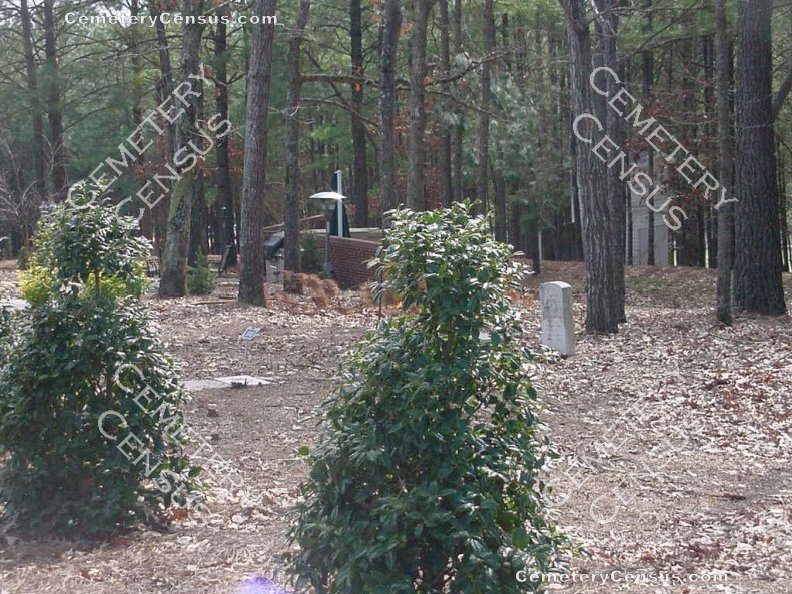 Location - off Johnson Rd near intersection with Silas Moore Rd, Coats.

Coordinates: 35d 26m 05.0s N; 78d 38m 15.0s W Click here for Google maps

History of this now abandoned church and cemetery from the Coats Museum News:

A predominantly black church in the same northeastern section of Grove was the Black River Grove Primitive Baptist Church which was located on the current Johnson Road where Silas Moore Road enters. This is the same road on which the Black River Grove Colored School was located. It is interesting to note the memories o f Lamas Denning as told to his niece Lynda Butler. He recalled that his father Floyd L. Denning took him to that church to worship. The color of the skin did not separate the churches of the Old School Primitive Baptist Churches according to Mrs. Butler.
According to Book 171, page 189, in the Harnett County Register of Deeds records, on August 23, 1909, Samuel Cutts donated the land for the Black River Grove Church. The church was active until about 1989 when it discontinued services. John and Shelia Aldridge purchased the property and removed the building. They secured the large cemetery behind the church. This cemetery contains the graves of many of the prominent black families on this side of the Grove area and two markers record that the men were veterans who fought for our freedom. The McKoy and Lee families are connected to the church. Nellie McNeill Lee married Ira Lee in 1935. Ira was the son of Frank Lee and Lucinda Stewart Lee who attended the church. Ira lived in Coats after Frank died according to Nellie.

Surveyed by and photographs by Harnett County Friends of the Library, Julie & Vernon Gambrell, and others. Updates by Allen Dew in July 2016.


Lee, James O. (b. 7 Aug 1919 - d. 16 Oct 1975)
Husband of Omia Ruffin Lee. Son of Sylvester Lee and Flora Jane Stewart Lee.

McKoy, Bertha Lee (b. 29 Oct 1901 - d. 2 Oct 1988)
Wife of Mack Duffie McKoy, Sr. Funeral marker.

McKoy, Larry Doby (b. 26 Mar 1948 - d. 12 Jul 1969)
NC Cpl. Co A, 12th Cavalry, 1st Cavalry Division, Vietnam, SS, BSM, AM, PH Military marker.

McKoy, Mack Duffie, Sr. (b. 1895 - d. 1980)
Husband of Bertha Lee McKoy. Funeral marker. First name is incorrect on the marker.

McKoy, Viola N. (b. 21 Jan 1922 - d. 31 May 1978)
Daughter of Mack Duffie McKoy and Bertha Lee McKoy.

Stewart, Arianna Stuart (b. 23 Jul 1898 - d. 8 Feb 1936)
Wife of James Delmore Stewart

Stewart, James Delmore (b. 1 May 1896 - d. 1 Apr 1964)
Husband of Arianna Stuart Stewart. Son of Charlie Stewart and Rhoda Avery Stewart. NC Pvt. Co E, 366th Infantry, WW-I.

Stewart, Oril (b. Unknown - d. Unknown)
Web page updated 31 August 2017
Index of All Cemeteries
Alphabetical Index of All Burials
Previous Page