Index of All Cemeteries
Alphabetical Index of All Burials
Previous Page
Use the following to search across all the cemeteries listed.
Example: "Smith, Roger" (yes, use the quotes)
069 BLACK FAMILY (Mamers)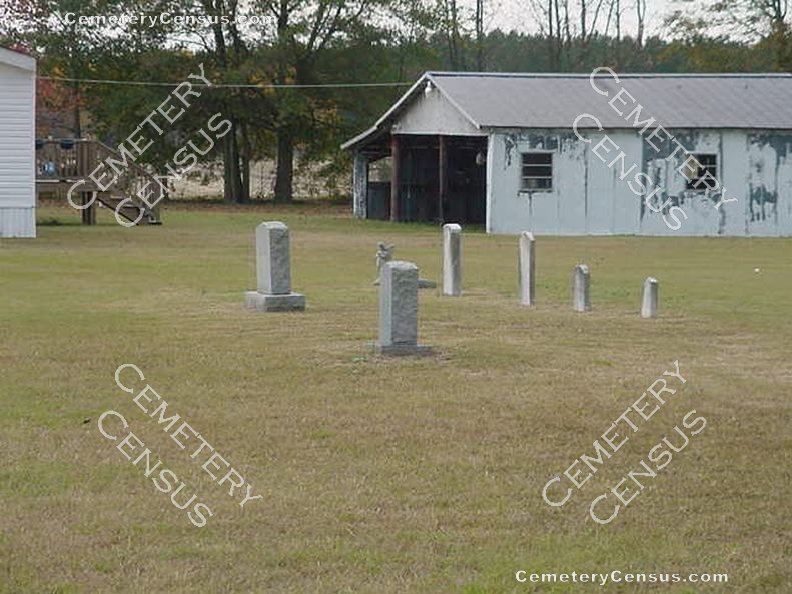 Location - in a field off C.P. Stewart Rd, about 0.5 mile south of Old US Hwy 421, Mamers.

Coordinates: 35d 24m 14.9s N; 78d 55m 09.6s W Click here for Google maps

Surveyed by and photographs by Harnett County Friends of the Library, Julie & Vernon Gambrell, and others. Updates by Allen Dew in May 2016.


Black, Annie Belle Hancock (b. 15 Oct 1895 - d. 2 Oct 1977)
Wife of Marshall William Black. Closeup.

Black, Lurena B. (b. 31 Dec 1884 - d. 16 Jul 1887)

Black, Marshall William (b. 10 Feb 1888 - d. 12 Dec 1970)
Husband of Annie Belle Hancock Black. Closeup.

Byrd, Bright Daniel (b. 16 May 1831 - d. 14 Mar 1865)
Husband of Lou Sidney Baker Byrd. Son of George Washington Byrd and Penelope Ritter Byrd.

Byrd, Casbancy (b. 9 Jan 1896 - d. 9 Jan 1896)
Son of John Anderson Byrd and Mary Henrietta Howard Byrd. (John is the son of Bright daniel Byrd and Lucinda Sidney Baker Byrd).

Byrd, Lucinda Sidney Baker "Lou Sindy" (b. 16 Sep 1830 - d. 2 Feb 1906)
Wife of Bright Daniel Byrd.

Hancock, Fannie Lindsay (b. 10 Jun 1868 - d. 17 Sep 1944)
Widow. Daughter of Fannie Lindsay.

Wilson, Bernice Ward (b. 18 Sep 1916 - d. 5 Dec 1996)
Divorced. Wife of Curtis Floyd Wilson, Sr. Daughter of Richard L. Ward and Maggie Lewis Ward. Survived in death by Daughter: Barbara McGhee; Son: Curtis Wilson; Brothers: Jerry Ward, Frank Ward; Sisters: Mary Herring, Ruth Alphin, Luis Jordan, Julia Wilson; two grandchildren; one great-grandchild.

Wilson, Curtis Floyd, Jr. (b. 18 Aug 1938 - d. 11 Mar 2005)
Son of Curtis Floyd Wilson, Sr. and Bernice Ward Wilson.

Wilson, Curtis Floyd, Sr. (b. 25 Oct 1908 - d. 27 Dec 1993)
Divorced. Husband of Bernice Ward Wilson. Tec-5 US Army, WW-II.
Web page updated 31 August 2017
Index of All Cemeteries
Alphabetical Index of All Burials
Previous Page