Index of All Cemeteries
Alphabetical Index of All Burials
Previous Page
Use the following to search across all the cemeteries listed.
Example: "Smith, Roger" (yes, use the quotes)
063 BALLENTINE FAMILY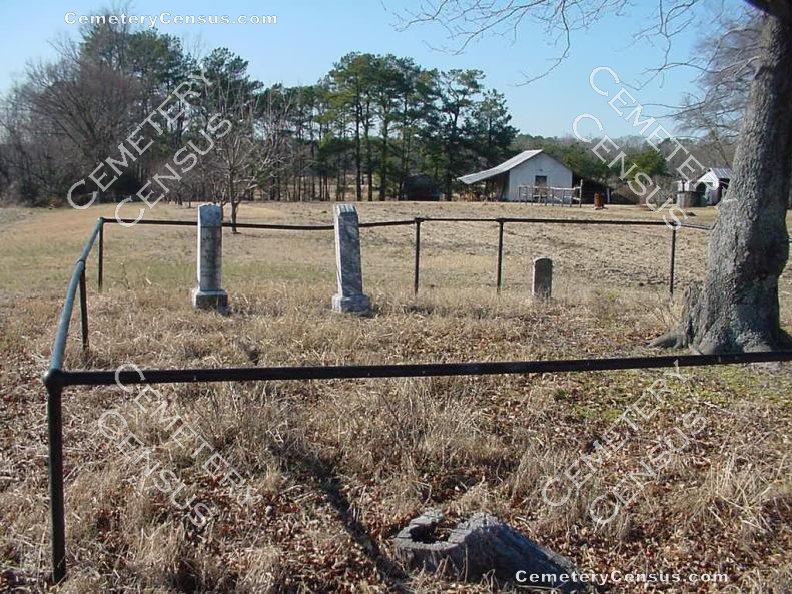 Location - off Purfoy Rd., Angier.

Coordinates: 35d 31m 17.8s N; 78d 46m 56.4s W Click here for Google maps

Located a few feet off the east side of the road.

Surveyed by and photographs by Harnett County Friends of the Library, Julie & Vernon Gambrell, and others.


Ballentine, David Gaston "D.G." (b. 15 Aug 1832 - d. 19 Nov 1920)
Husband of 1) Nancy M. Judd Ballentine and 2) Eliza Jane Spence Ballentine. Son of William Ballentine and Cynthia Crowley Ballentine. He died in the old Soldiers Home in Raleigh NC. Closeup.

Ballentine, Lillie A. (b. 15 Jul 1873 - d. 25 Mar 1874)
Daughter of David Gaston Ballentine and Nancy M. Judd Ballentine. "Safe in the arms of Jesus."

Ballentine, Nancy M. Judd (b. 27 Dec 1837 - d. 15 Jul 1891)
1st Wife of David Gaston Ballentine.

Johnson, C. Raymond (b. 1934 - d. 12 Dec 2003)
Survived in death by wife, Shelby Johnson; son, Charles Ray Johnson;daughter Kimberly Scholl; step-daughter, Kathy Rains; step-son, Richard Smart; step-grandchildren, Michael Rains; brother . Sharon Johnson; sister, Beverly Johnson;. Funeral home: West & Dunn Funeral Home Newton Grove, Newton Grove NC.
Web page updated 31 August 2017
Index of All Cemeteries
Alphabetical Index of All Burials
Previous Page