Index of All Cemeteries
Alphabetical Index of All Burials
Previous Page
Use the following to search across all the cemeteries listed.
Example: "Smith, Roger" (yes, use the quotes)
022 ADAMS, JOHN KIRK FAMILY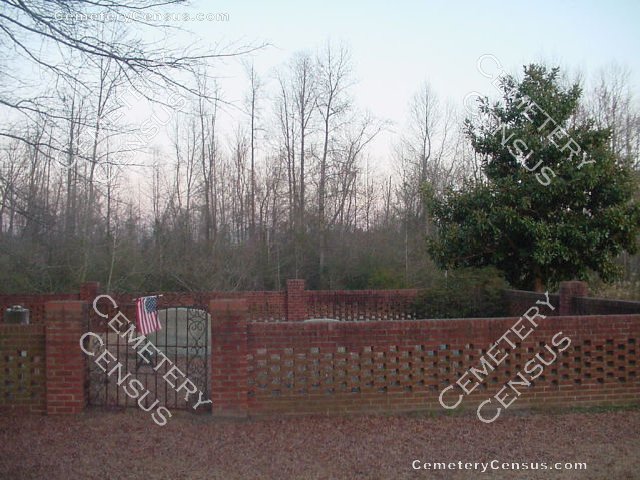 Location - on John Kirk Adams Rd, Black River Township.

Coordinates: 35d 29m 01.9s N; 78d 40m 38.8s W Click here for Google maps

Surveyed by and photographs by Harnett County Friends of the Library, Julie & Vernon Gambrell, and others. Updates by Allen Dew in 2015.

View of the cemetery gate.


Adams, Ada Florence Pleasant (b. 28 May 1865 - d. 5 Feb 1904)
Wife of Joseph Otis Adams. Daughter of John Pleasant and Margaret Adams Cutts Pleasant. (possibly buried here)

Adams, Edwin Green (b. 8 Sep 1819 - d. 2 Oct 1861)

Adams, John Kirk (b. 21 Oct 1885 - d. 5 Sep 1939)
Husband of Mattie Dora Woodell Adams

Adams, Joseph Otis "Whitehead Joe" (b. 10 Oct 1850 - d. 13 Nov 1915)
Husband of Ada Florence Pleasant Adams. Son of Edwin Green Adams and Maria Holland Adams. (possibly buried here)

Adams, Lattie D. (b. 25 Jun 1913 - d. 27 Sep 1923)
Daughter of J.K. and Mattie Adams

Adams, Maria Holland (b. 1822 - d. Unknown)
Wife of Edwin Green Adams. no death date on marker. Another view.

Adams, Mattie Dora Woodell (b. 14 Oct 1892 - d. 27 Aug 1976)

Adams, Mildred W. (b. 2 Jun 1920 - d. 2 Oct 2010)
Preceded in death by Parents Jeffery Benton and Viola Lee Adams; sister, Hilda Christine Morgan; and brothers, Garland Adams, John Benton Adams and Arlon Adams.. Survived in death by Several nieces and nephews including Linda Allen and husband Randy of Four Oaks; Sandra Young and husband Tony of Dunn.. Funeral home: Rose & Graham Funeral Home Benson, Benson NC

Adams, W. Charlie (b. 12 Feb 1929 - d. 22 Jan 1940)
Son of J.K. and Mattie Adams
Web page updated 31 August 2017
Index of All Cemeteries
Alphabetical Index of All Burials
Previous Page