Index of All Cemeteries
Alphabetical Index of All Burials
Previous Page
Use the following to search across all the cemeteries listed.
Example: "Smith, Roger" (yes, use the quotes)
003 CAMERON, HUGH D. FAMILY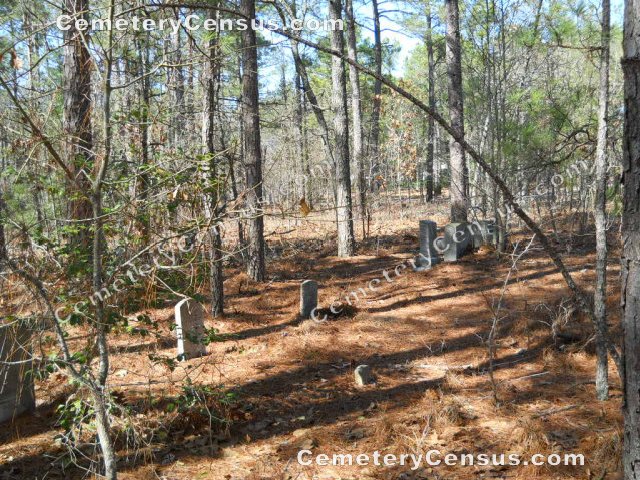 Location - off F.O.R. Lane across from Olivia Presbyterian Church in the Olivia Community.

Coordinates: 35d 21m 47.0s N; 79d 06m 05.8s W Click here for Google maps

Directions: from Sanford drive south on US Hwy 87 about 8 miles to Olivia; turn left on Olivia Rd and go about 0.75 mile; turn left on F. O. R. Lane; drive 0.3 mile; cemetery is on left in a grove of pines about 40 yards from road.

Survey and photographs by John Stanley in March 2012.


Cameron, Altie (b. 13 Jun 1903 - d. 26 Feb 1904)
Daughter of H.D. and E.M. Cameron

Cameron, Elizabeth M. (b. 1 Apr 1867 - d. 5 Jan 1958)
Wife of Hugh Dougald Cameron

Cameron, Hugh Dougald (b. 2 Oct 1863 - d. 5 Nov 1926)
Husband of Elizabeth Cameron. "I Have Fought A Good Fight, I Have Finished My Course, I Have Kept The Faith"

Cameron, Hugh Leonard (b. 18 Sep 1892 - d. 20 Jul 1912)
Son of H. D. and E. M. Cameron

Cameron, Mary Ann (b. 15 May 1886 - d. 31 Jul 1889)
Daughter of H. D. and E. M. Cameron. "Of Such Is The Kingdom Of Heaven"

Hughes, Murphy (b. 12 Nov 1835 - d. 24 Mar 1919)

Phipps, Sallie B. (b. 1902 - d. 19 Jun 1925)

Stone, Elizabeth (b. 11 Jul 1828 - d. 21 Jan 1895)

Turner, Zeb (b. 19 Jun 1902 - d. 1929)
Web page updated 31 August 2017
Index of All Cemeteries
Alphabetical Index of All Burials
Previous Page