Index of All Cemeteries
Alphabetical Index of All Burials
Previous Page
Use the following to search across all the cemeteries listed.
Example: "Smith, Roger" (yes, use the quotes)
001 MT. PLEASANT UNITED METHODIST CHURCH &nbsp- &nbsp Surname starts with L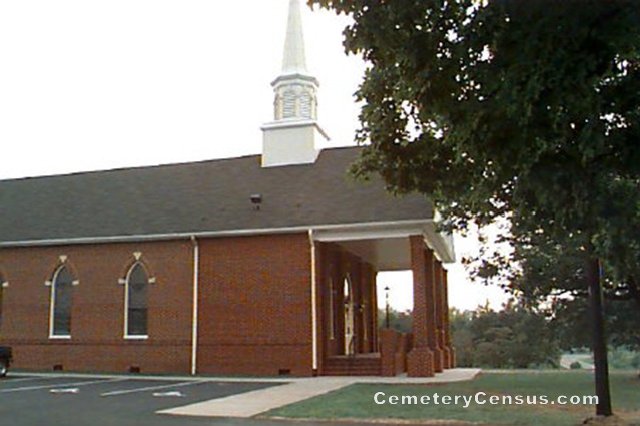 Location - 4400 Alamance Church Rd (SR-1500), Liberty NC.

Coordinates: 35d 57m 01.0s N; 79d 33m 07.7s W Click here for Google maps

Directions: from Burlington NC, go south on Hwy 62 until Alamance Church Rd (SR-1005). Turn east on Alamance Church Rd and go east until you reach Kimesville Rd (SR-3346) and Black Rd (SR-3345). Church and cemetery is on the right side of the road.

Survey by Darrell B. Clapp about 1999. Transcribed by Gary Thompson in April 2009. Photographs by Gary Thompson.


Layton, John (b. 8 Jan 1840 - d. 26 Jan 1918)
Layton, Joy Marie (b. 24 Jan 1905 - d. 30 Aug 1905)
Layton, Martha E (b. 1 Dec 1844 - d. )
Layton, Nora (b. 21 Mar 1881 - d. 13 Mar 1931)
Layton, Nora Ada (b. 25 Sep 1924 - d. 25 Sep 1924)
Layton, Swannie Bell Smith (b. 21 Nov 1895 - d. 16 Feb 1928)

Layton, William T (b. - d. 20 Nov 1944)

Lednum, Fannie (b. 1859 - d. 1922)

Lednum, G W (b. 1857 - d. 1956)

Lednum, Henry G (b. 27 Jul 1890 - d. 20 Oct 1908)

Lednum, Ross Dale (b. 26 Jan 1895 - d. Feb 1951)

Lineberrt, Infant (b. - d. )

Lineberry, Andrew M (b. 15 Feb 1846 - d. 11 Jan 1929)

Lineberry, Birdie (b. - d. 2 Dec 1985)

Lineberry, Catherine I (b. 5 Sep 1851 - d. 2 Oct 1855)

Lineberry, Clemont Howard (b. 2 Mar 1909 - d. 3 Dec 1971)

Lineberry, Daniel (b. 1816 - d. 1877)

Lineberry, Eliza A (b. Jun 1863 - d. Jul 1923)

Lineberry, Ellen J (b. 15 Sep 1862 - d. 30 Sep 1885)

Lineberry, Eulalah (b. 27 Sep 1880 - d. 10 Nov 1882)
daughter of M A and R A Lineberry

Lineberry, G W (b. 16 Jan 1856 - d. 24 Jul 1885)

Lineberry, George Thomas (b. 27 Jul 1878 - d. 22 Jul 1911)

Lineberry, Henry M (b. 19 May 1863 - d. 19 May 1866)
son of D and M L Lineberry

Lineberry, Ida B (b. 22 Jul 1873 - d. 17 Jul 1954)

Lineberry, Infant (b. 4 Aug 1883 - d. 4 Aug 1883)
son of M A and R A Lineberry

Lineberry, James L (b. 1919 - d. 1935)

Lineberry, John A (b. 27 Nov 1858 - d. 7 Mar 1930)

Lineberry, M A (b. 22 Jul 1852 - d. 31 Jul 1922)

Lineberry, Martha A (b. 15 Sep 1859 - d. 29 Jul 1918)

Lineberry, Matilda (b. - d. 24 Dec 1895)

Lineberry, Raymond (b. - d. 6 Oct 1990)

Lineberry, Rebecca (b. 24 May 1848 - d. 8 Aug 1883)

Lineberry, Roena E Alexander (b. 23 Jan 1845 - d. 31 May 1928)

Lineberry, Roy B (b. 1898 - d. 1958)

Lineberry, S Caroline (b. 24 Aug 1865 - d. 10 Feb 1946)

Lineberry, Sally (b. 18 Sep 1892 - d. 18 Apr 1898)
daughter of W A and Eliza

Lineberry, Susannah (b. - d. 4 Mar 1856)

Lineberry, W A (b. 10 Sep 1866 - d. 6 Nov 1914)

Linenes, Eliza (b. - d. 26 Jun 1993)
this is how name was spelled on survey

Linens, Cecil (b. - d. 30 Mar 1978)

Linens, Clarence D (b. 1 Feb 1900 - d. 21 Nov 1966)

Linens, Clarence D, Jr. (b. - d. 28 Jan 1983)

Linens, Daphne R, Mrs. (b. - d. 6 Aug 1980)

Linens, Doskie Holt (b. 5 Feb 1869 - d. 25 Dec 1927)

Linens, Edward Lee (b. 3 Dec 1915 - d. 18 Apr 1986)

Linens, Serene Howard (b. 25 Jul 1870 - d. 12 Sep 1935)

Linens, Shelby Jean (b. 23 Mar 1937 - d. 23 Aug 1996)

Linens, Vance (b. - d. 1975)

Lowdermilk, Elliot G, Rev. (b. 15 Dec 1858 - d. 11 Jun 1935)
Web page updated 13 May 2017
Index of All Cemeteries
Alphabetical Index of All Burials
Previous Page